Javier Olleros: "Our attitude and commitment mark the rhythm of our cuisine"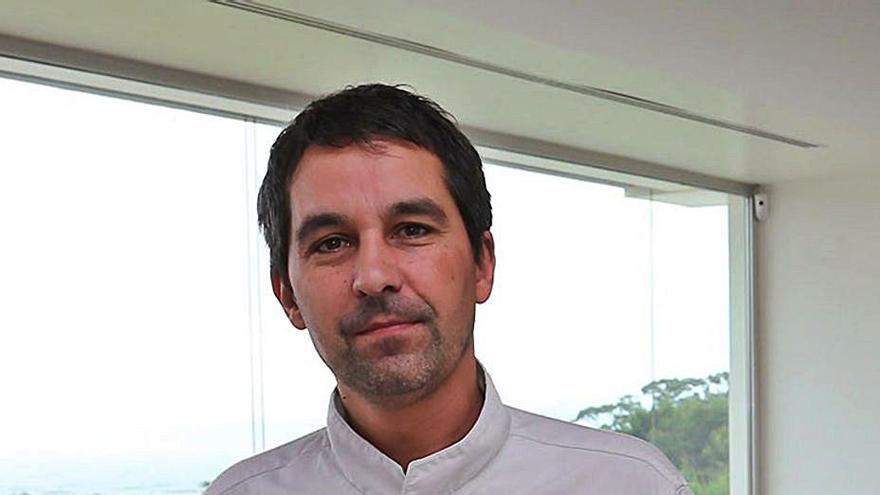 Javier Olleros (Lucerne, Switzerland, 1974) is the chef and owner of the Culler de Pau restaurant. A native of O Grove, he was trained at the Public Hospitality School of Santiago. In case anyone had any questions about O Grove as a gastronomic reference, Culler de Pau has been in charge of clearing it up by obtaining the category of two Michelin stars. An award that places Javier Olleros' restaurant as the first to achieve it in Galicia. An overwhelming success that has even led his town, the Grovense, to soon distinguish him as Favorite Fillo, that is, Favorite Son.
Seeing your joy, it is clear that this second Michelin star means a lot to you personally.
It is a great gift personally and professionally. A gift for the whole team because when we start such an intense project you have to depend on many people and it is a prize that must be given to the entire team and to the entire community that forms Culler de Pau. With everyone who is part of the microworld around the restaurant, from sailors to small producers, professionals and residents of O Grove ... One, with this award, feels the pride, the emotion and the joy of sharing it and give them back a small part of everything they deserve and give us in this town.
In addition to immense satisfaction ... Does this recognition also carry a significant burden of responsibility?
We always have the responsibility in a very powerful way. Starting from the basis that we work with food to consume, this is already a fundamental responsibility from the beginning. It is our own attitude and commitment that sets the rhythm of our cuisine. That is something that does not depend on recognitions. It depends on the illusion, the commitment to do things well and to pry into the research to surprise the diner. What is also clear to us is that we have enormous room for improvement. We are in a long journey and that allows us to continue dreaming of everything that lies ahead. The awards are a wonderful addition, a fantastic complement, but they don't add too much responsibility for the confidence I have in the way the Culler de Pau team works.
In February of this year, he received the award for Best Chef of the Year. You are one of the few who will not have a bad memory of 2020.
The truth is that it was good being such a strange year. It was a cool year in recognition and also during the short time we were open. The equipment was very tuned and the diner was really happy. It was a full year, with many mixed feelings and many small illusions reinforced by these successes. Now we only have to hold on with strength until we can open.
A path, that of Culler de Pau, which started in 2009 and which has become an exercise in perseverance, in a gastronomic bet that now touches a new ceiling.
It was born as a small project in very complex economic circumstances. In the midst of a rampant crisis, we gambled with a lot of risk and I buried my future in an idea that I wanted to carry out after having traveled all over the world. I wanted to return to O Grove and share with Amaranta, my wife, controlled ambitions and expectations of capturing our ideal of life in a context of natural wealth such as the one that surrounds us, but everything happened faster than we thought. I cannot forget Takahide Tanaka, my Japanese companion of fatigue from the beginning of Culler de Pau, nor all the people who passed by the house and left their beautiful seed. All of them helped to build this restaurant, and for all of them the gratitude is maximum.
As a leading figure in the hospitality industry, no one better than you to vindicate the difficult situation of the sector.
It is something very serious. It is a difficult time in which we need the sector to be heard and rescued. We must know what it means for the country and generate aid from the bottom up that comes directly to save the sinking. I hope that all the efforts of the hospitality industry claiming their rights will serve for a serious and immediate plan.
Is there a secret behind all the recognitions you have received?
Work, work and more work. In addition to believing in your ability and in the richness of everything around you. Galicia has an overwhelming nature in terms of resources. We knew from the beginning that we had a treasure within our grasp. From our commitment to the place, then it is up to us to capture all these potentialities on a plate. And there is our reason for being and our true engine.
And when you hear nicknames like "the kitchen wizard", what happens to your body?
All compliments are very nice and are always welcome, but everything has to be relativized. What I am left with is the love that comes from many places because I, although I understand that you have to personalize achievements, I am just part of a wonderful team. The hierarchies in this house are not marked too much. Everyone who works here is essential and I am one more. It is a way of doing and feeling that makes you always be clear about where your roots are.
Its second Michelin star has been cataloged by the mayor of O Grove, José Cacabelos, as the most important news of the year for the town. He will also be named Favorite Fillo.
This award is the most important of all. I always carry my people with me wherever I go. I am in love with O Grove and I have all my emotional ties here, it fills me with life… Being a Favorite Fillo is something that excites me and touches a nerve because I will always be eternally grateful to the people of my town because they feel the restaurant is part of them and O Grove. That was a vital goal for me when we started this adventure.