Javier Hernández: "Just like you eat, sleep and kiss, read and write to live"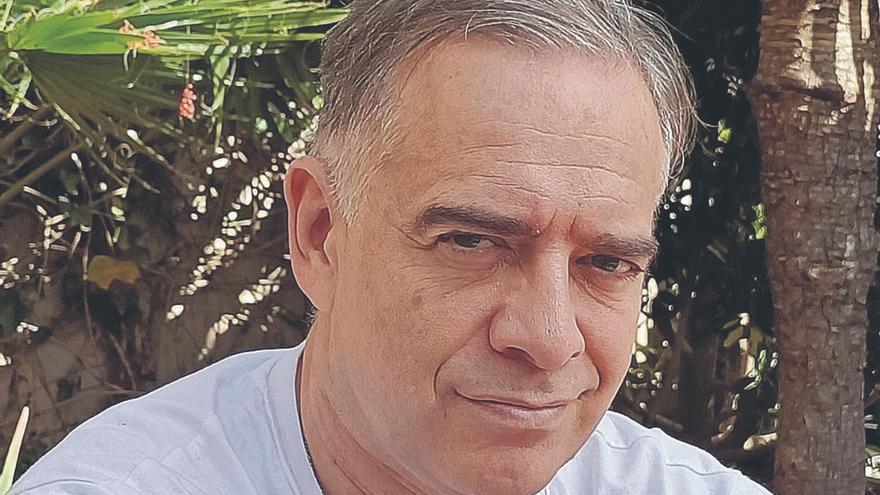 It has not yet come to light and 'Indivisa Manent' has already given it a first satisfaction. Tell us about the award you just won with it.
First of all, my thanks to Editorial Adarve, for me it is an honor to open the award for this first International Black Novel award in a publishing house with a very powerful catalog of authors, both Spanish and South American. An award is still a recognition and a reality iuris tantum, as the Latinos said, that is to say, it admits proof to the contrary, but for that you have to read it.
What role does literature play in the life of an author?
'Pura vida', as Costa Ricans say. No matter how busy you think you are, you must find time to read, or indulge in self-chosen ignorance. Just like you eat, sleep and kiss, read and write to live. Books are my home, my refuge. I once heard a revealing reasoning from author Anne Rice: Give me a man or woman who has read a thousand books and you give me interesting company. Give me a man or woman who has perhaps read three books and you give me dangerous company.
What is your method in dealing with creation?
Any work is based on a basic pillar: who has magic does not need tricks. That is what I try and so I try to get involved in the plot to the point of experiencing emotions similar to those of the characters. For that, not only imagination is important, but improvisation to give immediate answers. Only then can the reader be caught by the neck and not let him breathe until the end. Every good book should leave you with many experiences, and something exhausted in the end.
"Any work is based on a basic pillar: who has magic does not need tricks"
How did it get here? Where did this passion for books come from?
First thanks to Editorial Bruguera and its weekly collection of Juvenile literary jewels. There they grabbed me to never let go, especially Alejandro Dumas and a work that The Count of Monte Cristo revisit permanently, and Emilio Salgari, whose adventures took me through Malaysia, the Pacific Ocean, the Caribbean Sea, the Indian jungle, the desert of Africa, or the western United States. Then came the magical realism with phrases like fists like the end of The Colonel has no one to write: "What if the rooster loses? If the rooster loses we will eat shit ". That made me think that I should transform my life into a good story, a path that would confirm to me that the further I went, the more existence would begin to make sense.
When he has spoken about 'Indivisa Manent', which takes place in a fictional town in the highlands of La Orotava, he always assures that it has a very "Tarantinian" tinge.
Undivided Manent is a country noir which takes place in the heights of La Orotava, in a fictitious town, El Calvario, close to the El Teide National Park. It is the story of a reckoning in a family conflict. The first question I asked myself in developing the plot is how far a person must run to be safe. The next was simply to ask myself: what are we running from? The answer was simple: the scale had to be rebalanced. The question was always when. Therefore, silence should never be confused with a sign of weakness. Nobody plans revenge out loud. All the protagonists are clear that roses are beautiful unless they are in your grave and their way of acting is summarized in a simple statement: if you think that violence does not help solve problems, it is that you have not hit hard enough.
"Indivisa Manent 'unfolds in the heights of La Orotava, in a fictitious town, El Calvario, near El Teide National Park. It is the story of a settling of accounts in a family conflict"
Is it common that it also draws on cinematographic references?
Yes there is a lot of music and a lot of cinema. It is my DNA, my integral concept of literature. Once a literary critic, Eduardo García Rojas, commented in a review that my novels were Pulp-Pop. That opened my mind. My work does not have a unique record. It is easy to say that I write a crime novel, it seems to calm the reader and locate it. But do I really write a crime novel? I enjoy the registry changes and going against the grain. Maybe that saves me. I once read a phrase that has served as a guide: "If you only read the books that everyone is reading, you can only think what everyone is thinking."
Good news also comes from another literary contest, the Bellvei Negro ...
Yes, the award will be awarded next Saturday, April 10, within the acts of the Bellvei Negre Festival. It is the fourth installment in the Mat Fernández saga. I intend to tell a story from the title: From a country on fire. I analyze a refounding of Canarian nationalism in its purest roots to retake power. The idea of ​​the Canary Islands as a tricontinental territory and as a free State associated with the likeness of Puerto Rico. Mat Fernández will face the realpolitik canary I immerse the reader in the myths of this land, in the figures that guide a nation. The plot begins in Cuba, continues in Los Angeles and Seattle until it reaches the Canary Islands. In the background, the protagonist flees from a past that follows him like his shadow. The truth is a long-distance runner. And in politics it tends to haunt you until it finally catches up with you. The notion and imprint of the Atlantic is very present in the novel because, as Pat Riley said: "The sea and life do not know about feelings."
The month of April begins, the month of the book par excellence, How is the panorama of fairs and presentations marked by the pandemic presented?
"Reality has erased a part of our life, however, we read to know that we are not alone"
Complicated in debit. I know what it costs to set up a festival: time, dedication and sacrifice. To the credit, this world in the background is illusion connected with emotions. Reality has erased a part of our life, however, we read to know that we are not alone. Opening a book is like lighting a fire. Reading always gives us a place to go. Just as when one is sad, sunsets are pleasant, I have not known any evil that an hour of reading does not relieve. Marguerite Duras said that what is written replaces what is lived, writing is a way of living. At this time, social circumstances have changed and there we have new material that must be exploited, analyzed, prosecuted and criticized. It cannot go unnoticed.