Javier Betancor: "There is uneasiness among artists, art is ending"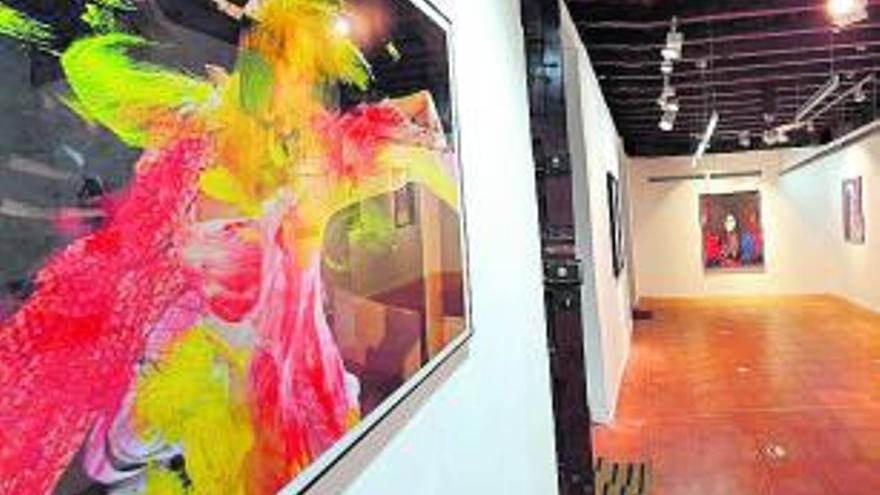 What is the starting point of 'ENTRA'?
It is an exhibition that has a lot to say, which I consider very risky in my career as a photographer. One part of it is dedicated to photography and painting, and the other part is black and white photography, with the traditional format of nudes.
What about experimentation in these works?
I have tried to differentiate the works, on the one hand the traditional part in photography, and on the other, the works that I have done for some time and that are closer to the field, so to speak, of artistic creativity. I know it is very difficult, but I have always tried to differentiate myself from all other photographers, I try to find a more creative and original projection. I know it is very difficult.
All women seem to come out of an intense night in their long dresses
Well, in that attitude I have always considered them more attractive for this typology of photos, a situation, moreover, that combines very well with the use of paintings, as if the background of already worn and exhausted makeup were there. All this comes together to make these colorful, pictorial photos, with which I think that a good result has been obtained.
What photography allows you to be an artist, detach yourself from reality?
For anyone who is a photographer, sculptor or painter, the priority idea is to always look for works that do not resemble the reality of things, unless you are a figurative artist. I never liked figuration, it is very easy to do in the field of photography.
Are you afraid that mobile photos will end up annihilating creation?
I think that mobile cameras have evolved a lot, and you can even take some quality photography with them. In fact, they make very good creative photographs as they are becoming more and more like cameras. There will come a time when both will be very similar, so if someone investigates creativity, they will always do it very well with a mobile phone or with any kind of camera.
Why did you decide to combine your work as a civil servant with that of a gallery owner or photographer?
I think that the civil servant profession, although it is very important and has its mission, which is to serve all users as well as possible, it was very uncreative for me. And maybe that's why photography came first and painting later. Then I found in the role of gallery owner a profession closely linked to everything that is art and artists, an activity that always allows you to meet very interesting and capable people.
"The administrations give a lot of blind spots with the subsidies, they do not have a plan"
What will happen if in a few months in art if the pandemic does not end?
Well, as in any other profession. The art is ending, in fact it is already happening that there is not much interest from collectors and the general public. Not everything has been the final straw, but right now the gallery is almost idle.
Do you see despair among artist friends?
Yes, a lot of uneasiness due to lack of sale. And without sale, culture dies and with it everything that is around it. Above all we commented on the lack of management of the administrations, which give many blind spots, do not have a plan before starting to give subsidies left and right without knowing the final results, they have nothing planned.
What do you miss the most right now in the gallery?
The lack of citizens with an interest in pictorial culture.
What photography allows you to be more of an artist, to detach yourself from reality?
Well, the one that I am currently doing and that is exhibited in the Gallery S / t Espacio Cultural
Why did you decide to exhibit despite the obstacles?
Well, he wanted friends to know what he was doing lately.
What would you like to do in your space if we get out of all this?
Well, I would like to continue with the same intensity and activity I have done to date and for citizens to get closer to the gallery.