Japanese architect Shigeru Ban, Princess of Concord Prize 2022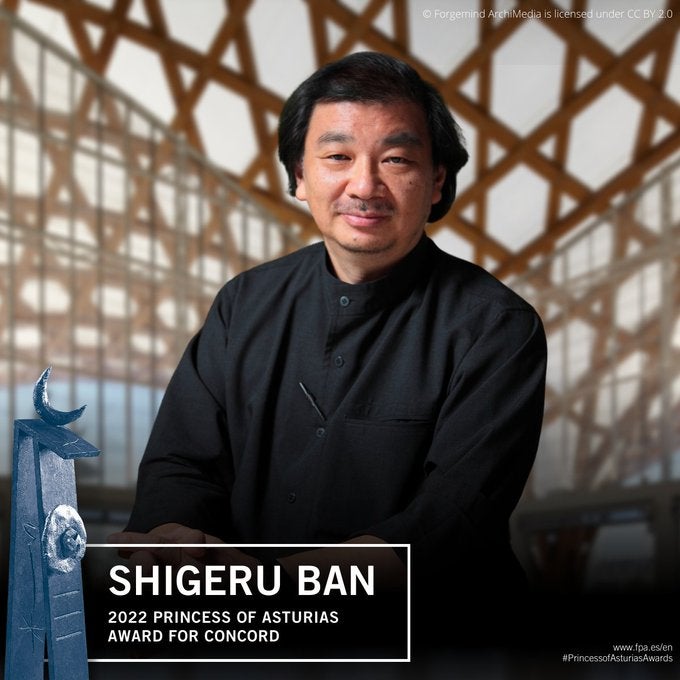 It has helped victims of humanitarian crises in countries such as the Philippines, India, Italy, Japan, Rwanda and Sri Lanka, to give them shelter with temporary buildings made of cardboard cylinders.
The Japanese Shigeru Ban (Tokyo, 1957), who has reached the pinnacle of architecture with iconic works and was awarded the Pritzker (the 'Nobel' for Architecture) in 2014, has just won the Princess of Asturias Award for the Concordia 2022 for having achieved excellence in their profession without leaving behind those who need it most.
The jury meeting in Oviedo has chosen the candidacy of this international reference in humanitarian architecture that has helped victims of humanitarian crises in countries such as the Philippines, India, Italy, Japan, Rwanda and Sri Lanka, to give them shelter with temporary constructions.
And he does it with the materials that are the hallmark of his work: paper or cardboard cylinders that, after receiving a polyurethane treatment, become a solid base for erecting shelters or temporary housing at minimal cost.
In the earthquake that struck Port-au-Prince in 2010, for example, he enlisted the help of some 25 students from the neighboring Dominican Republic, training them in his pioneering "paper architecture."
But the one in Port-au-Prince was not his first experience in devastated places: in 1994, after learning of the miserable conditions of the displaced in Rwanda, Shigeru Ban knocked on the doors of the UNHCR (the UN Refugee Agency) in Geneva to Offer to be a consultant.
Thus began in 1995 in the African country his work to give shelter to the most needy by building shelters and extraordinary homes with ordinary materials, mainly cardboard.
Kobe (Japan) after the great earthquake of 1995, Turkey in 1999, India in 2001, Sumatra in 2004, Sichuan (China) in 2008 or L'Aquila (Italy) in 2009 were other places where the Japanese have taken their innovative solidarity architecture.
Ban mobilized again after the 2011 earthquake and tsunami in Japan. To help the victims, he built a "small city" near Ishinomaki, made of shipping containers. And four years later, he launched a project to rebuild homes for earthquake victims in Nepal. There, the structures of the houses, designed to be built quickly and easily, were made of wood and brick, so that the Nepalese were able to convert them into schools.
And it is that for Shigeru Ban architecture should contribute to improving society even though many architects work to "show the power and money of privileged people through their constructions".
"That was not what I really wanted to do, so I had to find my own balance," insists Ban, recognized with awards such as the Grand Medal of the French Academy of Architecture.
During his career he has combined the creation of buildings such as the Pompidou-Metz or the spectacular Nicolas G. Hayek Center (Swatch) in Tokyo with his research on the use and resistance of cheap materials such as his famous cardboard cylinders.
With them he began to experiment in the 80s, after noticing the "interesting" tubes, normally used to store plans, cornered in his study. "I hate wasting materials," he says.
In 1986, after graduating from the US, he used this type of cylinder for an exhibition by Finnish designer Alvar Aarto at MoMa; He was followed by several cardboard structures in Japan and, in 2000, the Japanese pavilion for the Hannover Expo, built entirely with recyclable material.
Ban, who has architecture studios in Tokyo, Paris and New York, acknowledges that he does not have free time, nor does he want it: "I like what I do", concludes this undisputed master of architecture who, as a child, simply dreamed of "to be a carpenter" A fascination that comes to him from the times when his mother, a fashion designer, periodically enlarged the family house, made of wood, to accommodate her seamstresses.
In 2014, the Pritzker recognized a man "committed who not only represents a role model for the younger generation, but also a source of inspiration." And now the jury of the Princesa de la Concordia awards «his outstanding contribution to solidarity by providing shelter in decent conditions to people in precarious situations derived from social and natural emergencies or situations of conflict. His work, always guided by humanitarian values ​​and with the contribution of volunteers, offers an example of a sustainable architecture with the use of recycled materials that has received wide international recognition».