"I've dreamed of this since the beginning of everything"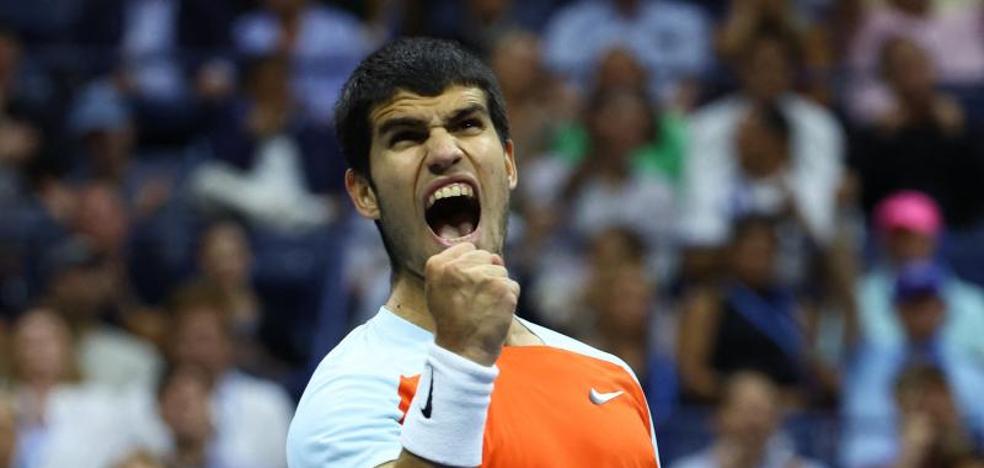 After winning the US Open and becoming the youngest world number one in history, the Murcian thanked his family and first remembered the victims of 9/11 in New York
He suffered physically and mentally, especially in the second set of the final and for much of the third, but Carlos Alcaraz was able to understand in time at Flushing Meadows that to win a Grand Slam you not only have to enjoy yourself on the court but also suffer, cling to the New York cement, put balls without risking so much, or playing so beautifully, and wear down an opponent as consistent as the Norwegian Casper Ruud.
Since he overcame two adverse set balls and swept his opponent 7-1 in the tie break of the third, the Murcian was himself again and launched himself in search of his extraordinary final victory on the biggest tennis stage in the world. world, with capacity for 25,000 people delivered to the Spanish in the Arthur Ashe Coliseum. Alcaraz plays, wins, has fun, learns to suffer a little more every day and to be patient, and he is a leader, a guy who conveys the qualities of a champion and reaches the public around the world.
Juan Carlos Ferrero, his coach, is a calm guy. He asked his team for calm while his pupil flew on the track in the last game, on his way to number one in the world. It was 1:38 in the morning when Alcaraz was preparing to serve to win. His trainer gestured for him to take a deep breath. He failed the first time, but not the second. With only 19 days, four months and six days, Carlitos was already a legend, the youngest number one in history, ahead of the Australian Lleyton Hewitt.
Once the feat was achieved, he threw himself to the ground, covered his face face up and face down, greeted his rival very cordially, shared a brief dialogue and ran up the steps to hug and cry with his people. Unleashed emotion. It was worth it. Back on the track, she put her hand to her heart and thanked the audience. Sixth Spanish in history to reach the world throne.
Before the ceremonial award ceremony and the usual heavy speeches from each other, he spoke briefly with the American John McEnroe, a legend who was crowned four times at the US Open. He picked up the champion trophy while on the track signs you could read 'Bravo Carlitos' with reflective white letters on a blue background.
The loser spoke first, an educated and cultured guy who the first thing he did on such an important day was remember the victims of the attacks on September 11, 2001. «I am sad to have lost this final and also the one at Roland Garros against Rafa Nadal, but very happy with how the season has gone," he said. «I appreciate the effort that my family has made so that I can get here. It could not be, but I will continue fighting to win a Grand Slam and be number one », he added, smiling.
"Congratulations on being the champion and the youngest number one in history," the mistress of ceremonies congratulated him. "It's a special day for everyone and I want to send a memory also for the victims of 9/11," Carlitos replied in reference to that horrible day for humanity in which he was not even born. "I'm fulfilling a dream I've had since I was a child and I owe it to my whole family and to the people who have supported me all this time," he added. He acknowledged that it has been a very tough tournament with three matches to five sets and the final to four, but insisted that "this is not the time to be tired."
He handled himself much better in Spanish, the language in which he addressed his compatriots. «Many people have come to see me and encourage me on this special day and the truth is that the love I have received from the first day here has been incredible. It has probably been the atmosphere that I have enjoyed the most on a tennis court. Thank you very much to all of you », he emphasized. And he received the cup from McEnroe. The night was young for Carlitos and began in El Palmar.
Unforgettable

Calmer now, he was interviewed by Álex Corretja on Eurosport and made an analysis of what this success means: «The truth is that it is something incredible to have this cup in my hands and to be able to touch number one. It is something that I have dreamed of since the beginning of everything and for which I have worked very hard. It's something I can never forget."
More in a sports key, he confessed what he suffered to beat Ruud. «The first set I got it because I served quite well, but he was playing better. I was very tense in the first two sets, also in a good part of the third, but in the end I managed to calm my nerves a bit and play more deeply. He has been a very tough rival against whom I have known how to suffer », he reeled off.
What was going through your mind in the last game, when you got paid to win? «Honestly, I have thought about throwing it up and getting it right, which Ferrrero always tells me, but it was not easy. More than a pulse problem, my legs felt heavy », he acknowledged. It won't be the last time he feels the same way. A legend is born.