Iván Páez suffers an educational confinement due to his disability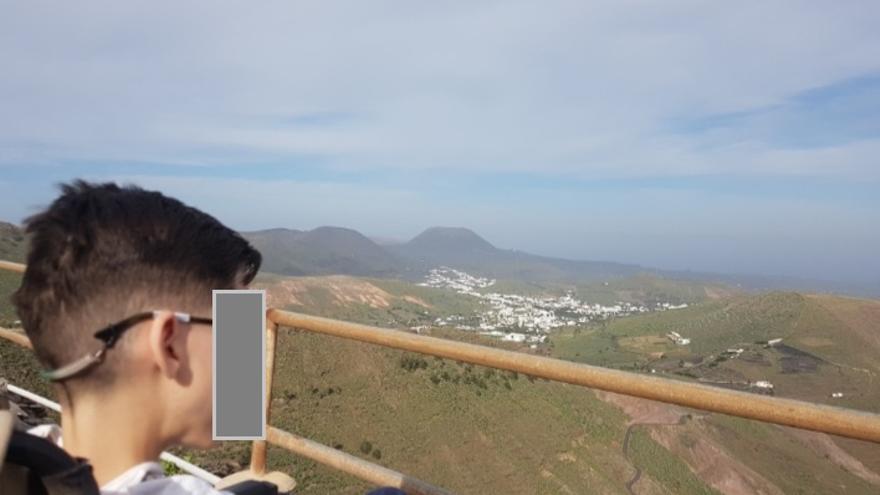 That of Ivan Pàez It is a story of overcoming, but not only personal and of his mother, Yareli, but also of a battle against the Public Administration, which with its neglect and promises to get out of the way, forces him to an educational and social confinement. At 17 years old and with Duchenne muscular dystrophy who has suffered since the age of five, the lack of means in his center, Instituto César Manrique de Arrecife, confines him at his home with no date of departure. For him it is not a question of a state of alert or that he returns to normal as of May 9, his vaccine is against the disinterest and neglect of Education.
Iván was born in 2003 and lives in Arrecife. He attended primary education at the CEIP Capellanía del Yágabo where, Yarely Paez, his mother, points out that "yes they could put all the means for the needs that he presented in his day, which are different from the current ones given the worsening of his health. Yarely explains that her son suffers from Duchenne Muscular Dystrophy, "a degenerative disease". It specifies that "Iván was walking when he was born. At the age of five he was diagnosed with the disease and at 8 he was in a wheelchair. From his early years he already manifested motor difficulties and "it was finally at the age of five that they named what was happening to him, after a search with various specialists".
At the end of his primary studies, he was referred to IES César Manrique, which is the secondary center authorized in Arrecife for preferential motor care. He was a normal course in the first year of ESO and, given the learning difficulties that were detected, he then went on to take the Program for the Improvement of Learning and Performance (PMAR).
"I hope to be cured as soon as possible"
Faced with the impossibility of attending classes, Iván wanted to justify his absence to his teachers and sent them the following email:
"Hello good morning, I am Ivan and I would like to let you know my situation, so that you have knowledge of it.
I regret to tell you that this week, at the moment, I will not be able to join the institute because I have suffered a very important wound (pressure ulcer). I have a lot more breaks to do. Now I have a nurse who comes to my house to treat my pressure ulcer and I have to be off this week for now. I would like to have class things sent to the classroom. I will try this week to do some of the things they send me, if I feel a little better.
I hope to heal at home as quickly as possible and get up as soon as possible and also be able to solve the problem that I have in the center, with my daily care related to my dressings that need to be changed when I have aches and pains. And this is the cause of the development of my pressure ulcer, because the care of my attention as well as my needs and rights as a disabled student is not being done well. Because in the center they do not have caregivers with nursing knowledge who can help me with my problem and with others who have a motor disability.
Greetings, see you soon ".
After the restrictions due to the covid-19 pandemic, Iván began to attend face-to-face classes again last Monday, April 12, after a year of confinement due to the coronavirus. He went to his center, the IES César Manrique, "fully vaccinated, with his grades approved and eager to return to normal, but sadly it was not." In fact, the next day, April 13, Yarely Páez was demanded by the management of the IES César Manrique to go to the center to take her son, given the impossibility of being able to assist him in the actions necessary to attend classes, at lack of a person qualified to do so. Faced with this, helpless, the mother made a desperate appeal in the popular WhatsApp chat Citizen Moment. Immediately, the socialist deputy in the Parliament of the Canary Islands, Lucia Olga Tejera, who is also in the aforementioned WhatsApp group, contacted her to be interested in the subject, stating that she would immediately bring the matter to the attention of the Minister of Education, Lanzarote Manuela Armas.
"The integration of disabled people who sell is a lie. I refer to the facts, they abandon to their fate a minor who has to study like any other with all his rights to receive an education in his educational center"
On April 14, the zone Education inspector contacted Iván's mother to indicate the previous steps that he should take to process the formal request to provide the IES César Manrique with the necessary personnel to meet the needs that Iván requires in order to attend classes normally. To do this, last Friday Yarely went with her son Iván to his primary care doctor to assess the situation and request the necessary report from the corresponding specialist. But, in addition, in view of the state of the wounds suffered by Iván, the doctor indicated to the mother the opportunity for her Iván to rest to heal the wounds. To this end, a nurse from the Canary Islands Health Service goes to his home every day to carry out the cures. Consequently, the reality is that today Iván is at home, resting for a medical indication, as a result of the injuries he has suffered from not having been adequately cared for at the center where he is studying.
Yarely Páez denounces that "they wanted me to leave my job to change the dressing because they allege that it does not fall within their functions as auxiliaries; that this is a nursing job, with all the reason in the world." And he specifies: "Who has to solve the problem is Education or the politician who is above the inspector. It is essential and necessary to have the presence of nurses in the educational field and more in these preferential motor centers." She is outraged and feels helpless. It considers that either the center, the inspector or, where appropriate, the educational authority has left functions.
"I will fight, I promise! I will fight for him and they will listen to him, he has to be heard"; Ivan's mother exclaims desperately and insists: "It is not fair. The integration of disabled people who sell is a lie. I refer to the facts, they abandon to their fate a minor who has to study like any other with all his rights to receive an education in their educational center, covering their needs either with a nurse or with any specialized personnel ".