Italy raises to 25% the tax on extraordinary profits of electricity companies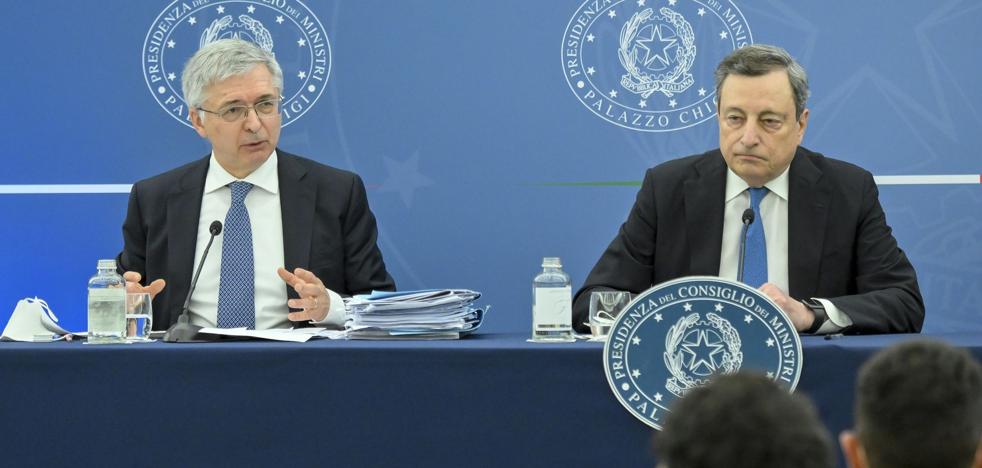 The Draghi government launches a new stimulus plan valued at 14,000 million euros to deal with the economic consequences of the war
From 10% to 25%, the special rate levied on the extraordinary profits that energy companies obtain in Italy thanks to the increase in the price of gas and oil rises. The Government of Mario Draghi has announced it when presenting a new stimulus plan valued at 14,000 million euros, destined to face the economic consequences of the war in Ukraine and which will be paid for in a small part with the increase in this special rate launched last March.
As explained by the Minister of Economy, Daniele Franco, at the end of the Council of Ministers, this tax on energy companies will serve "to finance the aid package against inflation for retirees and workers." It is expected that both will receive a state contribution of 200 euros provided they have an annual income that does not exceed 35,000 euros. That amount should serve to cushion the impact on pockets of rising energy and commodity prices. Italy closed last month with inflation of 6.2%.
Despite the increase in the amount of the aforementioned special tax from 10% to 25%, the measure, which initially affects the period from October 2021 to April 2022, will have a limited impact on the accounts of energy companies, according to several financial analysts quoted by the Radiocor agency commented. The corporations involved expected this fee to cost "between 10 and 30 million" each, the private investment bank Equita notes in a report, but now the amount will range between 25 and 75 million.
Other significant measures included in the new stimulus plan promoted by Draghi consist of the extension for three months of the energy bonus for low-income families and the reduction of special taxes on fuels until July 8. This decrease has led to a decrease of 30 cents per liter in the price of gasoline and diesel at service stations. This decline now extends to methane as well.
"In the climate of enormous uncertainty that exists, the Government tries to give, as far as possible, a message of closeness to all Italians. The main objective of this decree is to protect the purchasing power of families, especially those with lower incomes, and the productive activity of companies," Draghi said at the presentation of the stimulus plan.