Italy defeats Belgium and finishes third in the Nations League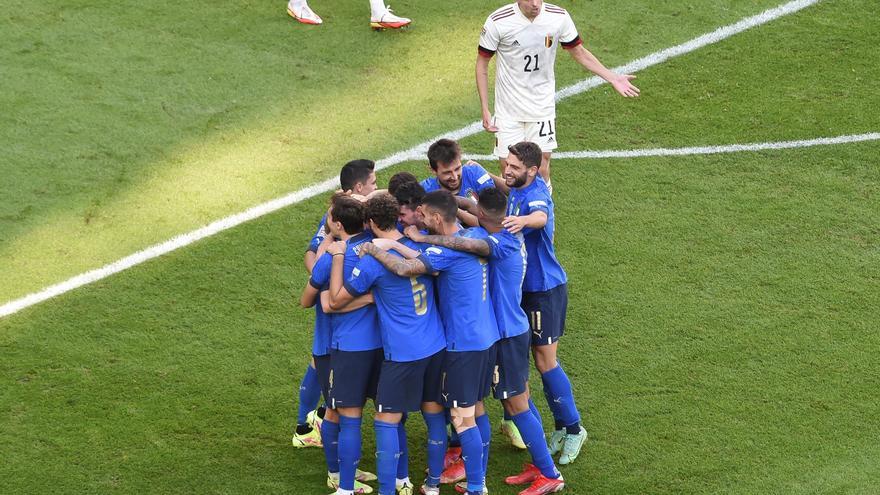 Nicoló Barella, with a great volley, and Domenico Berardi, penalty, scored this Sunday the decisive goals to deliver to Italy third place in the Nations league of the UEFA after winning the consolation final to Belgium 2-1 at Juventus Stadium in Turin.
After interrupt last Wednesday against Spain their streak of 37 games without defeats, Italy was reunited with the victory against Belgium without Romelu lukaku neither Eden Hazard, injured, still visibly affected by the defeat suffered in the semifinals against France, in which they wasted a 2-0 in favor.
Mancini's bet was better, who made five changes with respect to the eleven that fell to Spain, against a Belgium in which Martínez gave rest to Kevin De Bruyne, in addition to the casualties of Lukaku and Hazard, who returned to their country to begin rehabilitation therapy for muscle injuries.
It was a monumental performance by the goalkeeper of the Real Madrid Thibaut Courtois in supporting Belgium in the first half. The Madrid goalkeeper was the protagonist with a great stop with one foot before a shot from Federico Chiesa, but he could only delay the "azzurrro" goal.
Again Barella, who had also broken to equality in the last confrontation with Belgium, in the quarterfinals of the Eurocup, outplayed Courtois, this time with a big right leg volley in a set piece action when the restart had just begun.
The Inter midfielder paved the way for the triumph of the "azzurra" selection, who extended distances in 64 thanks to a maximum penalty achieved by Chiesa and transformed by Berardi. Courtois sensed the angle of the shot, as happened to him on Thursday before Kylian Mbappé's penalty, but had to give up despite touching the ball with one hand.
It was minute 64 and Martínez had just given way to De Bruyne to give more verticality and weight to your equipment, Which, without a doubt, was not helped by good luck in this final four.
The Belgian "Red Devils" encountered wood on up to three occasions. Alexis Saelemaekers he rocked the crossbar in the first half, one of his team's few chances, while Michy Bathsuayi and Yannick Carrasco slammed their spikes off the crossbar and a post respectively at the restart.
The curse was broken by the young talent of the Bruges Charles De Ketelaere, who surpassed the goalkeeper Gianluigi Donnarumma to raise the score to 1-2 at 86, when however it was too late to force extra time.
Italy did not suffer to contain Belgium and finished in third place in the League of Nations to open a new cycle of triumphs, after the defeat to Spain that interrupted his streak of 37 games without knowing the defeat.
The winner of the second edition of the League of Nations will be known tonight, when Spain and France will meet in San Siro.
– Data sheet:
2 – Italy: Donnarumma; Di Lorenzo, Bastoni, Acerbi, Emerson; Barella (Cristante, m.70), Locatelli, Pellegrini (Jorginho, m.70); Chiesa (Bernardeschi, m.91), Raspadori (Kean, m.65), Berardi (Insigne, m.91).
1 – Belgium: Courtois; Alderweireld, Denayer, Vertonghen; Castagne, Tielemans (De Bruyne, m.59), Witsel, Saelemaekers (De Ketelaere, m.59); Carrasco (Trossard, m.86), Batshuayi, Vanaken.
Goals: 1-0, m.46: Barella; 2-0, m.64: Berardi (penalty); 2-1, m.86: De Ketelaere.
Referee: Srdjan Jovanovic (SER). He showed yellow card to Di Lorenzo (m.30) and Emerson (m.82), from Italy, and to Vertonghen (m.14), Witsel (m.56) and Alderweireld (m.63), from Belgium.
Incidents: Final for third and fourth place in the UEFA Nations League played at the Juventus Stadium in Turin (north) before about 18,000 spectators.