«It would be unfair to ask that a phenomenon like 'Despacito' happen to me twice.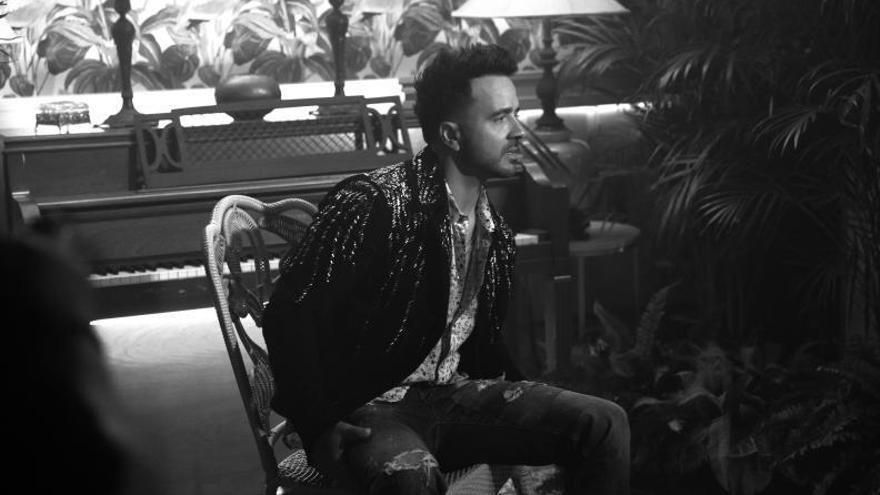 How do you describe your new single, Bésame, and how did this work with Myke Towers come about?
It's a fusion of many rhythms and it has a bit of urban flavor, bachata and my genre, which is pop. I'm a fan of blending styles because I like contrasting voices. I am very happy because I think it is a good song to dance in the summer and, obviously, because of everything we have gone through during this pandemic, we need to kiss, hug and dance together. You could say that Bésame is my attempt to return to normality as soon as possible. I am a fan of music and of the new artists of the urban genre and Myke for me is one of those talents who is here to stay, since in a short time he has achieved great things. I met him at an awards ceremony and he asked me to do something together. Months later, we wrote this song and it sounded like Myke to me. I introduced it to him, he liked it and that's how he was born.
How was the experience of collaborating with an artist who is emerging strong?
It has been incredible because it is new blood and you learn a lot from new artists. I love working both with those who have been with me for many years and with those who are just starting out. This is the most beautiful thing about collaboration, which is a union and a celebration. In reality, we all benefit and learn from each other. The music is made for sharing and I am very excited about Bésame.
Do you think it can become another Despacito phenomenon?
Hopefully, but I don't compare children and even less with what has been the most important song of my career. Every artist dreams of having a phenomenon like Despacito and asking for that to happen to me twice would be unfair. It is true that professionals want success and we do not release a song to fail, but what I really want is that there is a connection with the public, that people tell me that they love my song and that it be one more for the repertoire of a new tour. This is a tangible and real goal because you have to dream big, but also keep your feet on the ground and focus on taking firm steps.
His work Vacío, with Rauw Alejandro, managed to become a Gold Record in Spain. Have you thought about betting more on collaborations?
I think collaborations in my genre work very well because they give me the opportunity to give each song a different flavor and to play with different styles. I don't know if my next single will be a collaboration, but, as I say, I know they have worked very well for me and for now I enjoy them.
How do you value the fact of innovating more and more with Latin rhythms and now also incorporating that bachata with urban rhythms?
I am very happy because music is experiencing moments of celebration, of little ego and of great solidarity. I want to insist that working with new talents fills me with a lot of energy. I am also now recording the new season of La Voz in the country together with Malú, Pablo Alborán and Alejandro Sanz, for which I am very happy.
When will a new album come?
I believe that a new album will be formally released at the end of this year. I have been showing it little by little with songs like Perfecta or Vacío and now with Bésame. I don't have a scheduled date and I don't know if it will be in September or October, but I'm crazy to say: here is the album. Soon they will be able to hear everything.
When do you expect to resume the concerts?
I am going to do some concerts this year between September and October in European countries like Germany or Hungary and also in Latin America. It is not a world tour as we try to organize, but very specific concerts for obvious reasons. What I want is to return because I want to sing live. Not only for me, but also for my musicians and for my entire team. I believe that in 2022 we will finally be able to return to the pace that we had before the pandemic.
"Touring Spain and not visiting the Canary Islands is like going to Orlando and not going to Disney World»
Is the Canary Islands in your field of vision?
They tell me about the Canary Islands and I get energetic, happy and an electricity enters my body that I cannot explain. Touring Spain and not visiting the Canary Islands is like going to Orlando and not going to Disney World. The reason why I managed to conquer Spain is for the Canary Islands and that I will never forget. My first trips to Spain were only to the Islands and thanks to the affection they gave me I was able to make a name for myself in the rest of the country and I would dare to say that, even in Europe. So every time I visit them, for me it means remembering, celebrating and being thankful.
Do you plan to return to that stage with which you debuted in the world of music or will the public never see that Luis Fonsi that he conquered with his ballads?
I am romantic. I like dancing, partying and fusions, but ballads are in my DNA. I will never leave that because my ballad is my ballad and everything is born from there. It is the easiest thing to interpret and write for me. In fact, the new album will offer that contrast and give people the opportunity to understand who I really am, both as an artist and as a songwriter.
How have you suffered, at a professional level, the restrictions derived from the coronavirus pandemic?
I had to stop a world tour because our lives changed, but I focus on the positive and I think we have learned a lot. That has helped me as a songwriter and as a father.
Are you worried about the future of the music industry?
No. Music is music and we all need it. Despite the fact that there have been no concerts during the pandemic, it has played an extremely important role and is a medicine that is neither bought at the pharmacy nor prescribed.
Has the fact of also practicing as a coach in programs like La Voz made you grow as an artist?
I love La Voz and I'm a fan of that show. It is very exciting, although it also suffers a lot when we have to tell someone that they do not follow or we have to choose between some participants and others. I love myself very much and at the end of the day I always say that coaches are also participants. Without a doubt, it seems to me that it is a very positive and familiar format, where we talk about music and we forget the problems.
Do you have a short or medium term challenge?
Be close to the public. I'm dreaming of the moment to hear my band play the first song at a concert again and hear applause. It is going to be a very emotional moment.