It was 17 years since oil prices were so low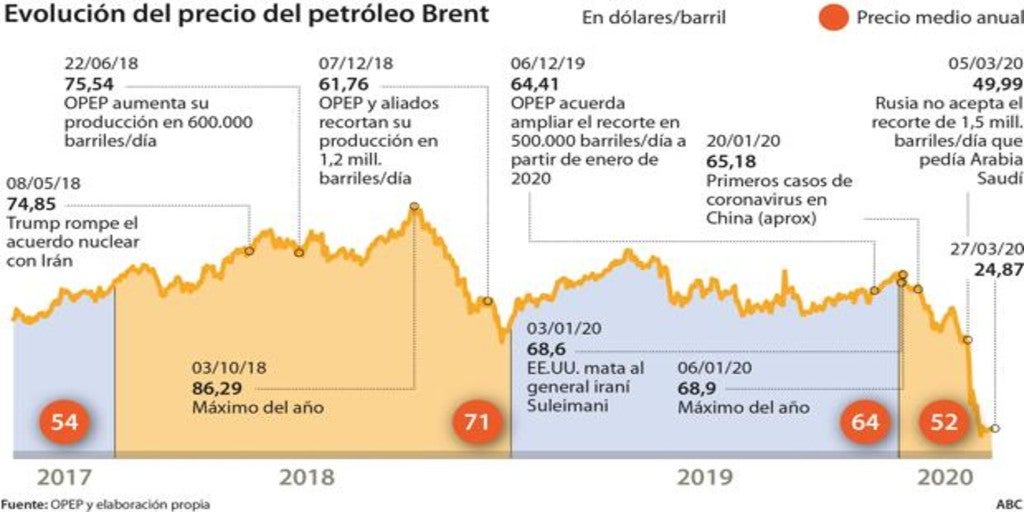 Madrid
Updated:
save

You have to go back to April 2003 to see current oil prices. The collapse of its price since the first days of this month has brought the Brent rate to $ 24.78 a barrel, the price with which it closed today Friday in the London market after falling another 6.15%.
The price of intermediate oil of Texas (WTI) was down 4.8% and closed at $ 21.51 the barrel.
Falling prices started with the appearance of the coronavirus in China, they were accentuated with the war between Saudi Arabia and Russia for control of the oil market and they have finally collapsed in the face of the sudden drop in demand worldwide as a result of the Covi-19 pandemic.
The price of Brent crude oil has dropped 64% throughout this year. Specific, in the last three weeks it has fallen 47%.
And as everything is likely to worsen, next Wednesday the production cuts by OPEC and its allies end, so if they increase the spill of crude oil into the markets, oil prices could drop in the short term to $ 10 a barrel, as some experts point out.