"It is not yet clear that the covid has altered our cultural habits"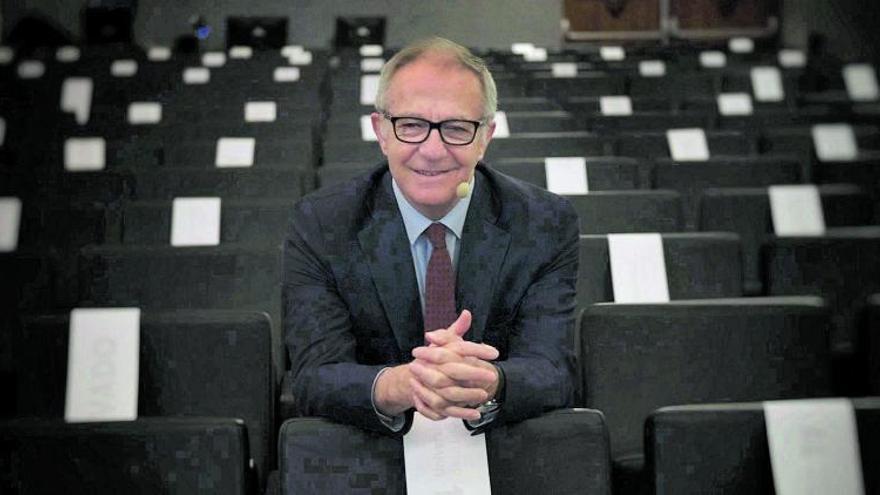 How do you imagine the culture of the post-pandemic?
That is quite difficult to imagine. Above all, because it is not yet clear how all this is going to end. What we have seen is that the culture of contact has suffered greatly from the consequences of the pandemic. The audiovisual, on the other hand, has done much better because before a conference there were less than 50 people and now on some occasions more than a thousand are connected. What no one is clear at this time is whether our cultural habits are going to be altered once we get over this period.
It's time to reinvent yourself, right?
Culture lives on that. That ability to adapt to survive the circumstances that arise at all times is in its DNA. What we will have to analyze is whether post-pandemic societies are going to be more open and alive or closed and isolated. The great question is whether citizens are going to seek answers to their concerns and fears or whether they are going to lock themselves in their world because culture implies a social exchange.
Does that uncertainty act as a filter or natural selection?
In this case, we cannot speak of a natural selection process because it is something in which citizens do not participate, that is, there is no firm will when it comes to distinguishing what we like or dislike. The main problem is that we have been hit by a factor that nobody controlled. Fortunately, Western society has been fairly quick to react if we take into account the magnitude of a global pandemic. All the uncertainties that the health crisis has caused must be put into the equation because it is the most obvious proof that we do not control the rules of the game. If this has happened in the more developed societies, what is not going to happen in the poorer models.
Does the industry have the muscle to weather such drastic measures in a sixth wave?
It would be complicated. Another confinement or semi-confinement, because for a long time we have had limited capacity, would have very harsh consequences in some cultural sectors. Others have grown stronger …
Yes, the editors say reading levels "skyrocketed" during confinement.
We have read more and more cinema has been consumed, not only through a television but with mobile phones, tablets, computers, but the live arts have had a problem. The percentage of vaccinated in Spain does not make us think that we are going to experience a pandemic process as serious as at the beginning because there is a greater capacity to resist the virus.
Do you, who know what it is to be in charge of a cultural space, do you think that in society there is fear of going to a museum, the cinema or the theater?
I don't think so … Some citizens have started going to museums. Not at the beginning of the pandemic, but when tourism was still low. After confinement, many discovered that there were cultural spaces in their cities that they were unaware of. What does have to make us reflect is the fact that museums live thanks to the visits made by foreigners. That is quite a worrying fact.
"When we felt lonely at home we realized that culture is never isolation"
Does a connoisseur of the contents that La Casa Encendida de Madrid usually offers does not doubt the importance of generating knots between the social and the cultural?
There is still much work to be done in everything that culture supposes as a basic instrument of social inclusion. Culture is in the fabric of everything that unites us, but also in the non-woven of what separates us and that causes that there are areas of society that are left out of cultural action. For me, one of the lessons of La Casa Encendida –he was its director between 2002 and 2014– is its ability to seek an inclusive culture. That is one of the essential keys to its existence.
Despite having been linked to cultural management for so many years, did you feel more liberated when handing over the Culture and Sports portfolio?
In all the places I have been I tried to learn things. For me, being a minister was not the end of anything but one more experience in my career as a cultural manager. In the kitchens of culture, which is where I have always been and decisions are made, you acquire an enrichment and a solvency that is very difficult to feel in a ministry because of the haste with which things have to be resolved. It's hard to digest so many issues when times are tight. It is not that I feel more liberated now, because I had a good time as a minister, but I have returned to the place I know best.
Is it difficult to live in the middle of the debate that points out that Spanish culture is less than what is said or more than what some people think?
Well yes (silence). This is completely true because many times we do not know how to value it and only when we have to pull it do we realize that it is more powerful than we think. That is something that people, or many people, have experienced during the pandemic. What have we done at home? Well, the majority read, watched movies, interacted through audiovisual media and even cooked, which is a factor that is very present in our cultural activity. When we felt lonely at home, we realized that culture is never isolation. I have some doubts about this debate that you raise …
What kind of doubts?
In the same way that we can think that culture is more than what it seems, we must be honest and say that culture could be more than what it is … The world of culture needs more financial and more personal means because we have a base that would allow a greater investment. Sorry. Not only would he admit it but he's suing it. The logical answer to the previous question would be: we are more than we seem, but we could be more than we are.
Do you think that as a minister you could have been more generous?
Ha ha ha … I've always had a slightly unconscious side, in a good sense of the word … Let me explain; With what I have I will try everything I can. Come on, let it not stay for us. I do not have the feeling of having stopped moving all the resources that I had at my fingertips. Seriously, I don't remember my time as a minister as frustrating. If there had been more, it would be easier, but the world of culture is used to squeezing the resources it has at hand.