It is not the same not to go outside than to be confined at home | Babelia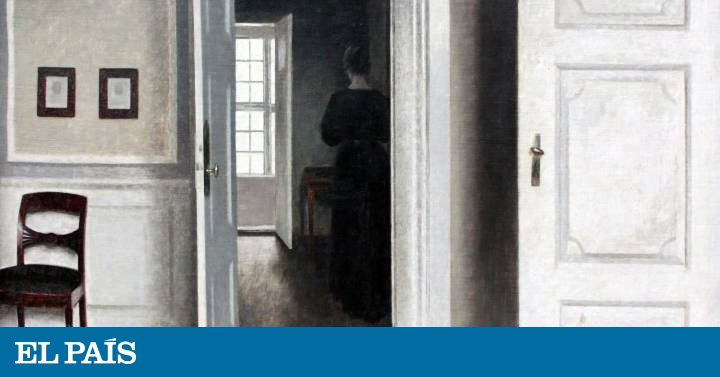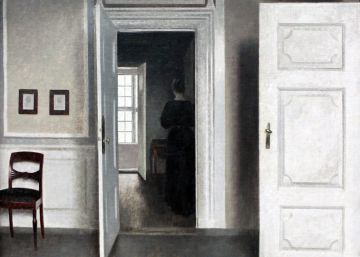 I only thought about the snow. At that time, the children who live in the fields, seeing the first flakes fall, long for it to never end, for the roads to be blocked and for the school to close. Instead of jumping out of bed at an inhuman hour, dressing still half asleep, and then spending the whole day trapped behind a desk, unable to move or communicate with their peers, forced to chain hour after hour of subjects that do not interest them In the slightest, gobble up the tasteless food from the school canteen and perhaps suffer harassment from some of their classmates, they are seen sleeping late, running until they are out of breath in the garden, or sledding down the hill, or lying face down on the Living room rug, surrounded by cartoons, with a cup of hot chocolate at your fingertips, or building a cabin in the center of your room.
Whatever our age, we all fantasize about these kinds of alterations in a daily life that is too boring and too predictable, that allows us to hang our old society dress and the limitations that accompany it in the closet. During the brief period in which he carries out a paid activity (or an activity, without further ado), Oblomov, the hero of Ivan Goncharov in the novel of the same name, notes with regret that it takes "at least one earthquake to exempt a healthy official from going at your work"; however, bad luck, "the earth never trembles in Saint Petersburg, not by chance."
When writing six years ago At home, my plea in favor of the home, I did not think of a virus as one of the reasons that could authorize us to remain cloistered. The snow is both spectacular and soft, gentle; the coronavirus is just the opposite: invisible as well as harmful, possibly lethal. I am glad that some people find this book comforting these days, but I also feel a certain bitterness, a certain nostalgia, when I think of the state of innocence in which I wrote it.
The concern for loved ones and for oneself, the impossibility of embracing those we love, the catastrophe that represents for many the loss of income that the cessation of their activity entails, the feeling of being balanced on the unknown, are not really the best conditions to discover or rediscover the charms of domestic life. Choosing not to go out and not being able to do it are very different things. When I read by the window of my Parisian studio, the lively bustle that rises from the street, the conversations of the diners on the terraces of the restaurants, the wandering of the passers-by that I contemplate when I take a break, contribute to my happiness. Right now, the outside world is sending much less joyous vibes ...
And, in addition, during the writing of the book I lived as a couple, while today I live alone, which is not easy in such a terrifying context; my British colleague Nicola Slawson explains it very well in his newsletter The Single Supplement. Meanwhile, others have to deal with the exasperation that promiscuity breeds, not to mention women who find themselves locked in with a violent spouse. Confinement turns our lives into a strange frozen image. A very hard situation, given the curve that house prices have followed in the last 20 years in large cities, which confines many to mousetraps, alone or with others.
But it turns out that we have no other option, so it is better to face this experience by leaning on the shoulder (as it is an experience, it is allowed). In 1794 Xavier de Maistre, an officer in the French garrison in Italy, spent 42 days under house arrest for dueling. He wrote a book about it, I traveled around my room. "They have forbidden me to visit a city, a point; But they have left me the entire universe: immensity and eternity are at my command, "he narrated.
It goes without saying that we are poorly equipped to deal with this situation. Most of us have gotten into the habit of going every morning to a place where we are told what to do with our day. We are disconnected from our intimate aspirations, freed from the responsibility of shaping our lives, which is infinitely sad, but also very comfortable. When this system stops, many have the feeling of falling into the void.
This period could be a good occasion to explore another relationship with time, with life, with activity; but we have integrated to the depths of our being this uncompromising demand, this hardness towards oneself and towards others that the Protestant ethic and the spirit of capitalism have gradually extended to the entire planet. This world values ​​the frenetic hustle, the profitability of the smallest moment. It is not impossible to regain autonomy, learn to shape our inner life, but it takes time, patience. If we don't get it, or not immediately, let's avoid turning it into another reason to scourge ourselves.
To endure confinement, some suggest that we keep setting the alarm clock. That each one decides according to what they consider best for him, would be missing more. But, anyway, what a shame not to take advantage of giving our days a logic different from that of work, and giving us all the sleep that the body claims. Sleeping improves our physical and moral stamina. We have the opportunity to understand that sleep is not a waste of time, but an essential food for our brain, for our entire being. Who has not happened to him when, when he opens his eyes early in the morning, he finds the solution to a problem right there, before him, on the bedspread, like a gift left by a discreet messenger?
Confinement frees us from the schedules that routinely give our lives a panting, syncopated rhythm. A friend who has been on the verge of exhaustion for the past few weeks tells me, embarrassed, that she wants to cry in relief; she feels liberated. The historian Edward P. Thompson recalls that, spontaneously, the human being tends to alternate periods of work, dictated by the duration of the task to be performed, with periods of rest. It was the Industrial Revolution that established the tyranny of timetables, with bells, clocks, time machines. And at that time the population knew how to identify the enemy very well: in Paris, during the revolution of July 1830, they used to shoot wall clocks ...
It is the ideal time to carry out all those activities that require long periods of tranquility: daydreaming, writing, reading, drawing. To order, also, whenever it is not considered a pragmatic gesture, but the occasion to turn our whole being, a way to remove the successive layers of our history, to recover the complete identity, to update it. Xavier de Maistre took advantage of his seclusion to reread the letters exchanged during his youth with his dearest friends: "When I take my hand to this redoubt, it is rare that I withdraw it all day".
By closing the front door behind them, they have the possibility of opening another, which leads to the unsuspected depths of oneself. If they manage to open this door, I guarantee that they will forget the coronavirus, at least for a few hours. But to do so, they must overcome a kind of strange inhibition; I am the first to notice it. I long for those intense experiences that loneliness allows me, but they also scare me. I want to provoke them, but I keep putting off the time to allow them to happen. I remain indefinitely on my social networks instead of reopening the file of the book I am writing. It is true that, at this time, we need to be informed and also to be connected with each other. It is also quite moving to see how that elementary solidarity that arises when an entire community faces the same danger unfolds, on Twitter or Facebook. These days, social media gives me confidence in humanity (I never thought that someday I would write such a phrase).
This does not mean that, with all the time we have, we can also give up our screens. The other night I dove with delight in an old collection of Elizabeth Gilbert tales. I adore this author, I am attentive to each of her new books, and yet this collection has been waiting for me on the table for two and a half years. What does that say about my lifestyle, my tendency to stay on the surface of things, chained to immediacy? Let us have the courage to move away from the virtual braziers. Since our legs will necessarily become numb, let us loosen our minds and our souls. Let's not miss this escape route and gather the treasures that we will need so much the day the streets return to us.
Mona Chollet is the author of the essays At home (Hekht) and Witches (Editions B). News Clips translation.