«It is not magic that makes everything work but it is our way of working that causes magic»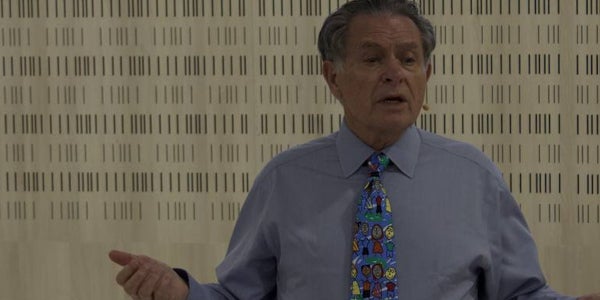 Luis Garcia LopezMadrid Updated: 06/23/2022 19:29h
Save
RELATED NEWS
Entitled 'The Magic of Disney in Business', the Illunion auditorium hosted a talk by Lee Cockerell, former Executive Vice President of Walt Disney World Parks, who shared his insights on leadership and business culture acquired throughout his trajectory.
The event was moderated by Fernando Botella, CEO of Think&Action, where Dan Cockerell and Valerie Cockerell, son and wife of Lee, also participated, with their respective experiences and careers in the company.
"It is not magic that makes everything work, but rather it is our way of working that causes magic," said Cokcerell. During his time with the company, he led a team of 40,000 members and was responsible for the operations of 20 resort hotels, four theme parks, two water parks, a shopping and entertainment center, a sports and recreation complex, as well as ancillary operations that supported to the number one vacation destination in the world as a senior operating executive for nine years.
For Cockerell, the three fundamental keys to the functioning of leadership are: first of all, hiring, retaining talent and knowing how to promote it; the correct training of the staff, which implies making it clear from the beginning what the expectations are and knowing how to read their needs to solve problems; and the business culture, of which everyone is a part and each member is aware of their importance in the organization.
How can you reconcile a demanding and responsible work life with family life?
You only have one life, there is not a family life and a work life. You have to find a way to reconcile it. There are people who say they don't have time to take care of their children and that is a mistake. The most important thing is organization, finding time to combine both things.
What happens when you receive a call outside of business hours?
When you are a leader and you are in charge of people it is something to be expected, it is similar to having a family and having your children call you, even if it is 3 or 5 in the morning. If you are not willing, it is best not to have children or not be a boss, find a job that guarantees you to always be home at the same time.
To what extent is it harmful to hire someone from the family or with a close relationship outside of work?
If you trust a family member and then they don't perform, it's very complicated. It's best to be very clear from the beginning: we can be friends, but if it doesn't work out, you're going to have to leave. You have to anticipate and be prepared, think about the future and not just the present. What can go wrong? And act.
With Covid, the invasion of Ukraine, inflation... more and more young people are losing hope in the world and in fulfilling their dreams. What would you tell them?
I got married in the 60s and at that time people lived worse. There were riots, cities burned to the ground, the Vietnam War… those were tough years. It has always been like this. The important thing is to stay close to loved ones and remember what your values ​​are, what you really believe in. Try not to be distracted by problems that do not depend on you, get up every day and try to be the best person possible. Each one reacts differently and it is up to you to do the right thing, to help others.
What is the responsibility of Disney, as a hegemonic cultural industry, in the impact it produces on its consumers?
They have a responsibility to be responsible, honest and authentic. Now they are having problems for showing issues like homosexuality (
in the buzz lightyear movie) but it's okay because it's the right thing to do. Some won't want to do business for it, but you can't please everyone. Everyone is important, that's what Disney believes.
What is more sensible, to specialize in the field that one loves, even if there is a lot of competition, or in the demands of the market?
If you're going to do what you want, you have to be the best. If you can't be the best, maybe you should do something else. When you are the best, you have a better salary, more quality of life and happiness. Most people are part of the average, the ordinary. You can make the decision. Are you willing to always improve, give everything and work hard?