"It is important to make friends with Multiple Sclerosis to be able to take it"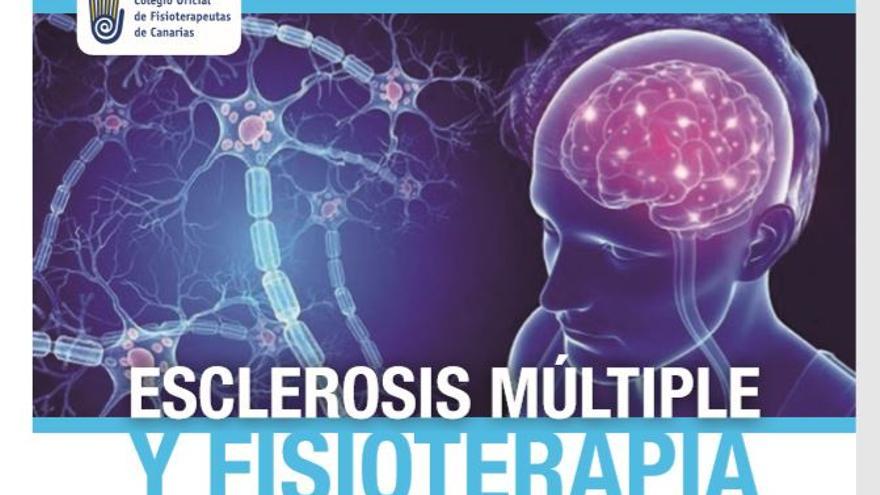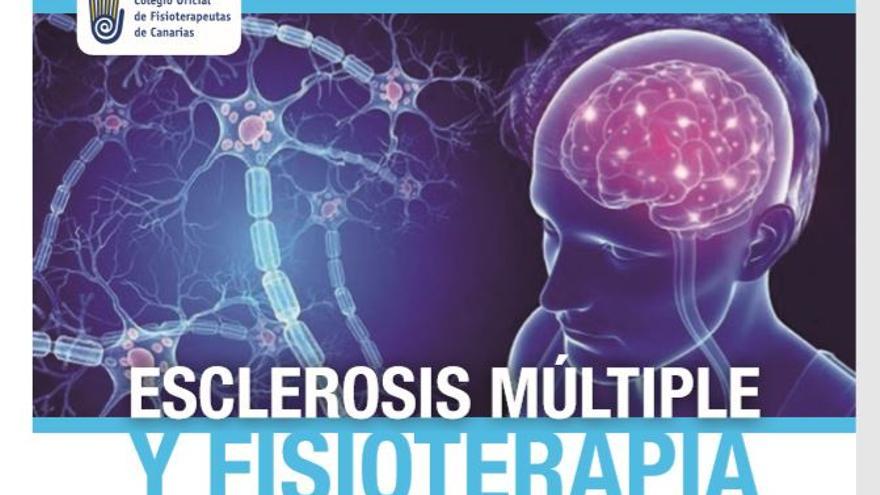 The II Interdisciplinary Conference of Neurology of the College of Physiotherapists of the Canary Islands have been dedicated this year to the multidisciplinary approach of Multiple Sclerosis (MS), whose world day is celebrated tomorrow. Professionals from different branches and an affected person have shared experiences and discussed the importance of early detection and of establishing teams from different health fields that work in a coordinated way to combat this pathology that has no cure and that leaves different sequelae in each of the people who suffer it
Olivier Barrosa Gómez, from Tenerife, was diagnosed with Multiple Sclerosis at the age of 12. Never before has a diagnosis of this pathology been made in the Archipelago at such a young age. Suddenly, he had trouble reaching for a spoon while eating and the alarms went off. After 23 years living with the disease and traveling the world in search of a better treatment, he explains that in the end "the important thing is to befriend the disease so that you can carry it, not fight with it. By going to New York you will not find a solution ".
Multiple Sclerosis currently has no cure, it has outbreaks, which are also different and leave different types of sequelae in each of the people who suffer from it. "In my case, what affects me the most is speech and the mobility of one of my hands and legs. The last outbreak left me in a wheelchair and I still have not fully recovered speech and mobility in one of my hands, but I hope that with rehabilitation I will improve little by little ", explained Olivier during his intervention in the II Interdisciplinary Conference on Neurology of the College of Physiotherapists of the Canary Islands that this year have been dedicated to multidisciplinary approach to Multiple Sclerosis.
In Olivier's case, his positivity and optimism has helped him tremendously in coping with the disease. "I prepared myself psychologically and also materially. I built my house so that it did not have architectural barriers and with a lot of space because I knew that at some point some of the shoots could leave me without walking, since in my case mobility has always been my Achilles heel ", he explained. "And today I consider myself a happy person, rehabilitation being the crucial point of my treatment," he stressed.
In the specific case of physiotherapy treatment "our goal is always to improve the quality of life of the patient," explained the physiotherapist Pilar Pérez Trujillo during her intervention in the conference.
Pilar, who is a member of the COFC Neurology Commission and who currently provides her services in the mutual Fraternity and also works as a teacher at the European University of the Canary Islands, argued that "with physiotherapy those affected increase strength, improve flexibility, resistance, balance and coordination are increased and relaxation is facilitated, also improving sleep dysfunction ", he added.
It must be taken into account that stress is a determining factor for the disease to accelerate its course. People affected by MS who best manage stress have the best prognosis. "Physiotherapy treatment should be prescribed to Multiple Sclerosis patients from the diagnosis of the disease and always individually depending on the characteristics of each one," said Pilar.
Maintaining a routine of daily physical therapy exercises can be a significant contribution to avoiding the most serious effects of long-term symptoms (such as lack of muscle tone, mobility problems, spasticity and balance) so empower and teach those affected it is also the task of physiotherapists.
The techniques used in physiotherapy are, among others, therapeutic exercise and functional rehabilitation, manual therapy, aquatic therapy, neurological physiotherapy, cardiorespiratory physiotherapy or urogynecological treatment.
Int meetingerdisciplinary
During the meeting, which was held online through the GoToMeeting platform and in which more than 200 participants registered, a voice was given to different health professionals who are part of the multidisciplinary team that cares for those affected by Multiple Sclerosis, and It concluded with a round table where everyone agreed on the importance of establishing work teams to follow the patients' history with the different treatments that were being applied from the different health areas.
Dr. Agustín Miguel García Bravo, Head of Section of the Neurological Rehabilitation Area of ​​the Hospital Universitario Nuestra Señora de la Candelaria (HUNSC) and president of the Canarian Society of Rehabilitation and Physical Medicine (SOCARMEF), with extensive experience in treating patients with EM also highlighted the importance of physical activity for the maintenance of patients, since Multiple Sclerosis is a characteristically variable and unpredictable disease in its manifestations and clinical course, although it pointed out that "there is a lack of studies that justify prolonged rehabilitative treatments once stabilization has been established. functional capacity ".
Among other symptoms, Dr. Bravo also highlighted neuropsychiatric disorders, among which is depression, which manifests itself in 50% of patients, or cognitive impairment, suffered by between 45 and 65% of those affected by EM.
For this incurable pathology, disease modulating drugs are essential to try to stop the appearance of new lesions. On new technological and pharmacological advances, spoke the neurologist Montserrat González Platas, a specialist in Multiple Sclerosis who develops her work at the Hospital Universitario de Canarias (HUC), and who explained that currently the medication works mainly in the inflammatory phase and that drugs, Depending on the type of MS, they can reduce the appearance of outbreaks by approximately 30-70%.
In the experimentation phase, there is also food, a type of diet that reduces the germs that are ingested and that introduces the appropriate substances that change the organism's microbiota and that can improve the patient's condition, Montserrat pointed out.
Next, Jonathan Delgado Hernández spoke about speech therapy applied to MS. Delgado Hernández works in the Department of Speech Therapy at CREN Salud in La Laguna (Training and Specialized Rehabilitation in Neurology), is the author of numerous scientific articles on experimental phonetics and has a large number of papers presented at national or international conferences.
During his intervention, he explained that those affected tend to have alterations in swallowing, speech and voice (between 45 and 50% of those affected) and cognitive-linguistic. A direct and specific approach to the affected symptoms, in this case, is essential, and the involvement of families to promote functional conversation in the patient is essential.
About Occupational Therapy and its application in those affected by MS, with the aim of training them according to their status in the activities of daily life, spoke the therapist and professor at the University of Las Palmas de Gran Canaria Silvia Galindo, who works and provides services as an occupational therapist at the Virgen de la Peña Hospital (Fuerteventura).
It should be noted that more than 40% of those affected stop working three years after knowing the diagnosis, a percentage that rises to 70% after ten years of the disease.
In addition to the workplace, those affected are also limited when it comes to focusing on their social participation, leisure or daily tasks. Occupational Therapy is responsible for enhancing and maintaining their sensory functions, motor, cognitive and social communication skills, also creating occupational performance facilitators (support products), removing architectural barriers and adapting the affected person's environment.
The objective of these days dedicated to Multiple Sclerosis, organized by the Neurological Physiotherapy Commission of the COFC, has been to create a space between the members of the interdisciplinary team that treats those affected, the patient associations in the Canary Islands and also their family members, whose involvement is of vital importance for those affected by MS.
About multiple sclerosis
Known as the disease of a thousand faces, Multiple Sclerosis (MS) is one of the most common diseases of the central nervous system (brain and spinal cord) and occurs as a result of the destruction of myelin, a protective sheath that surrounds the nerve fibers of the central nervous system. This damage to myelin disrupts transmission between neurons, interfering with communication between the brain and other parts of the body. It is a complex, inflammatory and neurodegenerative autoimmune disease.
It manifests itself mainly between 20 and 40 years of age (70% of cases), although 6% begins in children under 10 years of age. The pathology affects women to a greater extent (twice as much) and is the main cause of non-traumatic neurological disability. The prevalence in Spain is 80-125 cases per 100,000 inhabitants, which is approximately, according to this index, between 2,000 and 3,000 cases in the Archipelago.
The outbreaks that occur in those affected by MS, leave sequelae present in patients. The most common is spasticity, which occurs in 90% of those affected in a tonic (static) or phasic (dynamic) form. Fatigue is also common. In fact, it occurs in 75-90% of people with MS, and for 50% of them it is the main symptom. In addition, they also tend to have depression (present in 40-50% of those affected); or cognitive impairment by slowing down your processing speed.
Types of EsclerMultiple osis:
Recurrent-remitting multiple sclerosis:
It is the majority type of Multiple Sclerosis and about 80% of patients suffer from it. Symptoms come in flare-ups that can last for days, weeks, and even months, and will vary from episode to episode, depending on the area of ​​the central nervous system affected. Some of the symptoms that can appear during flare-ups are: vision disturbances, loss of muscle strength and dexterity, numbness of limbs, tingling, pain, and balance problems. Once the outbreak, which can last more than 24 hours, is over, the symptoms usually disappear completely, although they can also leave neurological sequelae.
Progressive Secondary Multiple Sclerosis:
25% of people who suffer from relapsing-remitting MS evolve with a progressive neurological deterioration that leads, over the years, to this type of Multiple Sclerosis.
Progressive Primary Multiple Sclerosis:
10-15% of patients suffer from this type of MS. The appearance of symptoms occurs progressively. Especially those related to the ability to walk and motor strength.
Recurrent Progressive Multiple Sclerosis:
It is the least common type of MS. It is suffered by about 5% of patients with Multiple Sclerosis and is characterized by a constant progression of the disease from the beginning and by occasional exacerbations in its evolution. People with this type of MS may or may not experience some recovery after these flare-ups. The disease continues to progress without remissions.