It is false that El Time has published that the evacuation plan for La Palma is underway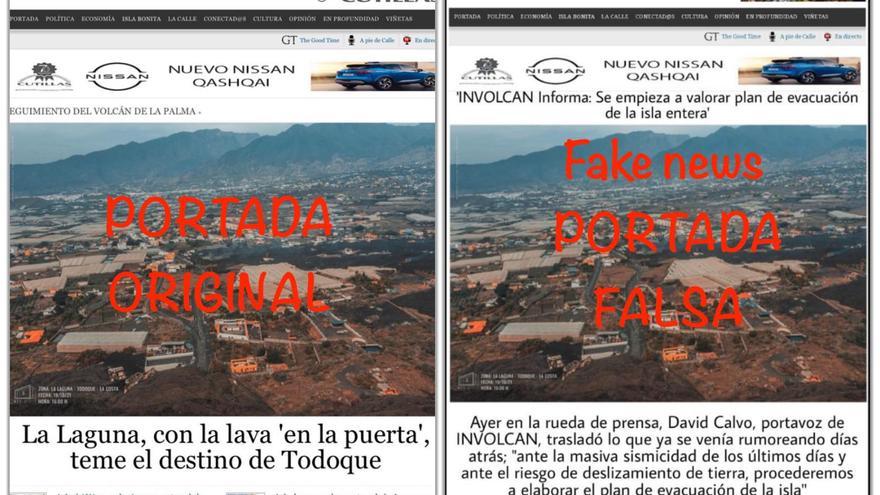 It is difficult to understand that there is anyone who has the courage to play with the misfortune suffered by La Palma trees for a month due to the eruption of the volcano in the Cumbre Vieja area. But evidently that person exists because social networks There is evidence that he entertained himself -it would seem funny-, in replicate the cover of El Time and create a fake one from it. On the fake cover, the main story is the evacuation of the entire island of La Palma.
The false news of the false cover of El Time direct reference is made to Involcan spokesperson, David Calvo, who is credited with communicating the news of the evacuation of the entire island. The following can be read on the false cover: "Yesterday at the press conference, David Calvo, Involcan spokesman, conveyed what had already been rumored days ago;" given the massive seismicity in recent days and the risk of landslides of land, we will proceed to draw up the evacuation plan for the island. "
Thus, the Canary Islands Volcanological Institute has come out on its Twitter account to warn about the falsity of the information. "FALSE, our spokesperson has not made any statement about any evacuation or any plan to evacuate the island, we deeply regret and condemn the malicious damage that some people want to do to the people of La Palma" and tagged the tweet as #FAKENEWS.
Involcan's tweet, posted this Wednesday at 10.10 am, had twelve hours later 92 retweets, 10 quoted tweets and 252 likes. One of the answers is from El Time. The newspaper palmero thanks Involcan. In the rest of the answers, indignation predominates at such a hoax that delves into the suffering of the Palmeros. The condemnation is evident in all the comments, which mark the person who has done this as "bad people" at least.