"It is a pleasure to be able to help such young babies"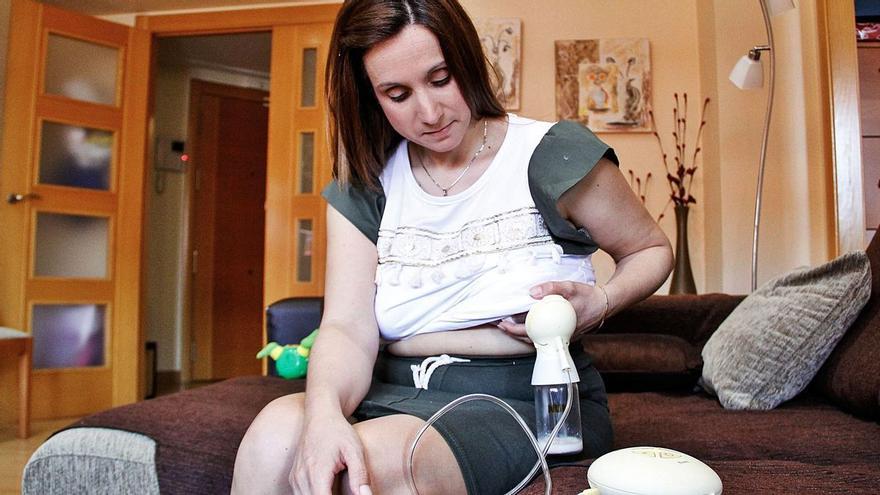 One of the mothers who makes the raising the large premature babies of the Region with breast milk is María Ester Sánchez, one of the twenty donors that the Milk Bank of the Virgen de la Arrixaca Hospital in Murcia has.
This neighbor from Cieza has three children: Sergio, 10 years old; Esther, 6; and little Valeria, 4 months old. After this last pregnancy is when she has been able to become breast milk donor thanks to the launch of the Banco Regional. "I knew that at the Virgen de la Arrixaca Hospital they gave donated breast milk to the very premature, a task that I think is essential to bring forward these little fighters", he explains to LA OPINIÓN DE MURCIA. But having to make a donation to the unit that was in the Santa Lucía Hospital in Cartagena, and which has been operating since 2015, seemed too complicated for him due to the distance that separates it from this center .
Therefore, after giving birth and seeing a news item on social networks announcing the launch of the Regional Milk Bank in Arrixaca He did not think about it and looked for a way to contact them.
"I immediately spoke with the person in charge of the Cieza Lactation League, to see if she had a telephone number that she could call, since I had an excess of milk production and wanted it to be used for other children, "says María Ester, who affirms that they were the ones who put her in contact with la Arrixaca and "there they explained to me the requirements and what I had to do to become a donor."
When this donor contacted the Arrixaca, she had already created her own milk bank at home for her little daughter. Due to her excess production, María Ester had been expressing milk and freezing to the point of having prepared in the freezer up to 60 bags of between 120 and 150 milliliters.
"With the typical mother's obsession that my daughter would not lack milk, I was taking out and freezing to be ready for the moment when I have to get back to work, but there came a point when I had a full freezer", it states.
This neighbor from Cieza is a nurse at the hospital in that municipality, so with the anticipation that on her return to work she will have to do 12-hour shifts at night, she wanted to leave enough milk ready for her husband to feed their young daughter with bottles as long as she can't be home.
Although "we are already trying with a bottle so that the girl gets used to the nipple."
María Esther asked in Arrixaca if she could take advantage of the milk bags that she had frozen for donation, but they told her that to donate the milk it should be frozen in sterile glass jars that they themselves gave to the donors, since being A food intended for premature and large premature babies must be taken with the utmost precautions and comply with the entire protocol. Therefore, part of the bags he had he has kept for Valeria and the rest he has had to throw away. "A real shame," says this mother who is a donor of breast milk.
The March 26th It is a date that has remained marked in his memory, since it was when this neighbor of Cieza began to donate milk to the Arrixaca. "At first I kept it in a fridge with some ice sheets, but now a refrigerated vehicle passes to collect the jars every one or two weeks.
Maria esther It has become the number 1 donor of the Arrixaca Milk Bank, since in this time it has donated more than 16 liters of milk. Upon learning the figure, he is surprised and says that "it is a real satisfaction to know that you can help such young babies to get ahead. Neonates are great fighters and it is clear that the best thing for them is to receive breast milk, so all the effort is little ".
In addition, it ensures that "I would do it again at any time, it's like donating blood or marrow, you know you're helping someone else". But all the credit goes to her, as she insists that "I would not have been able to donate and dedicate myself to expressing milk without the help of my husband, who has been taking care of our children at all times."