Isabelle Anguelovski: "The new green areas of our cities end up benefiting only the richest" | Science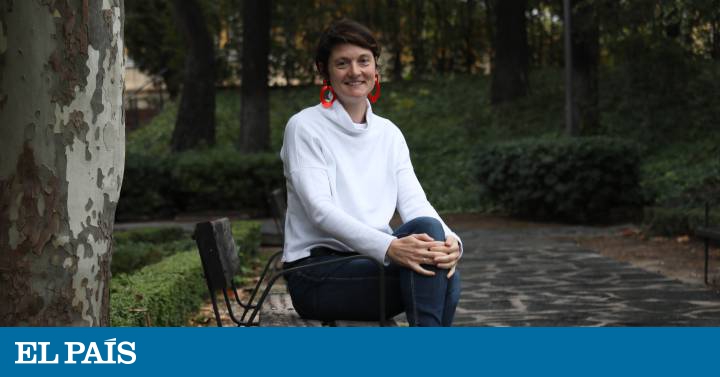 In 2016 Isabelle Anguelovski It received 1.5 million euros from the prestigious EU Research Council to find out if urban improvements in today's cities are benefiting its inhabitants. His team of 20 researchers has studied the impact that the construction of Parkland in 40 cities in the US, Canada and Europe with a population of between 500,000 and 1.5 million inhabitants. In Spain they have been analyzed Barcelona and Valencia. Although the full results of the work will still take a few months to be ready, the main conclusion is already clear: there is a "green gentrification" in most of these cities, so that environmental and urban improvements end up throwing neighbors from their neighborhoods poorer, who are replaced by people with higher incomes and who, in the end, are the ones who benefit from the operation.
In the case of Barcelona, ​​this phenomenon is already having impacts even on the health of the poorest classes, says Anguelovski (Paris, 1978), a research professor at the ICREA Foundation who works at the Institute of Environmental Science and Technology (Autonomous University from Barcelona). Your project is called Greenlulus, an acronym in English that means "local use of unwanted green land" (Green Locally Unwanted Land Uses), because in some of the populations studied, new parks or even new metro stops in the case of the US have been received with strong opposition and neighborhood mobilization because they raise the price of housing and end up throwing them out of their neighborhood.
In cities like Madrid, the inhabitants of the richest areas live 10 years longer on average than those in poor neighborhoods, a gap that is partly due to the configuration of the neighborhoods: the type of shops, the availability of alcohol, the quality of sports facilities, green areas. Anguelovski's next goal is to collaborate with other teams that work in public health and study how neighborhoods influence the health of their inhabitants and their life expectancy, such as the doctor's Manuel Franco, from the University of Alcalá de Henares, responsible for the project Heart Healthy Hoods (heart-healthy neighborhoods), the first financed by the European Research Council on urban health.
In this interview, the researcher, doctor in urban planning by MIT (Massachusetts Institute of Technology) and advises the City Council of Barcelona, ​​explains how the transformation of neighborhoods that live in most current cities can sometimes produce monsters. In his presentations he shows one of them: a park with an artificial pond isolated by a huge highway junction. It is the park of the Trinitat, in Barcelona.
Question. How do you define gentrification?
Reply. They are demographic changes in historically more marginalized neighborhoods, more workers or with immigrant population in which higher, whiter classes begin to arrive, which will replace or even expel them. This is accompanied by changes in the type of shops and rising housing prices. The Lavapiés neighborhood of Madrid is an example. One of the factors that drives gentrification is the creation of green areas and, above all, how real estate developers use them as a strategy to sell more apartments.
P. What effects does this have on neighbors?
R. We know that housing prices within a radius of about 500 meters around the green space increase more than in the rest of the district. We have seen it in more than half of the green spaces studied. We have also seen a substitution of neighbors with lower levels of education and less purchasing power, which have to leave the neighborhood because the price of housing rises so much that they cannot afford it.
P. What have you observed in the case of Barcelona?
R. We have studied 18 parks that were built between 1990 and 2000. It was a time when the authorities wanted to make the city greener, especially in neighborhoods with hardly any parks, working-class neighborhoods that were pure brick. What we have seen, according to the census data of the Department of Statistics of the City Council, is that in half of all these areas, especially in the district of Sant Martí and Gracia, there was that departure of immigrants or with low levels of education and income. At the same time, the price of housing increased. That is, the people who are now benefiting from these parks are of higher income and higher education.
P. Do you know where they went?
R. Indirectly, for interviews with officials of the Barcelona City Council, for example. They have seen that many of those people left for San Andreu or some areas of Nou Barris that are more affordable, but less green.
P. They have also analyzed how this affects health.
R. There is another factor, which is that people who have always lived in that neighborhood and who do not leave, stop using the green areas. It may be because the parks are used for other things, for drug trafficking, for the massive arrival of tourists, because there are large bottles, because the parks become embedded in expensive real estate projects, such as in Diagonal Mar. These neighbors self-expel themselves from the Parks do not feel they are their own space. This causes more social isolation, because you are more at home, you exercise less and if you go, you are more exposed to the sale of drugs. We have seen this a lot in Barcelona, ​​in interviews with workers from neighborhood, community associations and also with primary care doctors and nurses in health centers. For example, in a school in Ciutat Vella they have explained to us that they have to follow up on children who are being expelled from the neighborhood or who are under threat due to housing. Apart from this, there are also impacts on cardiovascular health through stress, which is related to worse sleeping and eating habits. And this not only affects the lower classes, green gentrification is also throwing the middle classes out of the neighborhoods without high incomes: teachers, social workers, nurses …
P. You talk that sometimes there are demonstrations against new metro stations.
R. That happens especially in the US and Canada, much less densely populated areas where having access to public transport greatly increases the neighborhood cache. You no longer depend on the car or bus lines. These metro stops are often accompanied by urban developments, some of them luxury. That is why there are neighborhoods, such as Roxbury, in Boston, where neighbors protest against the subway opening in their neighborhoods because they know that house prices will rise until they cannot afford them. Something similar happens with the bike lanes. In Portland they fight against them because they say they are white lanes, lanes for targets.
P. How does tourism affect all this?
R. Tourism gentrifies because lifelong rental apartments become tourist apartments. This automatically increases the price of housing. There are even entire buildings that become hotels. This reduces the conventional housing stock. More bars, more cafes, more expensive stores open. In the case of green areas, neighborhoods such as Sant Pere, Santa Caterina, Barceloneta, where a great investment has been made to pedestrianize, improve public lighting, sewerage, garbage collection, open community spaces, are the most flooded neighborhoods by tourism and it is the tourist who occupies those places. This creates a barrier for families. In Barcelona there is a lot of tourism linked to drugs and sex that makes the problem worse.
P. In his study he also talks about the impact of student residences.
R. There are companies in Australia, the US and England that build luxury residences on empty or industrial land. They make new buildings dedicated to student residences or put them on empty floors. The housing quality is very poor, few square meters, shared kitchens. There are towers like these in Dublin and in Barcelona. A study costs 1,500 euros per month. Its audience is international, Japanese, Russian, American. Spanish students simply cannot pay that money, they do not have access to these residences.
P. What is the solution, because the green areas are in principle good?
R. In this sense, what we see is that green areas benefit only the richest over time. In the first moments it does not seem that way, but as the years go by it is confirmed. It's not that we don't want green spaces. It is urban planning by sector, without thinking about who is going to use it or what is around. We only try to warn of the problems we see in the cities and know what has happened in the last 30 years. To avoid these problems you have to limit the price of housing rents and of the commercial premises, for example. You have to put moratoriums on hotels and terraces. Taxes for tourists and real estate developers also work. Another solution is the obligation to build 20% of social housing in each new urban development. This in France applies by law. In Spain the problem is that after 20 years social housing is liberalized and you can sell it at any price.
P. Another topic he studies is the impact of new neighborhoods adapted to climate change
R. In general, the most vulnerable population is more exposed to climate change despite having contributed less to the problem, they have fewer resources to respond and, in addition, they are at greater risk of being thrown out of their areas. What we see is that many of the new urban projects resistant to climate change, for example at sea level rise, are concentrated in areas with less income. But what we see in cities like Boston or Philadelphia is that those districts change labels, become resilient, a builder arrives, sees a flood-proof green park and builds an apartment tower of unbeatable prices.
P. What real power do the authorities have in front of construction companies?
R. We are blocked by a territorial issue. In May, during fieldwork in Ireland I asked people why there were no neighborhood movements against urban speculation. They told me "we have only mass mobilized for the political, religious and territorial factor for 30 years." I thought we are not so far from that. In Catalonia hundreds of thousands of people take to the streets for nationalism and prisoners, which seems very good because the sentence was very hard, but at the same time we stop talking about other problems equally important for people, such as Housing or cities. Will these problems be minor in an independent Catalonia?
P. Of all the cities studied, which ones are worse?
R. The situation is much worse in the US: Boston, Philadelphia, Austin, San Francisco …
P. Are there positive cases in Spain?
R. Valencia is very interesting because it has a large emblematic park, that of Turia, but it also has many neighborhood parks and we believe that these types of areas have a buffer effect against massive gentrification. Many people have access to these parks and make the most emblematic parks not crowded.
. (tagsToTranslate) new (t) new (t) zone (t) green (t) city (t) end (t) benefit (t) only (t) rich (t) urbanist (t) have (t) receive ( t) 1 (t) 5 million euros (t) ue (t) study (t) impact (t) park (t) 40 (t) europe (t) usa (t) canada



Source link