Isabel Gemio appears in 'Blood ties' after her controversial disagreement with María Teresa Campos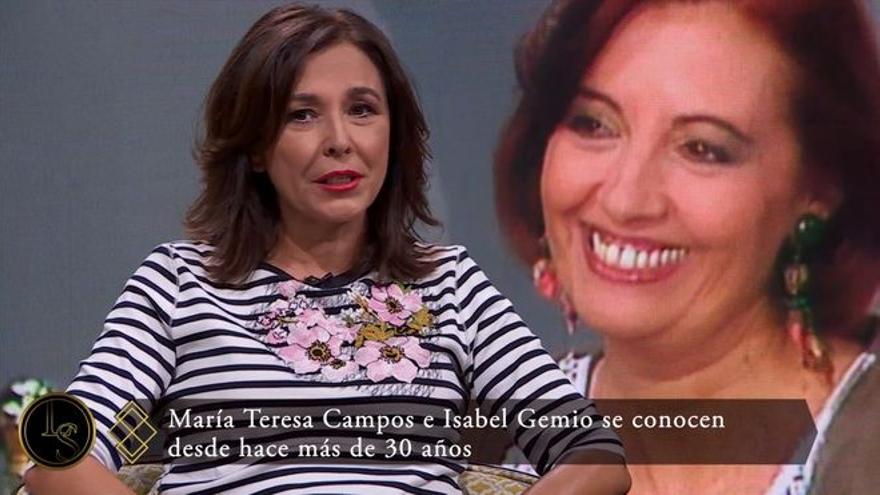 TVE dedicated Tuesday's prime time to Maria Teresa Campos. The veteran communicator was the protagonist of the new installment of 'Blood ties', which had the participation of her daughters and other people who know her very well, both personally and professionally. One of the guests of the night was Isabel Gemio, whose presence generated much expectation due to the sounded disagreement he had with María Teresa just a few months ago.
In January of this year, the two professionals made numerous headlines following a tense interview on YouTube. The conversation began to twist after Gemio made reference to the age of his partner: "Did you imagine yourself that way when you were 80 years old?" "You are a sow"Campos replied in a supposed joking tone. However, this alone was the trigger and the knives flew in both directions. So much so that television programs such as 'Save me' focused several of their deliveries on this media war.
Last night, to the surprise of many viewers, Isabel Gemio reappeared on TVE as a talk show of the debate on 'Blood ties' in which the figure of María Teresa Campos was analyzed. The one who was the presenter of 'Surprise, surprise' began her speech with a thank you to the chain: "An invitation like this, in a house like this, means a lot to those of us who are here".
"Recognizing the impressive career that María Teresa Campos has … How could she not accept the invitation?" Added the journalist, who, being aware that her presence on the set was going to be widely commented, wanted to clarify something: " I am delighted to be here. Maybe some person can think, because of that misunderstanding that there was, that there is going to be some morbid. Not at all, not at all. "
"For me the affection that I have for him, the affection, the respect and the admiration will always prevail," he added while some archive images appeared on the screen in which they appeared together: "He gave me those earrings at the end of the interview" . Carmen Lomana, Ramoncín, José Manuel Parada, Josemi Rodríguez Sieiro, Rosa Villacastín Y Alejandra Rubio, granddaughter of María Teresa Campos, also participated in 'Lazos de sangre', which was followed by 6.8% of the audience.