Is it true that there are packages blocked at the Post Office or is the delivery up to date?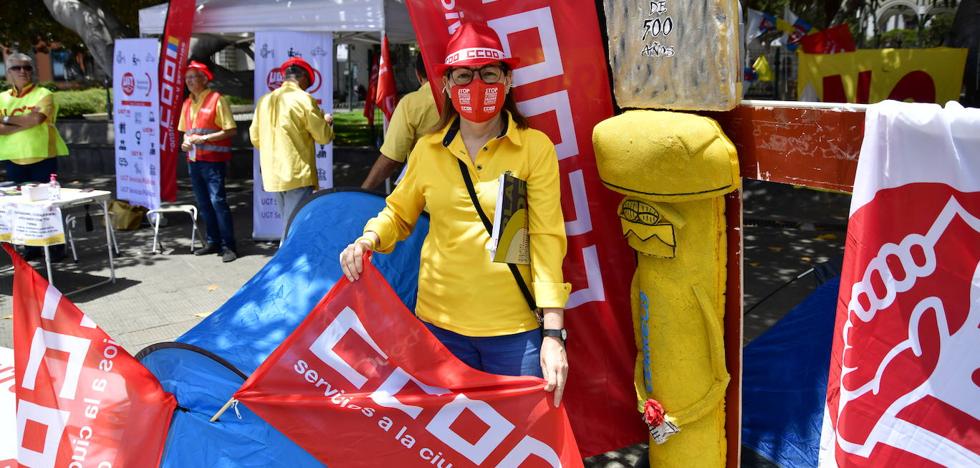 The representatives of the workers assure that there are around 3,000 packages stopped in the centers of the islands and the management of the company in the Canary Islands denies it. This video shows the reality.
The workers and the management of the Post Office in the Canary Islands offer a conflicting image and very different about the situation in which the delivery service in the archipelago finds itself.
The first ensure that there are about 3,000 packages waiting to be delivered in the distribution centers of the islands, some since December, and blame Correos for "intentionally blocking" this merchandise to devalue the company's image in public opinion and justify a privatization that they consider imminent.
The workers show some photos taken this week (see below) in which the crates are seen full of packages and sporting a handwritten sign with the words 'oldest' to distinguish the cargo that has been waiting for delivery the longest from the most recent.
Image provided by the unions, with the cages full of packages. /

C7

The address of the company in the islandsfor its part, rejects these accusations.
Ensures delivery units are up to date and they assure that despite the fact that 17 containers arrived in the Canary Islands between Sunday and Monday, the more than 80,000 packages they were transporting have been distributed normally.
He rejects that the public service is being dismantled. Quite the contrary, bet on him. To hold your words
send a photograph of a center in the Canary Islands (below) in which a completely clean area is seen, without packages or merchandise.
Image provided by the company, with the center empty of merchandise. /

C7

CANARIAS7 has obtained the video that illustrates this information and in which you can see in a Post Office center the two areas that make it up and that show the images of the company and the workers.
They are two parts of the same reality: At the beginning of the video, the area of ​​the photo sent by Correos is seen on the left, completely empty and with some operators working; Next, the customs area appears on the right, which is the photo that the workers have, full of unclassified packages, ordered and distributed, waiting for delivery.