Is it hard to get up in the morning? Get one of these and you will stop being late for work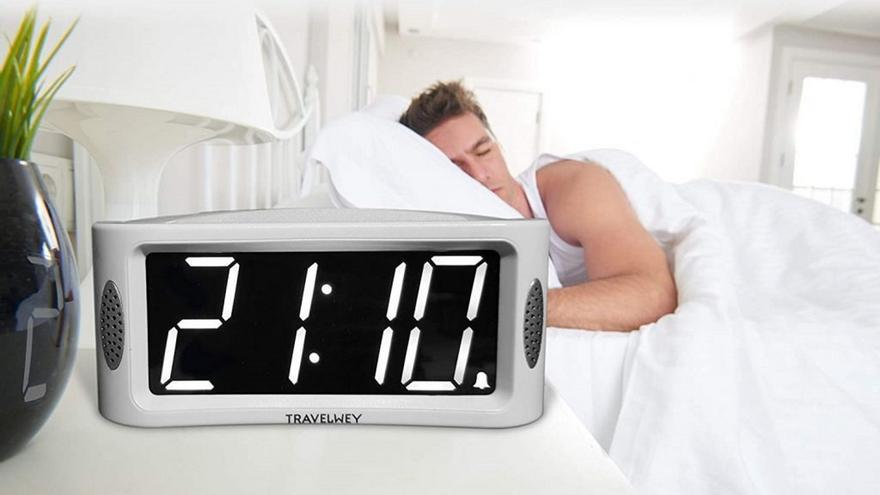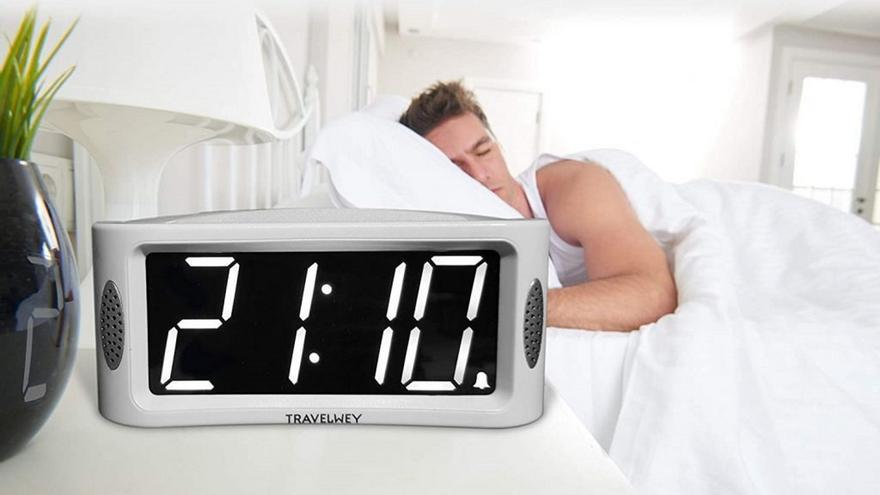 Waking up in the morning has never been easier. Another thing is getting up, which already depends on each one and the kilos of exhaustion or laziness with which you open your eye every morning. That's where the alarm clock.
But the first step to everything is to wake up, and for this it is essential to choose the best alarm clock.
It is true that this object is difficult for one day to become our friend, but if at least we are certain that it has never failed us, it will have fulfilled its mission, and we will respect it.
Anyway, and as today there are such number of models and ways of trying to stand up, better a varied selection of alarm clocks so that anyone can see their tastes satisfied, hobbies …
And for the record, these alarm clocks are generally more reliable and more effective than our phones.
Best Seller: Travelwey HOME LED Digital Alarm Clock
There is nothing like simplicity to ensure success. And nothing like a normal alarm clock, of the whole vinea, to sweep sales … as long as everything works perfectly.
Designed with the idea of ​​building an alarm clock of great simplicity that can be easy to use for children, the elderly and even the elderly.
The red hour numbers are extra large so you can see them even with tired eyes.
And they have a higher brightness than usual, which can also be regulated using the intensity controller.
In addition, the Travelwey bedside clock has a more powerful light integrated than other alarm clocks and is very easy to activate by pressing the top button. It can even allow you to read in bed.
You can also adjust the volume of the alarm, which is unpleasant enough for any type of sleep, and it sounds for five minutes in a row if we do not turn it off.
The clock works plugged into the current but also takes two AAA batteries, to prevent a possible blackout.
The most sophisticated, Amazon Echo Spot
The Echo Spot is one of the small amazon smart speakers which is having a very important sales success since its launch in Spain about two months ago.
With a round touch screen and an integrated camera that is also intended to replace our alarm clock on the bedside table.
Not to mention that also, with the Echo Spot we can make video calls, ask the time and temperature to see what day awaits us, and surely in not long time we will be able to know the state of the traffic to know if we can give a couple more turns in bed.
The Alexa smart assistant. It measures a total of 9.65 cm high (3.8 inches), 10.4 cm wide (4.1 inches) and its screen is 6.35 centimeters (2.5 inches) and comes in two colors, black and white.
It is very intuitive, although it is necessary to connect it and download the Alexa application on our mobile phone and open it in order to configure the Echo Spot.
You can customize the background of the screen, activate the automatic brightness, configure routines so that the option of do not disturb is activated automatically, etc.
Its screen is very useful, although it is not the best option for watching video. But it is perfect as a watch, to watch the news, to know the football results … You can even read us recipes, with the necessary instructions and the list of ingredients.
So we can have an awakened person on our bedside table with which we can also make phone calls without getting out of bed.
Because we don't need to get close so they can hear us wonderfully.
In addition, if we are going to leave it on the bedside table, we can configure the screen to turn off after one hour, so that it does not bother us.
And to wake us up at a specific time with our favorite song.
With the best sound and double alarm for couples, JBL
Prices with VAT without transport. Last update on 2021-10-05 at 12:28
A model designed for couples who have to wake up at different times and they need to know whose morning noise is … and whose turn it is to get up.
Because you have independent alarms for you and your partner or company.
In addition, the ambient LED light increases slowly, helping you to wake up quietly.
And the LCD screen automatically adjusts the brightness according to the lighting in the room.
In addition, it has a battery system that guarantees that it will always sound, even if the power has gone out during the night.
It is compatible with all smart devices and like good JBL it has a stereo sound quality whether you use it as an alarm clock or as a Bluetooth speaker.
Waking up to sunlight, or almost … Philips HF3506 / 20
With a yellow light that goes from less to more vibrant, to simulate a sunny sunrise that invites optimism, and that it seems that the sunlight wakes us up without having raised the blind.
With sounds of nature that will increase in volume while the light increases.
It has five different and relaxing sounds that are combined with the gradual increase in light, which according to the brand itself provides a "complete sensory experience".
Philips assures that it has shown, after many scientific analyzes, that this light alarm clock wakes us up in a more natural way and with a better mood, which in some cases could even be considered a miracle.
For deep sleep, Sonic Alert SBJ525SS Sonic Bomb Jr
Aspire to be the perfect alarm clock for those who are a heavy sleeper and they do not get up anything or with any sweet little noise, no matter how insistent.
Zeus did not show up at your home to make life more pleasant for you, but to get you to wake up and get up at your scheduled time.
That you probably fixed it at bedtime for some specific reason.
So this alarm clock puts out a thunderous 113 decibel hum. And if that wasn't enough, it emits flashes of bright red light.
And on top of it, it includes a Shaker, which is what alarm clocks for people with hearing disabilities are called.
A device that vibrates under the pillow at the scheduled time. And the truth is that this model does it with such force, that it would be able to wake us up by itself placed on the bedside table.
The only thing missing was that the action of pressing was more complicated to make it sound again a few minutes later.
But without a doubt, it is the alarm clock for sleepers.
Clocky, the Original Runaway Alarm Clock on Wheels
A fun idea that works very well to put laziness in the middle. Did you hit the pause button and stay in bed? No problem.
The only thing is that the alarm clock will start to move away from you automatically, and it will end up creating such a distance that you will have no choice but to get out of bed to pause again.
Because this alarm clock is capable of jumping from the bedside table, no less than from almost a meter in height, and shooting off, becoming what some have called a 'buzzer droid'.
And it is that R2-D2 will make sounds while walking around the room, waiting for the 'sleepyhead' to catch him.
It comes in pastel blue, white, red colors … and at the weekend it is better to remove the wheels and leave them fixed, to avoid scares.
Pyramid-shaped alarm clock, with thermometer
The best part of this pyramid-shaped watch is its thermometer, which we indicates the outside temperature so we know exactly how to dress for the day before getting out of bed.
This unit flashes up to seven different colors, and the pyramid shape is particularly fun to display on your desk or dresser.
It is a reliable option for a small price!
For everyone: POHOVE
Prices with VAT without transport. Last update on 2021-10-05 at 12:29
The number display is easy to read. The VA display is dimmable so you are not disturbed by the bright light from the watch at night.
This 180 degree projection alarm clock has FM radio to listen to music or your favorite programs.
It is equipped with sensors, displayed with indoor temperature. The perfect clock for your bedroom!
LEGO Star Wars alarm clock
Lego has prepared a very funny alarm clock for kids ages six and up and Star Wars fans.
It is the figure of a Stormtrooper that is 24 centimeters tall and has movable arms and legs.
It has an illuminated digital display and the repeat and 'backlight' functions are activated by pressing the head of the figurine.
Recall that the stormtroopers of the Galactic Empire, Stormtroopers wore white armor that was equipped with a variety of survival gear and temperature controls, which meant that they could survive in most environments.
Trained for total obedience to Emperor Palpatine and the imperial regime.
Cloud alarm clock
A cloud with a few droplets of rain hanging down, which will allow you to snooze your alarm for five minutes when you gently shake it. A decorative item.
It can hang on the walls or stick to the fridge with a hook or magnet.
Automatically displays the temperature in real time, and the time in minutes and seconds.
Doctor Who Projector Alarm Clock
An ideal alarm clock for who they are followers of the 'Doctor Who' series even the sound is that of the Tardis, and although the reproduction is a bit small, it is perfectly designed.
The only bad thing is that the instructions are too short and you have to complete them by consulting the internet.
It projects the time with a soft blue light, but only when the alarm clock rings or when we press the button.