Is it compatible to be a feminist and defend the veil?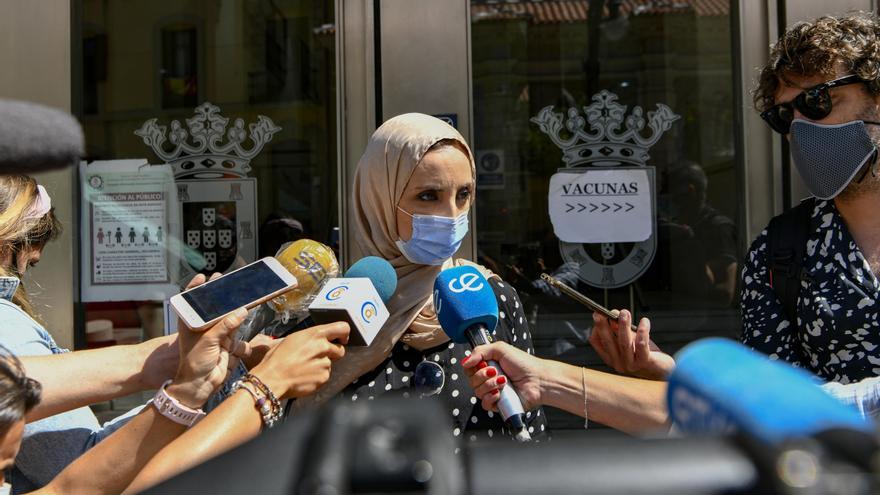 Is the hijab a symbol of submission and control of women or a sign of identity and one more option of freedom of clothing? The participation of Fátima Hamed, MDyC leader, in the feminist politics meeting in Valencia has reopened unresolved debates within the feminism on secularism and religion, integration of difference and on the use of the veil.
Three prominent Muslim feminist activists have shared with The Newspaper of Spain their disparate visions about the use of the hijab and the solutions that feminism should propose to fight for equality of Muslim women.
Found positions
"To defend the use of the hijab is to defend discrimination against women. How feminism fights against all forms of oppression and discriminationIn no way is it possible to defend the use of the hijab and be a feminist because, to date, there is no sexist feminism. It is a symbol of submission, the tip of the iceberg of a network of norms for control our bodies, our sexuality and our lives", defends the writer Najat el Hachmi.
"It is also the flag of fundamentalism. If a woman says to put it on voluntarily, the message she is transmitting is that despite having left the segregation that was imposed on our ancestors, she agrees to submit to the dictates of the religious patriarchy in which we were born", keep going.
The councilor of Más Madrid in the Madrid City Council Maysoun Douas differs and defends the freedom of choice and clothing of women and that feminism fight for women to decide what to do with their bodies: "That would have to be our struggle, to let women define themselves as they are. If they want to get dressed, let them get dressed, and if they want to undress, let them undress".
Douas criticizes the need to continue defending women's freedom of clothing, when until recently there have been campaigns that claimed that each woman could dress as she wanted without giving the others the right to touch her, look at her badly or criticize her.
But Najat el Hachmi stands at its antipodes: "There is no freedom to cover yourself as there is no freedom to enslave yourself, it is a full-fledged oxymoron. If your father, your brother, your husband, your cousin, your neighbor, the imam of the mosque, the preacher of the parabolic, the hijabista on Instagram are telling you that to be Muslim you have to wear a veil, where is the freedom of choice? ", she reflects.
The Newspaper of Spain He has tried to contact Fatima Hamed Hossain to get her opinion, but it has not been possible to speak with her.
The author of the book "They will not cover us. Islam, veil, patriarchy", Mimunt Hamido Yahia, thinks that it is compatible to be a believer and a feminist, but do not defend the hijab, which considers a "misogynist symbol, a flag of surrender to the patriarchy":" All religions discriminate against women for being women, it is not something intrinsic to the Islamic religion. In Europe, the hijab is disguised as an identity symbol, but it is not only used to cover women, but to say 'these women are ours' ", he laments.
Target of criticism
The activist has shown very critical with the inclusion in the feminist act of Valencia of a policy that wears a veil.
"Who in their right mind thinks it is a feminist to put a patriarchal symbol on your head for which women die every day in the world? Is it progressive validate religious identities, continue to use women's bodies to fulfill other people's desires? The answer is obvious, no. The left is secular by definition, secularism is very important for the emancipation of women. They are not feminists or progressives, they are populists ", denounces Hamido Yahia.
He emphasizes that in Spain there are girls who suffer daily for being forced to wear the veil, he maintains that "they receive beatings" if they take it off. "Doesn't anyone think about those girls?" He says, further arguing that Muslim men don't have to confirm their identity with a hijab.
Neither does Najat el Hachmi, author of "They have always spoken for us", see with good eyes that the hijab has played a leading role in the political act organized by Yolanda Diaz next to Hamed, Monica Oltra, Mónica García and Ada Colau in Valencia: "Every time we introduce a hijab in politics or in spheres of representation with great impact, we are paving the way for the islamic far right"It draws attention to the infiltration capacity of the Islamist discourse even in social networks What Instagram and Hamido Yahia shares that there is an "extremist Islamist current" running through Europe.
The Hachmi is forceful when it comes to assuring that "the left cannot defend the veil": "A provelo left is a racist left because in the end the veil and all that it entails is only suffered by some women. It is tolerated for us what is never tolerated for them or their daughters. Personally, this racism on the part of supposedly feminist and progressive women hurts much more than that of the extreme right. "
Protagonism of Muslim women
The policy of Más Madrid, Maysoun Douas, nevertheless celebrates that Muslim women have a greater political participation and can contribute to this society, despite the fact that they must deal with the "stigmatization of Islam" and "constantly defying social conventions": "Not that it comes from the radical spectrum of politics, they are generalized biases. Suddenly we arrived when they weren't waiting for us around here".
"Every time I see more diversity and plurality on the national scene. Before we talked about repressed women, now about the number of Muslim women who are exercising their rights in politics, research, development cooperation and business. Some wear a veil, some don't, but all are exercising your rights and helping other women to get them, "underlines the policy.
Douas detects in the Spanish feminist movement every time greater efforts of approach and understanding. In a few years, she says, it has gone from 8M demonstrations in which it was very difficult to see veiled women, because they were not welcome, to protests with veiled and unveiled women, with dreadlocks, with children and without children, lesbians , single … "We are all in the same place because we have the same rights to claim," he emphasizes.
Global feminism
Despite the fact that these three feminist activists have different positions regarding the veil, they agree in understanding that feminism has to fight to overcome the barriers that prevent women from being first-class citizens.
Advocates the policy of More Madrid by a feminism that encompasses all women and defend their rights, their participation and their right to do, without linking it to specific religious or political identities: "We are all in the same boat," he asserts.
El Hachmi affirms that Muslim women are also part of the feminist movement, since they are "in the daily struggle for survival and the conquest of freedom. "And what should feminism do for Muslim women? The writer is clear: fight against forms of discrimination and oppression they suffer, both those shared with other women, as well as those that only affect them, such as polygamy, wearing the veil or lack of sexual freedom.
Douas emphasizes that the reality of Muslim women is not only crossed by the discrimination they suffer for being women, but also by religion and racism. This multiple discrimination For example, it makes it difficult for them to access a job under equal conditions and draws attention to the fact that many Muslim women are opting for jobs carried out remotely, at home, to avoid being in front of the public: "It is as if we had failed as society because we return again to watch over them".
"For the fact of being a woman, Muslim, for having chosen a life option -in reference to the veil-, you look in worse condition to access a job, a rental, a service, "he adds.
Feminism should, according to the councilor of Más Madrid, promote sisterhood, accompaniment between disparate women, believing in each other regardless of the life project that each one chooses.