IRPH divides Spanish justice pending the ruling of the CJEU | Economy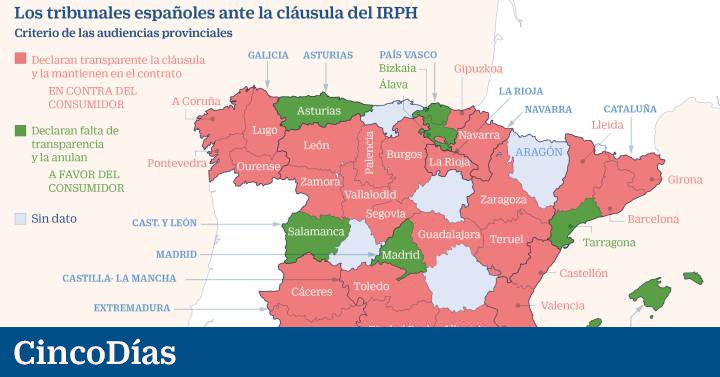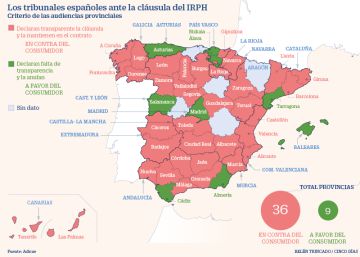 The Supreme Court ruling endorsing the use of the IRPH mortgage index by Spanish banks at the end of 2017 did not settle the controversy even among the lower judicial instances. Waiting for the EU Court of Justice (CJEU) to issue a ruling next Tuesday that is expected to set a definitive judicial criterion, the Spanish justice continues to issue contradictory rulings.
Thus, of the 45 provincial audiences that have ended up addressing consumer complaints against the use of the Mortgage Loan Reference Index (IRPH), the vast majority, a total of 36, have been ruling in favor of the banking system, following the established arguments by the Spanish high court. However, nine others (those of Madrid, Baleares, Asturias, Vizcaya, Álava, Tarragona, Salamanca, Almería and Cádiz) are opting to cancel the application of this mortgage index as abusive, according to data collected by the association of financial users Adicae .
To issue this type of ruling, against the voice of the Supreme Court, judges are clinging to European jurisprudence on abusive clauses. Some also take advantage of the content of the particular vote with which the high court ruling was told.
In the face of such controversy, the head of the Court of First Instance of Barcelona ended up raising to the Luxembourg Court the case of a Bankia mortgage in which the client ended up paying between 18,000 and 21,000 euros more when being subject to IRPH than he would have paid If your credit is linked to the Euribor.
The matter was already addressed last September by the attorney general of the CJEU Maciej Szpunar, a kind of general prosecutor who opened the door to knock down its use due to lack of transparency. He argued that given its complexity, linking a mortgage to the IRPH requires duly informing the client of its method of calculation, evolution and potential repercussions, something that few entities met during its commercialization.
Only the great bank is played about 17,000 million euros with the decision of the CJEU, amount that the investment bank giant Goldman Sachs raises to 44,000 million in the event that the effects of a totally retroactive cancellation for the Financial sector as a whole. The Spanish Government has requested the CJEU to limit the impact of a possible negative ruling for Spanish banks, although Luxembourg has already ignored these types of requests in the case of the ground clauses.
In the European ruling next week, Adicae expects the CJEU to clarify "if judges in Spain can assess the transparency of IRPH and determine its invalidity; what aspects should be considered to assess the lack of transparency; if it is likely to be considered abusive even if there had been transparency in hiring; and finally, what are the effects of the declaration of nullity of the IRPH ", if so decided.