Iron Maiden to release their new album, 'Senjutsu' on September 3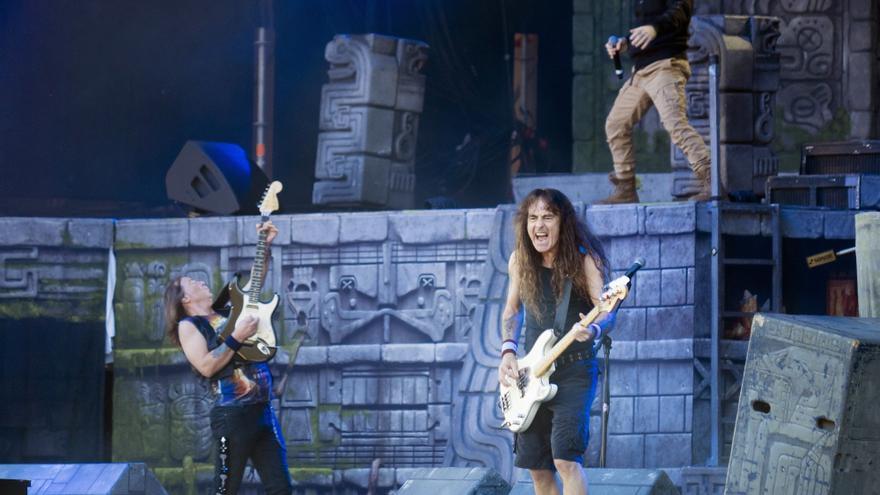 The veteran British heavy metal band Iron maiden has announced that the next September 3 will publish a new double album that will be counted as his seventeenth studio album and which will be titled 'Senjutsu'.
Translated into Spanish as "tactics and strategy", their record company has reported that it was recorded in the Guillaume Tell studio in Paris, a former cinema in the French capital where they had already worked.
It has been produced by Kevin Shirley with the founder of the group, Steve Harris, who, in statements collected by the Parlophone label, said of the process: "There are quite complex songs on the album that gave us a lot of work to get them to sound the way we wanted."
"Sometimes that process is a challenge, but Kevin is great at capturing the essence of the band and I think it has been worth all the effort," adds the bassist of the formation, "very proud" of the result.
'Senjutsu', 82 minutes long, will be released in digital format, double CD and as triple vinyl and It will be Iron Maiden's first studio album since they released 'The Book of Souls' 6 years ago, another long-term job that reached number 1 in sales in Spain, among other countries.
At this time, the group released at the end of 2020 a live album called 'Nights Of The Dead – Legacy Of The Beast, Live In Mexico City', which was recorded in the Mexican capital in 2019 as a result of three nights of concert with their most recent tour, interrupted by the pandemic.
As revealed by the vocalist, Bruce Dickinson, who has been "enthusiastic" about the songs, it was a break from this tour that they took the opportunity to finish the job, of which he has offered some keys: "Very varied themes, some of them very long, with one or two songs also that sound quite different" in the usual style of the group.
From the same it is already possible to listen to "The Writing On The Wall", whose video clip and audio are available on "streaming" platforms.
It will be completed with another 9 cuts titled: "Senjutsu", "Stratego", "Lost In A Lost World", "Days Of Future Past", "The Time Machine", "Darkest Hour", "Death Of The Celts", " The Parchment "and" Hell On Earth ".
Iron Maiden was scheduled to resume the European leg of the "tour" this summer. "Legacy Of The Beast", but the sanitary conditions have led them to postpone it until the summer of next year, when, among other appointments, they are planning a concert at the Lluís Companys Olympic Stadium in Barcelona on July 29.