Interview with Jasikevicius before the 'Final Four': "I'm ambitious, I always want more"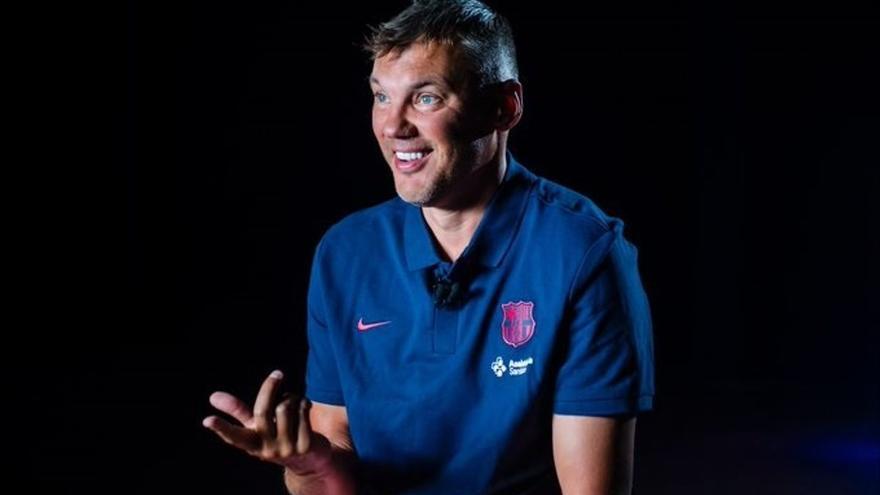 -Many eyes will be on Barça, which returns to the 'final four' as one of the four best in Europe. But also in you. It is your first great challenge as an elite coach. How do you face it?
–Nothing changes for me. I am the same as 24 years ago, when I started playing at a high level. I have always tried to win it all, to do it in the best possible way, to focus on daily work and to work and work. That is what I am trying to do now as well. But I'm glad that inside I still have a lot of ambition and a lot of desire.
-Would you dream of winning the Euroleague in Cologne?
–This is not going to change me, whatever happens. I'm going to continue like this, whether we win or not. As soon as we return from Cologne, we will have to play the ACB play-offs and go for them. You always have to go for more. It is what we want. And the same can be said for next season.
"The titles are difficult to get. But to the 'final four' it is necessary to arrive more. It is what will give you more options to win"

-Don't you have special feelings about the possibility of leading Barça to the European throne as you already did as a player?
-I am lucky that I have already been through this situation many times. I take everything much more calmly and calmly. As a player I was not nervous, but ten times more. But you have to know how to carry it and with time you get it. Now I carry it better inside. I live it more calmly, although I will not deny that it is clearly a very great illusion that I have.
-You came to Barça this season to restore competitiveness and take it to the fight for the titles. Are you satisfied with what has been achieved in these months?
-Well. You always expect more. I am ambitious and I always want more. I'm like this. But I think that at the level of objectives, we are fulfilling what we wanted: we are in the 'final four', doing good basketball, we have won the Cup, we are in the fight for all the titles and in the next 3 or 4 weeks we will will decide everything. There are reasons to be proud and hopeful.
"Armani Milan is a very good one-on-one team. With great shooters and they will demand a very good defense from us."
-He recently stated that it was unacceptable for a club like Barça to spend seven years without reaching the 'final four'. Is it also true to spend ten years without achieving the title?
–Titles are hard to come by. But the 'final four' has to go further. We try to build a project that allows us to arrive many more times. That is what will give you the most chances of winning the title. That is what we want here. Then in a 'final four' everything goes very fast. There are many factors, there are physical demands, you have to arrive in good condition … This is an extremely close competition. That is what makes it so difficult.
-As a player you have been many times in this position, what is the secret? What have you transmitted to your players?
–Until Saturday's game against Tenerife, we hadn't talked about Milan. But the message is always the same. You have to control what you can control: the game plan, leaving everything on the court, defense and hopefully we can have the right attack and that things go well for us. We have worked hard to arrive well prepared for what awaits us.
"Incorporating Pau Gasol was not a risk, we needed a player with his characteristics, his experience, his seriousness"

-He assumed the risk of incorporating Pau Gasol very late in the season, which implied a change of roles and minutes in the squad. Why was he so sure the bet would work?
–He was not so convinced. It is something that we value a lot with my 'staff', with Pau himself, with his doctors. We wanted to have a clear idea of ​​how much he could train, how. And when we had all the information it was quite easy, because I think we were missing a player with his characteristics, his experience, his seriousness. We knew it was going to cost at first, because he hadn't played for two years. Pau was unsure at first. It is normal. But in training he could see his best face coming. From the beginning it has gone very well and the pact with the boys has been very important.
"Niko (Mirotic) has not been at his best level. But you have to trust. For me he is still the best in Europe"
-The semifinal against Armani brings together a lot of talent on the court, but it cannot be denied that it also features a tactical duel between you and Messina.
–This is always a mixed bag. The coaches try to do their thing, the players do too. Everyone has to control their emotions and do their best. I'm pretty sure Messina won't score any points and neither will I. But it is clear that the figure of an experienced coach like Messina is important, although we are playing a team game and it will be a team thing.
-What can be the keys against a rival who beat in the two games of the regular season?
-It could be many things. They are a very good one-on-one team, so we will have a lot of one-on-one situations. He has a lot of scorers who can decide a game, so that will force us to make a very good defense. Your interiors know exactly what to do. The roles are very defined. There will be many details to keep an eye on. The two games we play can help us. But they played the first without Chacho and the second without Delaney, when point guards are very important to them. These are factors to take into account, but it will be a totally new story.
-Barça will need all its players at the highest level in Cologne. Are you worried about the slump Mirotic has experienced?
-It is clear that he has not been at his best level. He had been playing at a very high level for months and in a 10-month season it is impossible to always be well. We have worked on that all year: not depending on a player. But if Niko two weeks ago was the best in Europe, for me he is still the best in Europe. You have to trust. He is training very well, very hard and we are going to see him at his best.