Interactive population map: This is how foreigners have reversed the population decline in 550 towns and cities | Society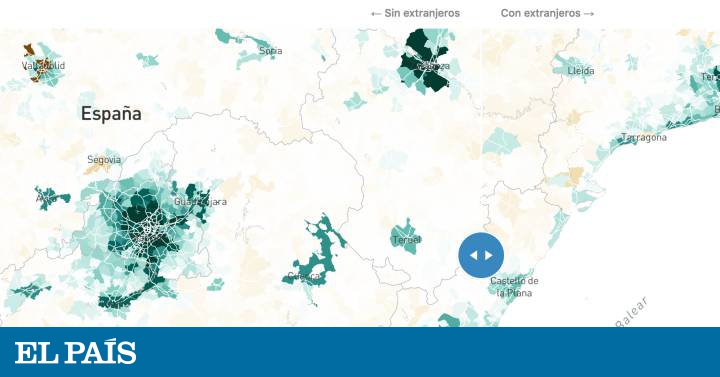 Only three out of ten Spanish municipalities today have more neighbors than twenty years ago. Of this small group (about 3,000), one in five (549) would have lost neighbors if it had not been for the foreign population.
The presence of foreigners in Spain has varied at the same pace as the economic cycle has done, the crisis has marked the demographic map. According to the data of the register published by the National Institute of Statistics (INE), Only in 772 locations (9%) the entire registered population is of Spanish nationality. In 2000, no foreigner lived in 30% of the municipalities of Spain. In thirteen cities with more than 100,000 inhabitants, the population has increased only thanks to foreigners: Barcelona would have lost 133,812 inhabitants since 2000, but it has grown by 140,496 thanks to the 320,382 foreigners currently inhabiting it. In the same way, Valencia would have lost 34,782 inhabitants, but today it has 55,274 more neighbors thanks to the 90,056 foreigners who did not reside there twenty years ago.
In smaller municipalities, this flow can reverse abandonment trends. Fuente el Olmo de Fuentidueña, in Segovia, and Torrente de Cinca, in Huesca, are the places in Spain where this phenomenon is most observed. In the Castilian town, barely 176 registered, the population decline would have been 43%. That is, in just 20 years he would have lost almost half of his neighbors. Currently, a 20% thanks to foreigners, mostly of Romanian origin. Torrente de Cinca, with only 1,154 inhabitants, is the second municipality in Spain that has seen its population grow the most thanks to citizens from other countries. The increase has been 6% in ten years. Otherwise, the census would have decreased by 25%. Thanks to the new foreign neighbors, both municipalities are among those 3,000 that have gained population since 2000. These are the portraits of both towns, and both start at the bar.
"Romanians with Romanians and Spaniards with Spaniards"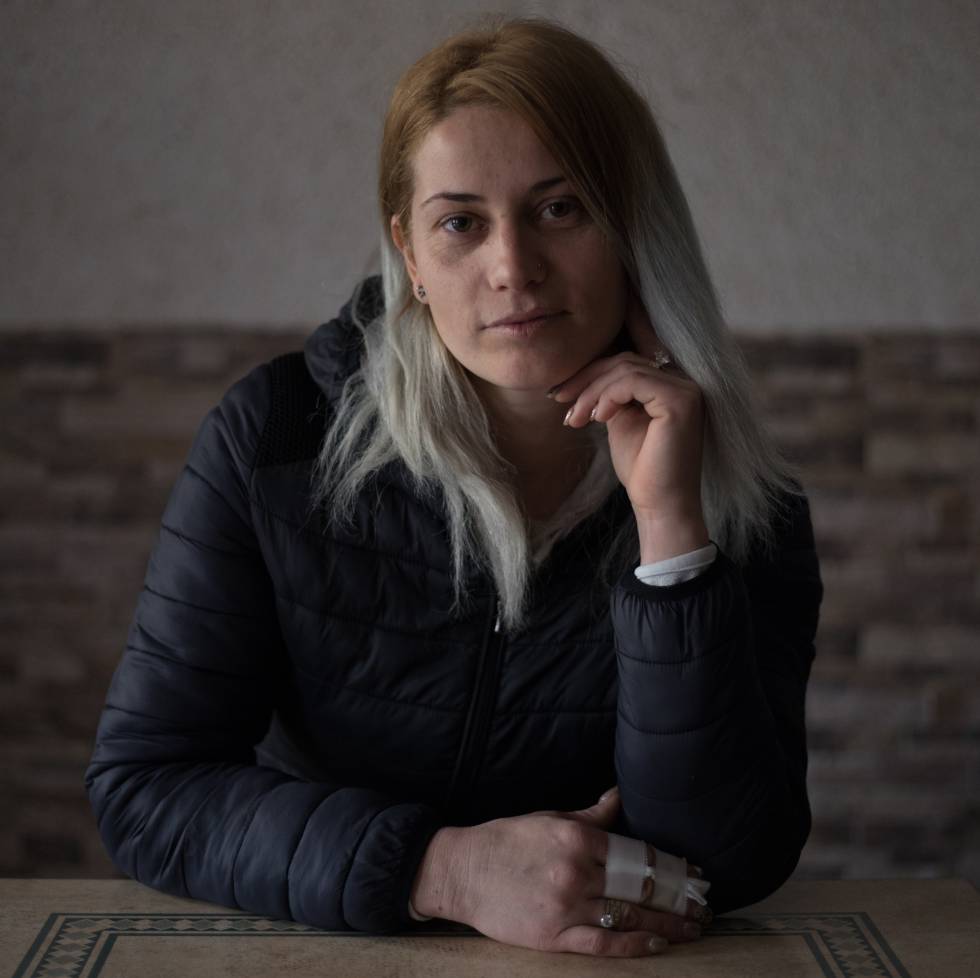 SOURCE THE ELMOR OF FUENTIDUEÑA (Segovia)

The Romanian bar Maria Doncea is one of the few places in Fuente el Olmo in Fuentidueña where Spaniards and Romanians live together. From the menu: eggs on the plate and meatballs. On the shelves of the restaurant: cookies and wafers imported from your country. In the Segovian municipality of just 176 neighbors there are more Romanians registered (99) than Spaniards (77). However, the integration is minimal. The mayor, José Núñez Romero (PP), is clear: "Romanians with Romanians and Spaniards with Spaniards." If it were not for immigrants, this town would have lost 43% of its population since 2000. Currently, it grows by 20% thanks to foreigners.
The majority of immigrants are joined by the same thing: Planasa. An agrifood company with an international presence with one of its nurseries in the town. From September to December, more than 400 immigrants arrive to work the land. In low season, day laborers return to their countries of origin or seek work outside the town and Fuente el Olmo de Fuentidueña becomes part of that Spain that is consumed.
A few steps from the Doncea bar is the City Hall. A stone townhouse with the three official flags hanging from the balcony and the Francoist eagle still carved on the facade. Núñez says that he has already received the withdrawal notice. "But if they want to remove it from historical memory, let them come to do it," he says. The mayor has three legislatures governing and presumes to lead "the healthiest municipality in the province." In large part thanks to the "collaboration" of Planasa. Núñez knows the hard work of the day laborers well: "I have told you [a los responsables de la empresa] who are not looking for women, if not machines. " "And I don't even want to count you in summer at 39 ° C," he laments. "But it's my turn swallow me many toads because they help the municipality a lot ". In the last four years, Planasa has contributed about 50,000 euros to this town, participating in the payment of zebra crossings or to the musical festivals of the town festivities, according to the City Council.
María Aurelia Diosteanu (32 years old) and María Vandana (43 years old) are the only ones who interrupt the silence that reigns in the streets of the town, 60 kilometers from Segovia. Both are Romanian and, curled up in coats, go to the bar to "hang out" with Doncea. They greet each other in Romanian and laugh out loud. Vandana has been in Spain for 14 years and the Spanish garden is well known. "I have worked in the grape, in the strawberry, in the raspberry… It is where there is more work for us," he says in a fluent Spanish. She is the mother of three children over 20 years old and one of the many who live in the Planasa camp during the high season. "They have everything: beds and showers. And they treat us very well, eh, "he says. "They let us get enough rest and once a week they take us to the supermarket in Cuéllar." Although they say they have a Spanish friend, they have also been victims of racism. They don't want to give more details. "We don't want any more enemies. We came to work."
They earn between 1,300 and 1,500 euros per month. They work for hours, at six euros. They claim to free on weekends, but only working about 12 hours a day, Monday through Friday, reach this figure. "They don't stop," says the mayor. "They come here to that. To then be able to send money to their families. " Planasa did not want to give statements to EL PAÍS.
"Spanish?", Repeats Diosteanu ironic. "Nerd. There are no Spaniards in there. All the workers are from outside, "he adds, putting his bandaged hand carefully on the table. It takes days with muscle aches due to mechanical work. "Inside we put music or sing so that we are not bored to always do the same." His Spanish is not so good yet. He has only been in the town for three years and nine in Spain. But he doesn't want to come back either. All three agree: "Although it is sometimes difficult here, in Romania we are strangers in our own country."
"Without those outside, there would be no agriculture here"
TORRENTE DE CINCA (HUESCA)

It took Olena Diachenko seventeen years to reach Torrente de Cinca (Huesca), the town where she wants to stay forever. Before, he went through Madrid, Toledo, the Catalan Pyrenees and other municipalities of Aragon. For three years she has been in charge of the Home of the retired Torrente. "Here I am fine, I have stability and friends," says this 45-year-old Ukrainian. Teresa Betriu, the president of this senior center, listens to her while she weaves a scarf, with the background noise of the members' butifarra games. "We had luck with Olena. His predecessor retired, he was Spanish. It is difficult to find Spaniards who want to work here, the town is no big deal. "
Torrente depends on the fruit business, especially peach, cherry, nectarine or Paraguayan. The work in the field has been copied by workers from half the world for two decades, especially from Africa. "If these immigrants had not arrived, the fruit in Torrente would not exist," says its mayor, José Evaristo Cabistañ (PSOE).
Cabistañ explains that the majority of foreign employees are temporary workers who only stay for the five months of the harvest, hired in contingents in their country of origin. The mayor estimates that with the seasonal workers, the population increases by 40%. It is especially the small farmer who opts for regular laborers, explains Cabistañ. Among those who are registered, there are those who live all year in the region, although most, says the mayor, "after harvesting the fruit, they move to Lleida to pick up the apple and then go down to Murcia, until they return to Torrente. " An example of this is Lola Gramunt. In his family they grow cereal and fruit, and he explains that they always hire the same sub-Saharan workers: "Today one of Mauritania has returned and came to greet us. I don't know if they want to integrate completely, many have their family in Africa. "
The big producing companies offer residences for the storms but Cabistañ affirms that the City Council makes a mediation effort so that the neighbors rent the foreigners. Arancha Marmol is a neighbor of Torrente married to a citizen of Algerian origin. Marble met her husband when he, a pawn in the field, bought in the store where she dispatched, in Granja de Escarp, a town in Catalonia, on the other side of the Cinca River. Marble runs a bar in Fraga and also rents an apartment to foreigners. On his way home he stops to chat with neighbors like Said Gaye, a Senegalese who shares a flat with his friend Lamin, and that these days prune fruit trees; also with Fatima Sao, a woman from Gambia who has been in Torrente for 14 years and has just picked up her four children at school.
Of the seventy children in the school, ten are from parents from other countries. Marble warns that not everything is rosy: homes are rented in poor condition, it is not uncommon to pay hours of work in black and there has been distrust of Romanian immigration, but it also highlights that coexistence is positive because they are many years old of experience and because, according to the neighbor, in the town they are clear that "without those outside, there would be no agriculture here." The young people of the region, if they have not emigrated to the big city, want to work in the factories of the industrial estates of Fraga or Mequinenza. Gramunt says that there are common spaces, such as village festivals or meetings at the Bécquer bar to watch football: "You should see how it fills up! All are from Barça. "