Intact gallons in Viera, Moleiro enhufado, unbeatable atmosphere...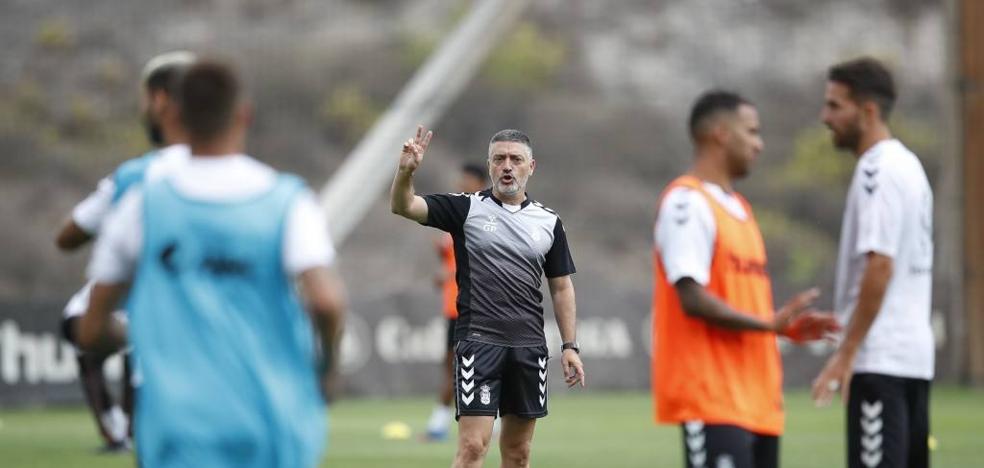 football
This Monday marks a week of work for UD in Barranco Seco and the balance of the first part of the preseason is impeccable
Intensity and predisposition on the part of all

García Pimienta has been able to verify the
magnificent attitude of all the components of the staff when it comes to following orders and completing the established work plans. An atmosphere of predisposition and assertiveness that greatly facilitates making dates bearable in which it is essential to take care of the details and adjust to the routines of the physical trainer in order to acquire the muscles and resistance that the season that is just around the corner will demand. .
The coaching staff makes an unbeatable balance of these first seven days of activity and coexistence in Barranco Seco.
They all row, without distinction of troll

There are footballers who already know that they are not part of the plans for the future and they must find a way out before August.
Pinchi, Raúl Fernández, Lemos, Maikel Mesa, Navas Unai Veiga, Ferigra or Ale Díez have been exercising with the door open but without a frown or picking up their leg. That footballers called to leave the group integrate normally and putting their professionalism before their personal circumstances also adds to and helps good collective health, an aspect that is valued in the entity because not always, with these conditioning factors, this balance is achieved.
Moleiro, very focused and activated in his own

They have not been easy weeks for the youth squad,
at the center of rumors about his future and after a contract renewal that was not without its rough edges. But far from losing his step with so much noise, the man from Tenerife has been focused and activated in what corresponds to him, that is, in getting ready for what will be his second professional campaign. Beyond what may or may not happen,
Moleiro applies himself daily with maximum intensity, aware that he will monopolize the spotlight when the ball begins to roll. And she wants to live up to it.
Viera: intact gallons

Even in training, the unique aura of the captain is perceived, an example in each exercise and that impresses ambition and commitment without rest.
Viera promised that UD would once again be in the fight for promotion and understands that the path is different than that of demanding from kilometer zero. This is how he is seen in Ciudad Deportiva, sweating like the most, according to eyewitness sources, and wanting to be the best when it comes to small competitions. He does not forgive even in the pachangas the most differential footballer in the squad and that, no one doubts,
will be the great leader again.
No interfering injuries

Returning to work always involves risks of physical discomfort or inconvenience. And, for those coming out of prolonged cycles of injury,
cases of Pejiño or Loiodice, precautions are even more extreme. But there are no regrets, to date, relevant physical incidents, which is cause for joint congratulations, given the importance of being able to consolidate loads with everyone fully available and without any hindrance.
Fingers crossed that this good trend continues in the future.
Peace of mind for what remains to come

The president has already announced that Vitolo is closed and that other touch-ups will arrive, adding to the previous additions to the
center back Sidnei and striker Cardona. There is talk of another attacker and one more interior, without ruling out some extra effort for the defense. García Pimienta, in permanent contact with Luis Helguera, fully trusts that the squad will be assembled.
He is satisfied with what they have brought him and serene with the movements that are going to take place to complete the leap in quality that he is pursuing for what he already has.