Insular health workers explode due to instability and work overload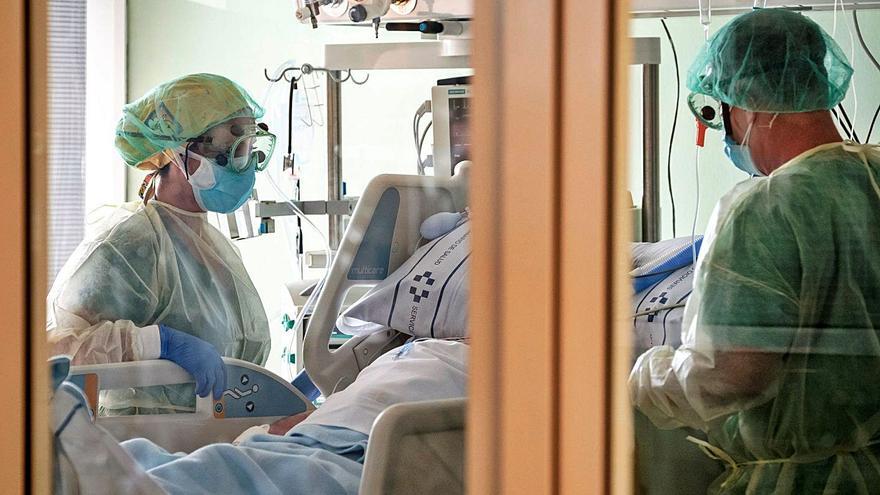 "Psychologically we are melted and overwhelmed." It is the general feeling of the workers of the 11 North plant of the Hospital Insular de Gran Canaria expressed by one of them, who prefers to remain anonymous. This team of health workers has been treating patients infected with Covid-19 since the beginning of the pandemic and denouncing the job instability imposed on them by Management and the lack of dialogue. Last Friday they were informed that, for the second time, the plant was being dismantled and the dozen professionals who usually work there would become hospital backup personnel, so every day they have to ask which department they should go to during the working day.
As detailed by those affected, the decision prevents them from going ahead with the drafting and rest shifts that they had already planned as a team. This circumstance is not new for them since they already experienced it in May, when the number of people hospitalized with coronavirus in their plant dropped and they were distributed throughout the hospital as support. Now the situation worsens and they consider that the risk they run increases, since the group of health workers has to rotate through the different units and in the hospital there are up to four active outbreaks, which have already affected a total of 42 patients and 51 workers from plants 4 North, 8 South, 10 South and 7 North.
This complaint contradicts the information provided by the Ministry of Health, which ensures that the Insular Hospital has sectorized the areas of hospitalization and outpatient activities, limiting the movement of personnel between them as much as possible. It also reports that the hospital has adopted a series of containment and prevention measures, such as performing PCR on all admitted patients, regardless of the reason for admission and including obstetric and pediatric patients, and PCR screening for workers. . Likewise, a second massive screening of all the workers is being carried out and the terminal cleaning and continuous disinfection of all the internal and external areas of the Complex has been implemented.
In this sense, the group of health workers from the 11 North plant anticipates that "the Insular is a time bomb", since throughout the weekend they have transferred to the different floors of the hospital center the patients positive for coronavirus who they present antibodies, that is, to those that in theory are not contagious, but must always be treated with EPI. This implies that infected people are not centralized in certain plants, thus putting more professionals at risk who, in many cases, are not trained to manage the disease.
This group points out that if the Management team went down to the plants and spoke with those on the front line, they would know the situation better and would not have to "improvise decisions." Among the health workers' proposals is to distribute Covid patients between plants 11 South – currently practically full – and 11 North so that professionals do not suffer so much work overload, they can face a new peak of infections with more force for the fall and also offer better patient care. "If this continues, the hospital will run out of staff, because there are no nurses left to hire and those who remain fall either due to outbreaks or anxiety," warns one of those affected by the reorganization of staff. The Ministry of Health of the Government of the Canary Islands and the Management Directorate of the Maternal and Child Insular University Hospital Complex of Las Palmas de Gran Canaria (CHUIMI) do not implement effective measures to stop the outbreaks of Covid-19 in the hospital center. The union spokesman for the Union's Gran Canaria Insular Health Federation, Ruymán Pérez, recalls that they have been demanding for several months that security be strengthened and the health of the Gran Canaria hospital staff be guaranteed, with "the provision of adequate and sufficient protective equipment for all workers, the adaptation of the Occupational Risk Prevention protocols to the evolution of the health situation, as well as an efficient tracing of the workers' contacts, including carrying out PCR on their families ". However, "the management team of the center continues not to respond to these requests," he adds. In this sense, the union explains that those responsible for the Hospital have decided to exclude personnel from different professional categories from the distribution of the protection equipment announced after detecting the Covid outbreaks. |