Insular Emergency Department overflows with stretchers next to the elevators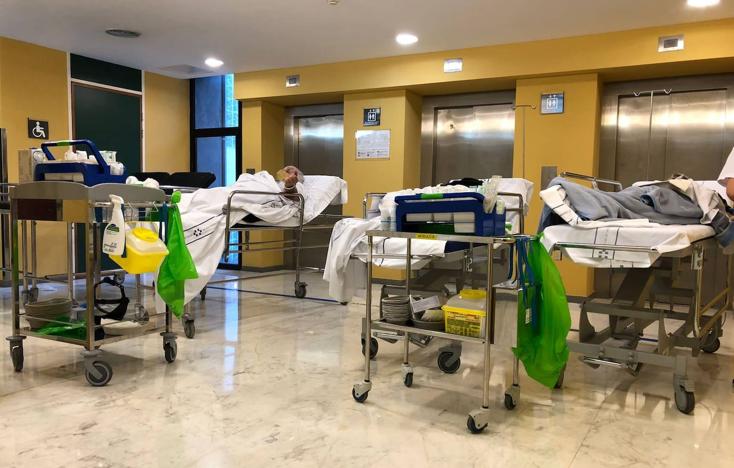 The number of patients skyrocketed yesterday: 80 pending admission and 55 on stretchers in corridors. The administration indicates that the users were only "at one point in the afternoon" in the elevator access
The situation of collapse of patients and the stretchers in the corridors in the Emergency Department of the Insular hospital continues. The Emergency personnel could not cope yesterday in the attention to the users of the service.
The figure shot up to 80 patients pending admission and another 55 remained on stretchers in the corridor.
"Two quiet weeks give way to two hellish days in which the traffic jam is so serious that our users end up blocking the elevators that are located out of service," health sources point out.
According to the professionals, never before had 55 patients been reached in the corridor. "It is a historical fact as well as alarming because it means that the panorama can still get worse."
"The truth is that it is frustrating"nuance
The health administration, for its part, explained this morning that the stretchers at the elevator access were "at a time in the afternoon when the arrival of patients coincided (afternoons are the times of greatest arrival) and the passage to the floor of the patients who had to be admitted, after being discharged". "Today that space is not occupied with stretchers," he emphasized.
It is not the first time that admitted patients reach the doors of the elevators panoramic views of the building after occupying the Rays and Outpatient corridors. At the beginning of February this image was given, a reality that despite the commitments of the health administration
"no easy solution" so it will be repeated on more occasions in the short term. The 1,000 surface meters of the area, with its 89 beds in the boxes and Transition areas, have long been "insufficient and it can get worse," reiterates the health personnel.
In this sense, they recall that the Insular Hospital has become a hospital for "chronic diseases that saturate the system", which
It does not allow for the high demand for care suffered by the Emergency Department "or to properly attend to acute pathologies". The structural problems of the complex, the lack of space and personnel, as well as the complexity of maintaining patients who require socio-health care but who remain hospitalized, both in the Emergency Room and in hospitalization wards, because "there is no place to refer them and therefore, they hinder the natural drainage of patients to the ward", they close the sickly circle that the southern healthcare area of ​​the island suffers from.
Insular workers demand measures to clear the corridors of patients and ask to participate in the search for solutions to the saturation suffered by the Emergency Department through a permanent commission.