Innovate in history without adding news | Culture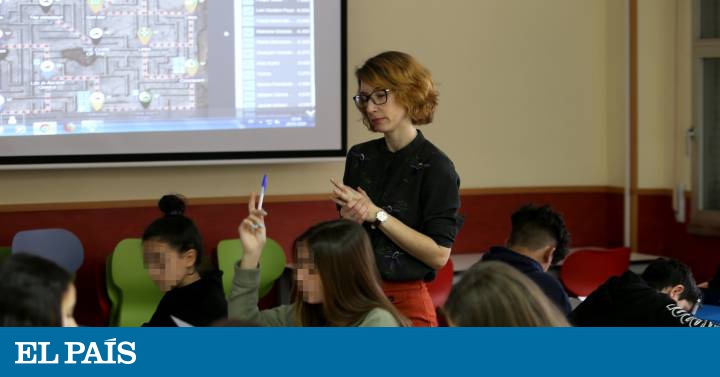 Boredom. This is the reason that César Antonio Moreno, Guillermo Balmori and Raquel Aliaga, secondary school teachers, go when asked why they started implementing innovative practices in their classes. The demotivation of the students made them investigate different methodologies to teach the subject of history. Today they are firm gamification advocates and share their experience on the Web so that other teachers access this methodology.
Aliaga, vice president of the Madrid Association of History and Geography TeachersHe started teaching eight years ago. From the beginning she had heard about gamification, but it was hard to see herself implementing it in her class. "You have your traditional model very well established and it's hard to start," acknowledges the teacher. The first time he tried was with a very demotivated group of students. The reaction of the boys increased Aliaga's interest in this methodology and is now part of the Gamifica tu classroom community.
The first thing that clarifies is that gamify is not the same as playing: "It is a motivational strategy that incorporates game techniques into the classroom experience." Thus, day to day is in itself a game in which doing homework or taking out the material is also part of the dynamic, which is based on a system of challenges and rewards. Like the game, it requires a narrative, an objective, such as defeating a dragon, exemplifies. "It makes the class make sense to them and they are looking forward to it," he says. Prizes are not only awarded for curricular issues, so that students who have more difficulties with the subject can be recognized.
Some video games to start
'Grepolis'. Set in ancient Greece, the goal is to create a large 'polis' from a few buildings. In the process mythological characters appear and strategies must be developed in collaboration with other players.
'The great mammoth'. This game allows you to dive into prehistoric culture and know its chronology.
'Carlos V king emperor'. Based on the homonymous television series, this resource covers the 40 years of Carlos V's reign through 100 historical challenges.
One of the tools of gamification are video games. Aliaga comes to them every time he finishes a unit for students to review knowledge. Professor Moreno, in addition to using them in his class, investigates them. It is part of a team that investigates the interaction of these in the classrooms, a project that can be consulted on the web History and videogames. He defends that the master classes "do not meet the requirements of a society like the current one, which is changing" and that it is not enough to add any extra activity, such as an excursion or a movie. "Video games are a motivating tool, without losing the rigor of teaching and that is combined with the master class very well," he explains.
There are multiple online and free video games perfect to introduce the conquest of America or ancient Egyptian society, but warns that it is not about "play for play", but that you have to "drive" the kids to achieve academic goals. Nor can they be used in isolation, but should be integrated into the routine, as a method of documentation, for example. The expert warns that before using a video game it is "essential" that the teacher knows the tool.
Both teachers agree to reassure teachers who still do not handle technology with ease. There are thousands of materials accessible on the network, just put #claustrovirtual on Twitter to find examples. If it still costs, you can start with small analog gamifications.
Professor Guillermo Balmori has been creating tangible support materials for his classes for 20 years and has been sharing them on the blog for four years. That's another story and on the networks. Last December he organized in his center an immersive game derived from the escape rooms which had the theme of the first round the world by boat. Through questions, clues and a map the students were composing the trip made by Magallanes and El Cano. "Like that game will not make them learn, but it generates interest and makes them later in class, when we explain it, attend more and maybe at home look for more information or just watch a movie on the subject," Balmori abounds.
In other activities that his students have taken to the classroom, they have become the protagonists of paintings such as Rafael's Athens School, have played bingo with the 19th century and have become historical figures with the help of readings, the best and most basic tool, defend.
Teachers agree that extra activities to reinforce any knowledge are always welcome, but they emphasize that they should be fun, because children already bear a great academic burden. Here are some proposals.
Theater: It is not about going to the theater, but also, to take advantage of how much children like to dress up to bring historical figures closer to them. Why not become a Roman soldier or Cleopatra?
Museums: there are endless activities in the history and anthropology museums dedicated exclusively to children, but do not limit yourself to these. Also the pinacotecas, center of musical dissemination or of natural sciences are excellent spaces to connect them with history, because any human activity is linked to time and, therefore, to history.
Fresh air: urban or natural landscapes are tools to know the history. Prepare a walk around the environment to discover what remains exist from past times can be a game for a child.
Board games: there are hundreds of options according to age and budget. You just have to choose a historical period.
Stories. Adapted historical novels or stories are an excellent option. In addition to providing historical knowledge, they reinforce reading.