Inflation rises one tenth in July but remains at very low levels | Economy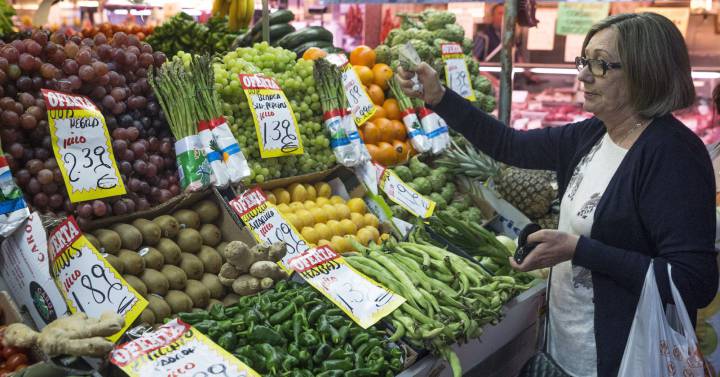 Inflation rose somewhat in July, but still at very low levels. The annual consumer price index (CPI) rose to 0.5%, one tenth more than the previous month. But this level is still the second lowest of the year (after June).
This slight increase is explained by the prices of food and non-alcoholic beverages, which in July fell less than the previous year, as published on National Statistics Institute (INE) this Monday. This is an advanced index, so the INE only offers a very general explanation of the ups and downs.
Prices began the year with a 1% rise in January to rise to 1.1% in February, 1.3% in March and 1.5% in April. In May, the inflation rate fell to 0.8% and in June it cut four more tenths, reaching a low of almost three years ago. If you compare the data for this month compared to July last year, 2.2%, the growth is now 1.7 points less.
Low inflation has become a cause for concern in the eurozone, which last June recorded a price increase of 1.3%. The president of the European Central Bank, Mario Draghi, announced that it prepares a wide range of measures to bring prices closer to the organism's objective to achieve an inflation close to 2%.
The final inflation data in Spain are published on August 13.
. (tagsToTranslate) inflation (t) rise (t) July (t) tenth (t) follow (t) level (t) low (t) index (t) advance (t) measure (t) price (t) arrive ( t) month (t) 0 (t) 5% (t) 1 (t) 7 (t) point (t) year



Source link