Inés Hernand: "Spain is not a meme, it's a great meme!"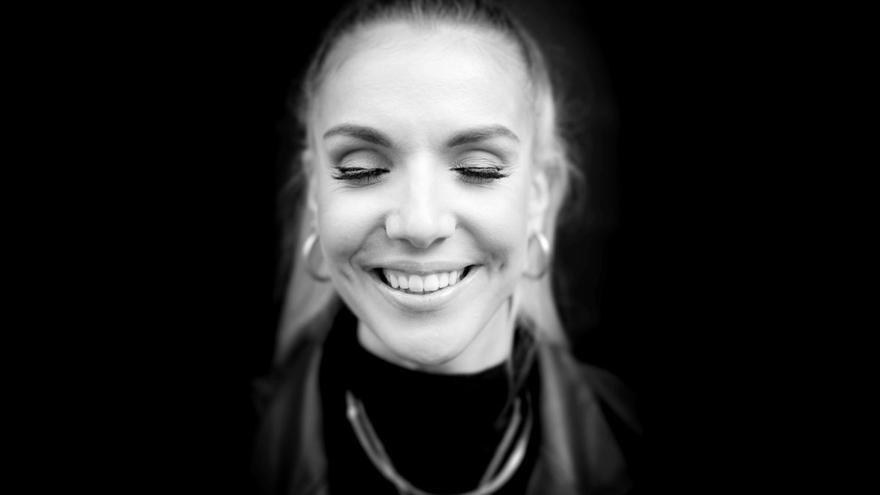 One of the few consensuses on the unfortunate soap opera of the benidorm fest is that the 'winner' has been Agnes Hernand (Madrid, 1992), the co-presenter of the contest. How to define the mileurista lawyer until recently? Well, like the geyser that comes out in a stampede when you throw a 'mentos' inside the coke. The followers of 'Gen Playz', the TVE debate space, or podcasts like 'We'll be better' knew it.
-I read a tweet: "May this 'millennial' Anne Igartiburu present absolutely everything!"
-In the field of communication, the 'plastic' is already difficult to digest. It is appreciated that in spaces where it has been communicated in a false way, without truth, a girl appears who can make mistakes, who feels bad, who has a different reality. Suddenly, you drop a nuance, like you come from "a broken family" and, wow, you attribute success to non-normative realities.
-A point: how unstructured is your family?
I am the only child of absent parents. They always had a lot of workload and neglected the growth of a little person. And when you do that over a long period of time –from 0 to 18 years old–, it is something unusual. Then they have had behaviors as parents that seem quite reprehensible and negligent towards me and other relatives. As a matter of personal conviction, they do not fall within my moral operations.
Perhaps that has made it what it is.
-It's a perspective. Apart from having chronic anxiety, I have been self-sufficient since I was 8 years old, an age in which I assumed things that did not belong to me.
-Verb is not lacking.
-I've lost gigs for being a foul-mouthed. It is the cost of my positioning. If they cancel me for loudmouth, then very well.
-I read another tweet: "She is the only presenter with jokes and references for people under 50."
-Public television, in addition to not being classist, must take into account pensioners and the five million young viewers. Otherwise, you pay for a 'stream' platform and talk about realities with which you do feel identified. Because, in the end, a girl has an abortion, has her period, takes drugs, a series of things that do not have to be social dispossession. Getting away from that is the problem.
-Are you surprised?
-To someone who, like me, comes from precariousness and the continuous feeling of scarcity, I find it very striking that it is surprising to behave naturally. You have spaces like Twitter or Twitch where the more natural, the better. So the code reading is a bit wrong.
-We have been going around the Benidorm Fest for a week. Code reading?
-The other day in a newspaper they titled an interview of mine "Spain is a meme" and automatically the horde of readers told me everything. But I keep the headline more than ever. Spain is not a meme, it's a meme! I understand that there is an audience that has a feeling of injustice, but you have to do the complete reading. And what we have is Jesús Vázquez saying that I hope Ana Mena wins in San Remo so that at least one Spaniard prevails [por Italia] in Eurovision. That is the slightest thing within the 'mainstream'. I am deeply ashamed!
-It worries more than the labor reform, you see.
-I wish people cared just as much about the universal basic income, about pederasty within the Church, about how they are eating us rights. If it were so, we would have a competent and competitive country. Meanwhile, we are a fucking meme. I understand that we are all without emotional resources due to the pandemic and that we have to vent somewhere, but from there to raising it for consultation in Congress by a parliamentary group... Guys, it's gone!
-You have political 'punch'.
-I have a fairly developed class consciousness. I have grown up with the 2008 crisis, I became independent at the age of 18, I have falsified pay slips to get a rental contract, of course for a shared room. I had to go do the poor man's Erasmus in London: as a waitress. I have studied scholarship in the public university. I have scrubbed a bathroom and until September 2020 I worked for 1,089 euros per month. It is from the privilege of today when you can act.
-Maybe I'll lose sight of the ground soon.
-If I were 21 years old, like those 'streamers' who are not aware of what things are worth, maybe I would be scared. But I'm 29, and despite the fact that I don't like 'work-centrism', I'm a very hard-working aunt. I live in a working-class neighborhood, comfortably. I keep doing normal things. And stuck to presenter, which can have superficial overtones, it seems to me deeply political, for example, defending the co-official languages.
-He even took a position on the issue of the pardons of the prisoners of the 'procés'.
-Before changing the world, you have to change your house. I try to transfer a political reality like the Catalan or Galician one, or the difficulties that Extremadura has for not having good communication infrastructures.
-Maybe love has something to do with it?
-'I can speak a bit of Catalan'. My boyfriend [Adrià Salas, cantante y compositor de La Pegatina] he is catalan By love you learn more than by war.