India imitates China and launches its own facial recognition program | Trends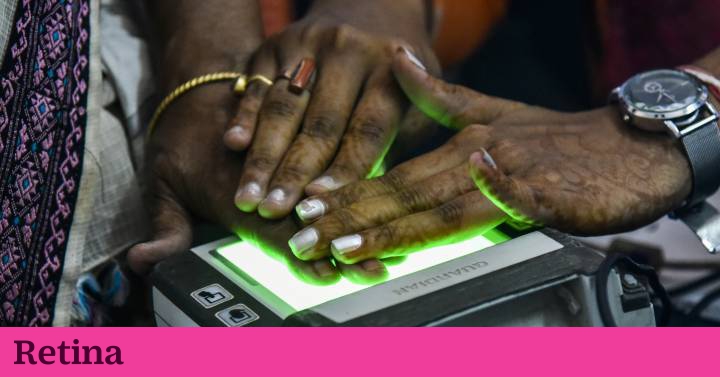 India prepares a network of facial recognition as a complement to its vast population control system. From this month of October, the Government will grant tenders to companies to develop an image analysis program captured by video surveillance. The model opens a market as promising as the Chinese –Dear at $ 4.3 billion in 2024 — although not as effective yet. The innovation aims to complete India's poor human resources in security – one police officer for every 724 inhabitants – connecting facial recognition with passport databases, fingerprints and other records. A disturbing model in a country that lacks cybersecurity policies and whose current biometric identification program, among the largest in the world, is also among the most insecure due to the continuous leaks it suffers.
"We are the only democracy in the world that will install such a system despite having no privacy or data protection laws," summarizes EL PAÍS RETINA Apar Gupta, lawyer and director of the Foundation for Internet Freedom, based on the Indian capital, New Delhi. In 2015, members of this group got national authorities to ensure net neutrality, avoiding additional provider fees. "It will be a gold mine for companies in search of large unprotected databases," says Gupta, referring to the leak and theft of system data that contains biometric information of hundreds of millions since it was introduced by law in 2016, to the total of the 1.3 billion inhabitants of the country.
Devised a decade ago, Aadhaar (Foundation, in Hindi) is a program that creates a unique identification number that contains physical and demographic data of each citizen for access to public services. So, the system improves control over social benefits and subsidies, avoiding duplications and corrupting them. Without validity to certify citizenship, the Aadhaar card verifies the residence of the holder, so private companies require it to contract their services, despite being contrary to the law. Thus, former World Bank chief economist, Paul Romer, described it as "the most sophisticated identification program in the world." While the famous global cyber activist, Edward Snowden, explained that "there is something seriously worrying about this system" when "in India, you cannot have a birth certificate without the (card) Aadhaar."
This number is requested more and more frequently by companies. "Aadhaar undermines the rights of citizens," says university professor Reetika Khera, co-author of Dissent on Aadhaar: Big Data meets Big Brother. "Not only are there problems in the voting register, but about 40 people have been killed who were denied social assistance (pensions and rations) due to related problems." Local publications claim that the electoral commission eliminated names of the register by linking voter cards to the Aadhaar without consent, and exposed the privacy of millions. "Even the government repeatedly violates the order of the Supreme regarding Aadhaar," says Khera.
"Like many others, I still receive notifications from the Ministry of Technology for verification," says Gopal Krishna, whose Aadhaar number was authenticated with his biometric data without having requested it. Coordinator of the Citizen Forum for Civil Liberties (CFCL), a decade ago Krishna leads a campaign of more than 3.5 million signatures against this program, forcing the Supreme Court to resolve, in 2013, that the government I could not deny services to those who did not have the Aadhaar card, which is voluntary. Since then, however, public and private entities demand it for their services. "It is a new form of slavery through profiling and technological control. The root of the Aadhaar program is biometric technology: it has a probabilistic nature and, therefore, has authentication errors. Our rights cannot depend on algorithms, "summarizes Krishna.
"The judges always recognized that the project raised constitutional doubts and insisted that it is not mandatory. But his orders are violated, even by the executive, "explains Usha Ramanathan, a lawyer who received the Human Rights Hero award (2018) for his litigation against the biometric network. In 2016, the government drafted a specific Aadhaar bill to replace the regulatory absence in privacy, data protection or electronic commerce within a framework that, according to Ramanathan, is close to the "American model of laissez faire"More than the European rights safeguard. Declared unconstitutional by the Supreme Court, the proposal was approved by decree in early 2019 and even Finance Minister Nirmala Sitharaman announced days ago the potential use of the system for banking transactions. "The ruling literally says that the impact would allow the commercial exploitation of biometric and demographic information by private entitiesShould we be clearer? "Asks Ramanathan, who criticizes" the processing of data as if it were merchandise ".
Until early 2019, about 300 news reported leaks, fraudulent demand or illegal use of data. The most recent example came a few days ago: a French cybersecurity expert showed in Twitter the vulnerability of the regional government of Gujarat in exposing official documents with data from Aadhaar and other personal identification numbers, in addition to taxes. It is not the first time this hacker publicly demonstrates failures in digital security. Another notorious sample of the system's cracks occurred a year ago, when the president of the Telecommunications Regulatory Authority (TRAI) and a strong advocate of the Aadhaar system, R.S. Sharma challenged critics to prove the vulnerability of the model and its negative repercussions. Within a few hours, hundreds of responses accumulated under the hastag #AadhaarChallenge, demonstrating not only the obtaining of supposed personal data but, even worse, the possibility of subscribing private services using a fake Aadhaar card associated with Sharma himself.
"Demographic information allows you to track a person. A company with access to this data can sell and resell it outside the Aadhaar ecosystem, "says systems development expert Srikanth Lakshmanan about private companies – national and foreign, that participated or not in the capture of biometric information – that already They have this data. In mid-2018, in another flagrant case of fraud, the telephone company Airtel returned more than 24.5 million euros destined to subsidies that had been sent by mistake and without the consent of beneficiaries to the bank accounts of the company, linked to the Aadhaar card and customer checking accounts. "The case was sounded by its scope, but there is more on a smaller scale," Srikanth explains: "Not only do we lack a data protection law, but the future standard, if any, will not be retroactive or cannot be applied to all cases of leaks ".

"Legally, companies cannot force customers to share Aadhaar data, but they create the false impression that this is necessary through repeated calls and misleading advertising," criticizes Gopal Krishna, who insists that states justify the fight against terrorism. and national security to collect citizenship metadata with objectives orwelians: "After its analysis, the information creates profiles, which will include medical conditions, interactions with other people and political and religious tendencies."
Beyond what happens in the more or less near future, activists stress the ignorance that more than an eighth of the world's population has about the use of their personal data. "The most amazing thing about this is that everyone knows that asking for the Aadhaar card or refusing to grant services is illegal. But everyone keeps doing it. It is worth studying that the law is violated with this impudence, "criticizes Usha Ramanathan. "Governments talk about data empowerment when they really work for citizens to share that information for a price. Our data no longer belong to us. " She and Reetika Khera point out that similar models are spread in other countries and markets such as Kenya, Nigeria or Uganda.
. (tagsToTranslate) Indian (t) imitate (t) Chinese (t) launch (t) own (t) program (t) facial recognition (t) boost (t) collection (t) biometric information (t) ( t) biometric (t) inhabitant (t) one eighth (t) population (t) worldwide (t) happen (t) case (t) filtration (t) fraudulent use (t) (t) base (t) data (t) )existing



Source link