Increased energy consumption forces households to change their consumption habits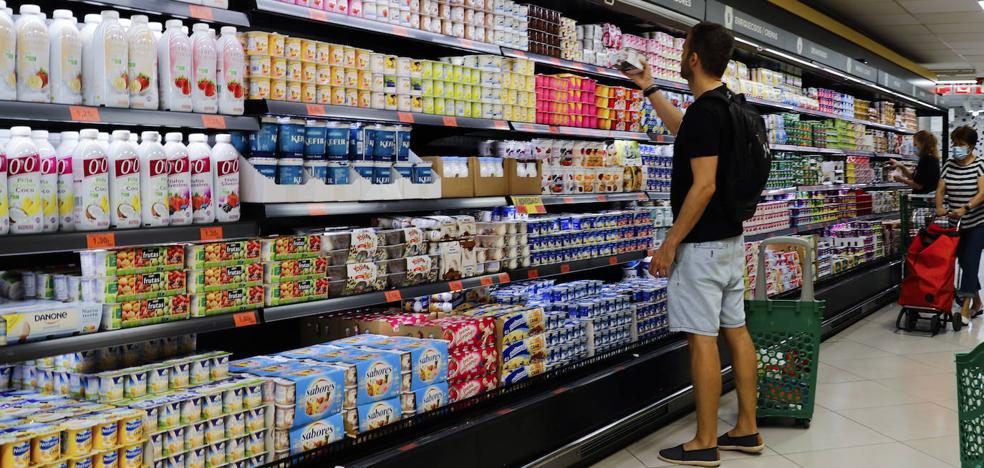 White brands gain weight in a shopping basket that is increasingly filled with fewer products
The rise in energy prices is beginning to take a serious toll not only on consumers' pockets, but also on their consumption habits. Allocating most of the family budget to the electricity bill has meant having to cut back on other items, as confirmed by the Bank of Spain in a report published this Tuesday, in which the body warns that this situation has been especially notable in lower income households.
It is true that the energy that is consumed, in the end, is a basic necessity good. For this reason, the Bank of Spain explains that "in the face of the increase in their cost, households will tend to make insignificant adjustments in their demand and, on the contrary, reduce their spending on other goods or their level of savings."
The institution confirms the strong link between the nominal spending prospects of families and those of inflation. And, faced with runaway prices of 10.8% in July, the savings rate will also be reduced... in those cases that have room to maneuver to do so.
"Households' prospects for income development and economic growth have been negatively affected by the war in Ukraine. Both variables, as well as the expected evolution of inflation and, for households with debts, that of interest rates, condition the expectations of households about the prospects for their financial situation, which have registered a certain deterioration since the beginning of this armed conflict", indicates the organization in its report.
Affected items

Specifically, the current situation seems to have affected spending prospects more in some specific items. This is the case of spending on durable goods, which, as the experts point out, "usually is more affected by episodes of upturn in uncertainty, deterioration in the wealth position of families or reductions in their purchasing power."
This situation forces families to postpone their purchase decisions, as is already happening, for example, in the automobile market. Registrations fell by 12.5% ​​in July (a traditionally very positive month for the sector), with the individual channel accounting for most of the decline.
According to data from the Bank of Spain, consumers have already adjusted their spending expectations on household equipment and cars downwards in recent months "and in particular since the start of the war".
In contrast, the outlook for holiday spending has continued to recover, in the heat of the removal of restrictions associated with the pandemic. But in lower income households, which have had to allocate most of their budget to energy expenditure, this situation, again, has not been the case.
The Bank of Spain includes here households with low mattresses, which are those that do not have enough liquidity (or some way of obtaining it) to cover unforeseen expenses that amount to an amount equivalent to one month of family income. And while those who accumulate more wealth can maintain their spending levels, medium and low incomes are already thinking about containing it.
Less buy, more expensive

The same thing that happens with durable goods happens in the shopping basket, given the evident transfer that the rise in energy prices has already had to food, with a special impact on basic necessities. This situation has also forced a change in consumer behavior in the supermarket. According to a study by the consulting firm Gelt, fewer products are bought each time you go shopping, you opt for the cheapest and white brands gain weight in the shopping cart.
Specifically, between June 2021 and the same month in 2022, there was a 23.6% drop in the number of products included on average in a purchase. Even so, the average spend on each transaction has risen 8.3% in a year, so consumers are forced to make smaller purchases with the same or slightly higher budget.
All foods have suffered generalized rises in the analyzed period. On average, 25.8%, with bread, cereals, flour and some fruits and vegetables being the ones that are most noticeable on a day-to-day basis.
Another of the reactions of consumers to the increase in the cost of basic food and cleaning products is the choice of white brands over Premium or manufacturer brands. The trend in this sense is growing: last June these brands had a 3.2% more share in purchases than their usual average. It is noteworthy that, according to another Gelt report published in April, white brands had also raised their prices 8% above those of manufacturers: 18% compared to 10% respectively.
"Consumers react by trying to adjust their spending, which has bigger implications for brands: I think we are going to see less loyalty, more price-focused decisions, elimination of whimsical and not-so-necessary products, and a tendency to search for offers. The rise in the share of white brands is an example of this," says José Luis Varela, Global Head of Data at Gelt.