Inauguration of the exhibition 'Minimal Anthology', a journey through the creations of Augusto Vives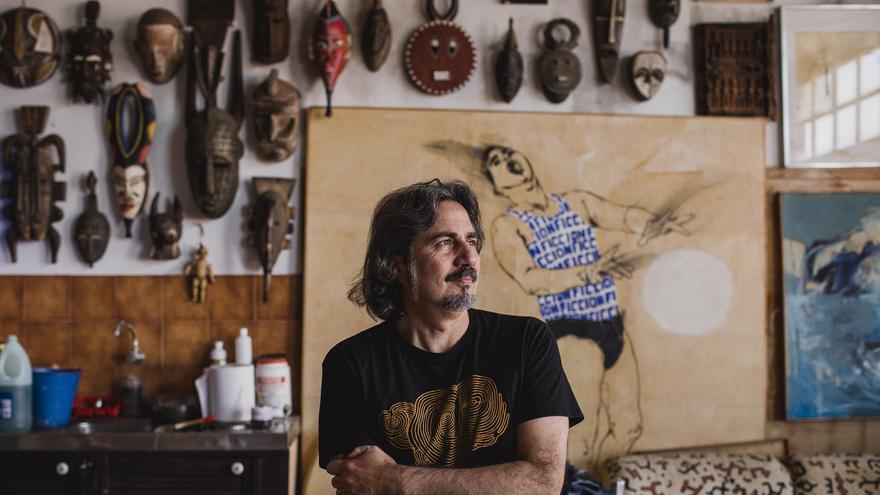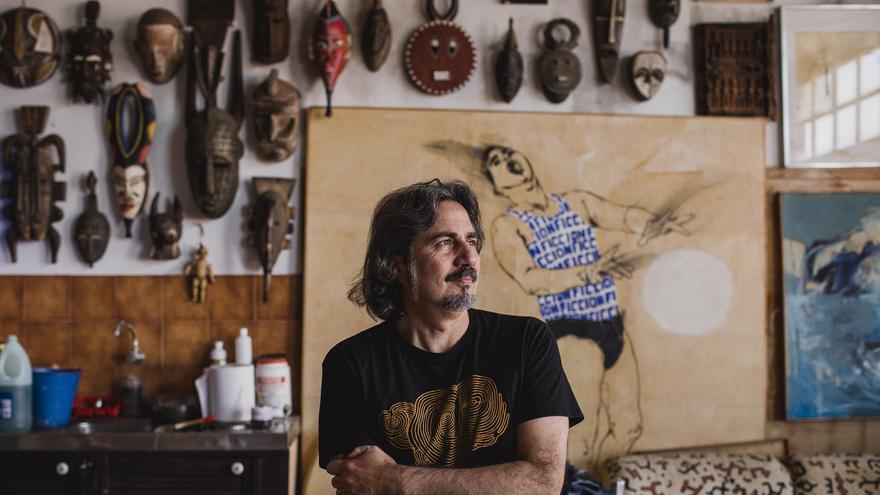 The Antonio Padrón House-Museum-Gáldar Indigenous Art Center opens on June 4, at 12.00, the exhibition Minimal anthology, a sample that collects about thirty works by the artist Augusto Vives and that makes a journey through his career since 1985 up to the present, even with pieces previously unpublished.
This activity, with free admission, is part of the extensive program of events to celebrate the 50th anniversary of the creation of this museum center under the Department of Culture of the Cabildo Gran Canaria. It can be visited until June 27, from Tuesday to Sunday, from 10:00 a.m. to 6:00 p.m., and the The opening can be followed virtually on the Casa-Museo's social networks.
Minimal anthology is a small sample of the plastic works that make up a part of the artist's creative corpus, showing the most representative of each series or five-year period. Seriation has been and is a constant in the artist's artistic work. The pictures in the sample are representatives of series such as Codex, Animal structure, Manuscript or Birds, to which he adds a new one, Zoo and logical composed of four tondos, that is, round paintings, which he exhibits for the first time.
In addition to paintings, those who come to visit this exhibition will be able to see also objects, which are not sculptures, clarifies the artist. For example, boxes, pictures inside boxes or a light bulb that has a match inside. Vives recognizes that he is a mainly paper painter because this material is a seductive territory that allows him to work with his transparencies. "I'm almost a collage painter because I put paper on wood," he specifies.
Vives recognizes that by looking back now, he has realized that he has made a path towards synthesis, and that he has gone "from that interior baroque with which he wanted to express everything" to the serenity that the years give to see that " the important thing is to say the most with the least ".
A reflection on the human condition
The common thread of the artist's plastic production is to reflect on the human condition, which has been maintained from the beginning and throughout the years to the present.
About his latest series Zoo and logical assures that it expresses the "animal house" that society is experiencing at this time. "My work has always been quite critical. From 1985 until now I keep questioning myself and asking the viewer. I continue to maintain a deep and scathing critique of the human condition and our social behaviors. This is what interests me, because the world for me is too prosaic, it came as standard to have the ability to draw and reflect reality. I've always looked for that little transgression of reality, "he explains.
This artist recognizes that he is a border painter between abstraction and the reality that surrounds him, but not those of universal tragedies, but everyday ones, such as personal contradictions, the loss of the human condition and fragility. "I am very critical of the wolf in man, it seems that we have not tamed him and that continues to emerge in the hardest and most perverse moments," he says.
"I continue to paint about the human condition and I believe that it is an inexhaustible source, a resource that confronts me with life and that makes me question myself to understand the world and, incidentally, if the world wants to understand it with my vision, welcome, because there are many visions of the world. I'm not trying to make any kind of apology but I paint the world around me the way I understand it. I do not create judgments, but I launch interrogations ", adds Vives.
And he regrets that sometimes we do not reflect, that we live for a time with too much speed and we do not stop to meditate, to look and to contemplate. "Our gaze can no longer bear anything, everything goes so fast that we do not stop to contemplate what surrounds us. That pleasure to feel. I think it is a tragedy and a reality ", he affirms.
"Things still surprise me, you just have to look at the daily events to see the atrocities that are committed under thousands of excuses, whether religious or economic or whatever. My work is very critical of the human condition, but I never want to forget poetic behavior, I look for poetry in my painting, because the loss of poetry is a great tragedy ", explains the artist.
Trajectory of Augusto Vives
Augusto Vives (Las Palmas de Gran Canaria, 1964) is a visual artist and illustrator. In 1991 he obtained a degree in Fine Arts from the University of La Laguna and thanks to a grant from the Erasmus Bureau project in 1990, he studied in Toulouse (France) at the Ecole des Beaux Arts et des Arts Appliqués, Balbino Giner's Painting Workshop, George Virgitti's Screen Printing Workshop and Mangion's Design Workshop.
He has received, among others, the ex-aecuo award from the First University of Las Palmas de Gran Canaria Contest, held in 1999, and the IV City of Las Palmas de Gran Canaria National Painting Prize, awarded by the City Council in 1997. His work It has been widely exhibited, both in group and individual exhibitions, and has done illustration work for supplements, magazines and books.
His production ranges from minimal, almost illustrative drawings, in the style of vignettes, to large-scale objects, installations and paintings on paper. Vives' imaginary revolves around the poetic as the guiding thread of his stories, a poetics that dialogues with the urban, the literary, the historical, the local and the universal, transversely diaphanous in its aesthetic approaches.