In which stocks or deposits do Luis de Guindos or Christine Lagarde invest their money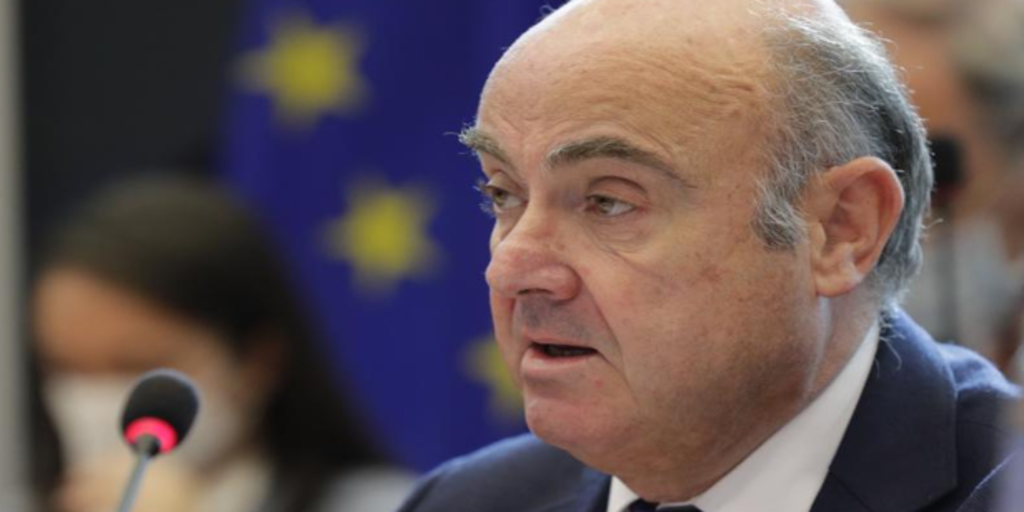 Rosalia SanchezFOLLOW, CONTINUE
Updated: 05/03/2022 10:55 a.m.
Save
Related news
Once a year, the 25 members of the ECB's council are required to report on their private asset portfolios, in the interest of transparency. This is stipulated in the central bank's code of conduct. This statement allows us to gossip on the investments of personalities who, given their situation, enjoy the best information available.
The purpose of publishing your holdings in listed companies, as well as investments in funds or private companies, or deposits of more than 100,000 euros in entities supervised by the agency, is to guarantee transparency and reveal possible conflicts of interest, but it can also inspire strategies of investment and a look at those deposits is, of course, revealing.
Perhaps most surprisingly, only a small proportion of high-flying monetary policymakers invest in the capital market and hold significant positions in their own portfolios.
There are only six with this type of investment. According to the documents presented, the remaining guardians of the euro do not own shares or funds, despite the fact that central bankers should know better than anyone that only those who invest their money in the capital market have the possibility of protecting their assets from inflation. .
Among those who do not invest in the stock market is the governor of the Bank of Spain. Pablo Hernandez deCos. Nor has the president of the German Bundesbank since January, Joachim Nagel, invested in the stock market, much less fond of the stock market than his predecessor Jens Weidmann, who in 2020 had an ETF in the MSCI World index and Dax shares in his portfolio.
Among those who do invest, the president of the ECB, Christine Lagarde, stands out, with a portfolio, on the other hand, quite manageable. Lagarde has money invested in two funds: one in the BNP Sustainable Europe Dividend and the other in the mixed fund Oddo BHF Polaris Moderate DRW. The former invests money in high-dividend European stocks that are also sustainable. However, the return is quite modest.
Over a five-year period, the fund has averaged a return of 2.3% per annum, 4.2 percentage points below the return of MSCI Europe. The second fund, Oddo BHF Polaris Moderate DRW, has achieved an average annual return of 2.4% over a five-year period. It also declares interests in a French real estate company and deposits of more than 100,000 euros. The number two of the ECB, the Spanish Luis de Guindos, has money invested in a fund of the manager of Mutua Madrileña, Mutuoactivos.
Capital-market-friendly board members also include Belgian central bank chief Guillaume Pierre Wunsch, who has the largest selection of funds and ETFs in his portfolio and is also involved in the two Belgian startups Sunoptimo and CV-Trust. But it is the German Isabel Schnabel, a member of the council since the beginning of 2020, who is the most closely related to the capital market within the exclusive circle of the ECB Council. Schnabel has declared 33 stock groups in her portfolio, including vaccine makers Biontech and Curevac, tech companies like Microsoft and Snap, Chinese stocks like Alibaba and JD, but also standard German stocks like Bayer, BASF, Siemens.
In addition, it trades smoothly with them. According to the documentation presented, it still has ten index funds, the so-called ETFs. These are generally cheaper than actively managed funds. A look at the currency regulator's list of ETFs also reveals that Schnabel has placed a relatively large amount in European stocks and the stocks of emerging countries. Three of the ten ETFs have a clear European focus, while another two invest in sustainable companies in emerging markets. The economist has also invested in the classic iShares Core MSCI World and in a sustainable version of the ETF. As the only actively managed fund, Schnabel owns the DWS Top Dividende, which have increased in value by around 15% in the last year. However, with this product, investors must also take into account the initial load of up to 5% in their return calculation.
Also striking in asset declarations is the fact that several ECB Board members and banking supervisors have oriented their portfolios relatively strongly to their own regions, in what might be called a domestic bias. Estonian central bank chief Madis Müller, for example, owns shares in national retail chain Tallinna Kaubamaja Group, as well as shares in shipping company Tallink Group and shares in Enefit Green, an Estonian supplier that relies on renewable energy. The head of Malta's central bank, Edward Sicluna, says he has a stake in several private Maltese companies, including marina provider Creek Development. The Finnish banking supervisor owns several Finnish stocks, while the two supervisors in France and Luxembourg only invest in French stocks.
Interestingly, many of the ECB's banking supervisors have several expensive mixed funds in their portfolios, including Bundesbank board member Joachim Würmeling. He also owns several bond funds, however, that have yielded next to nothing for years due to historically low interest rates in the capital market. And on the whole it might be said that a financial investment based on the portfolios of Europe's financial gatekeepers is not really a great model for private investors. With a balanced mix of globally diversified ETFs and some purpose-built thematic funds, it's quite likely to deliver significantly better returns than central banker investment options allow.
View commentsTopics

Source link