"In spring there will be semi-normal weddings"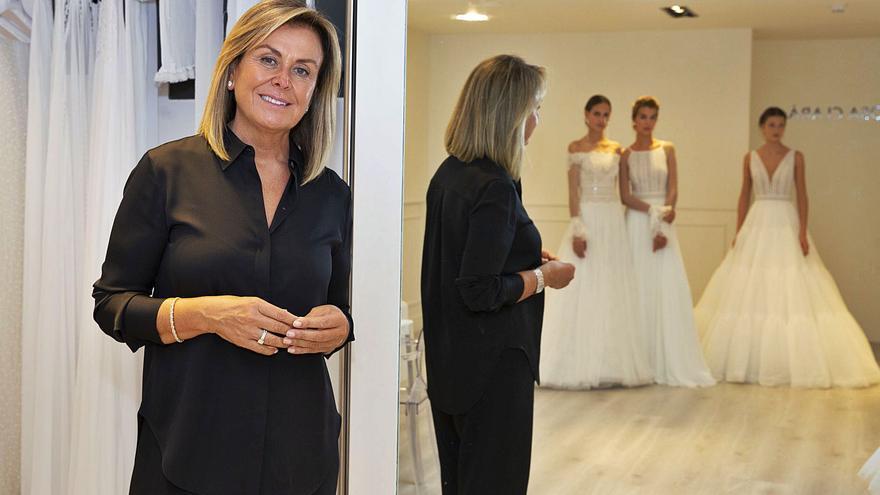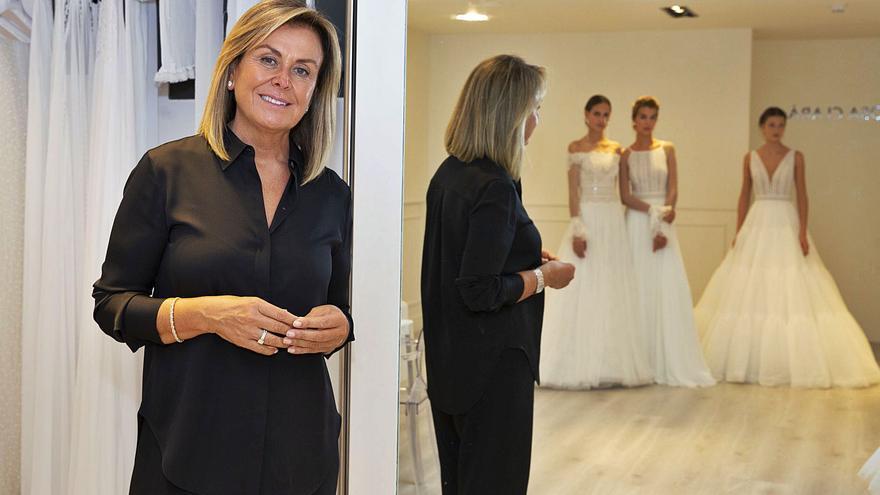 We started this beautiful project with great responsibility; and we have had many joys and a great expansion. It all started in a simple way, not as a big project, but the truth is that things have gone very quickly.
His irruption in bridal fashion was a breath of fresh air for brides. How do you remember your beginnings?
I studied law, but it wasn't my thing. Later I was trained in the bridal sector and learned the trade. I worked in a bridal company but, tired of traveling, I decided to open a small shop on Passeig de Gràcia in Barcelona 29 years ago, when my son had just been born. I started buying dresses from different brands, but quickly realized that what the brides asked of me had nothing to do with what I was offering them. At that moment the idea arose to start making my own designs. And from there I remember that everything was very fast.
The pandemic has coincided with the celebration of 25 years of the signature.
Due to the covid-19 crisis we had to postpone all the events that we had planned to celebrate our silver wedding anniversary. It was very hard, we worked for months with great enthusiasm, but we couldn't celebrate it. But luckily we will have many years ahead to celebrate if not 25, 30, 35 and all who come. I represent the 25 years that have passed, but my son Dani, who joined last August, has his whole life ahead of the company.
How has the wedding dress changed after the pandemic?
There has been everything. In weddings that were postponed until later, the brides have come to the store to buy a simpler suit and thus get married in court and celebrate it later with all the guests.
Have they quantified the losses?
We have stores and points of sale all over the world. In Spain, when the pandemic emerged, we had to close stores for three months with the uncertainty of not knowing what would happen. 40% of weddings were postponed, but as of September links are being celebrated in different ways. I always try to give a positive message because this country has to move on.
Do you think that next year normality will return to weddings?
You have to adapt to normality as much as possible, do things well done and be optimistic. I am hopeful that there will be semi-normal weddings next spring. Possibly the bride who gets married in May will ask her guests for the covid test.
What is the identity of the house?
Our collections have an impeccable pattern, we use the best fabrics and innovation is constant. Design, craftsmanship and quality are the foundations of the brand.
How has the bridal industry evolved over the years?
There have been many changes. The Internet has made fashion available to many people and this, years ago, was unthinkable. Now brides have a culture in fashion that did not exist before. However, the main change is in age. When we started, the bride was 23 or 24 years old at most. They were girls who came to try on the dress accompanied by the family, which greatly influenced them. Today, instead, brides arrive who hopefully are 30 years old and know exactly what they want and decide for themselves.
Being a trend leader in bridal fashion has led her to dress up numerous celebrities.
It is an illusion that we live with them. I always say that a girlfriend is in a special moment in her life, no matter what she does. It doesn't matter whoever it is. We wear illusion.
Any anecdote to share?
I remember that one of the first was Paula Echevarría. We made her wedding dress with David Bustamante, her daughter's communion dress and Velvet's wedding dress (the Antena 3 series). We designed four dresses for Paulina Rubio for her wedding with Colate. Since she was on tour, she couldn't come to get fitted and in the end we had to go to Miami to have her dresses on. The last one was in October last year for Mery Perelló, Rafa Nadal's wife, who wore a spectacular design with a box neckline made of French lace, inspired by Art Deco, hand embroidered, meticulously, with micro-stones embedded in the drawing. We also made dresses for the bride and groom's mothers and the tennis player's sister.