«In sport, as in life, 80% is head»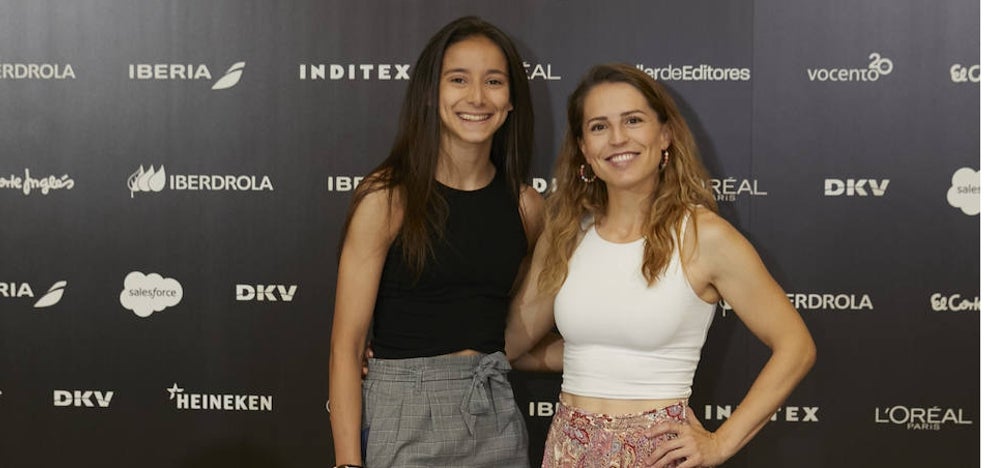 Paralympic athlete Sara Andrés and Olympic medalist Adriana Cerezo talk about overcoming difficulties at Santander WomenNOW
There is nothing like competitive sport to learn to set goals and meet goals, from effort and constant work. As women, too. A lesson that has application in all areas of life and that Sara Andrés and Adriana Cerezo, the two Spanish athletes who have stood out the most in recent times, can speak with authority about.
The first, a Paralympic athlete, and her partner, a silver medalist in taekwondo at the last Tokyo Games, participated in a discussion on the ability to overcome adversity, in sport and in life in the
Santander Women NOWthe Vocento women's leadership event.
More than defending the idea that 'nothing is impossible', both Andrés and Cerezo warned that in the face of this idea, what they have always been clear about is the importance of setting goals and achieving them progressively in order to reach the goal.
«10 years ago I lost my feet -says Sara Andrés- and the world came crashing down on me. I thought it was impossible to return to the life I had before, but with a lot of help from doctors, psychologists and family I discovered that impossible is just a word and that the important thing was to have a goal. What's more, I went over the target, I went further. I discovered another sara with more power, with more initiative and more strength; I got what I wanted and much more. For her colleague Andrés de ella, the secret is the same, setting goals, but she adds the importance of "not losing hope along the way."
mental health ahead

So that this flame does not decay, both agreed to highlight the importance of mental health. An issue that has shaken the sports world recently after such notorious cases as that of the athlete Simon Biles, who left the competition in Tokyo victim of anxiety.
Any athlete, whatever their level, feels this pressure. The Paralympic athlete acknowledged that, in Tokyo, what failed her was this aspect and recalled that "both in sport and in life, 80% is head."
Beyond the competition, in his case he says he is not afraid of what happens to him (he has also overcome thyroid cancer), because he has learned to make the best reading of every bad thing that happens to him. «In the face of adversity I grow. But it is something innate in me », she acknowledged.
For her part, the taekwondo medalist claimed that mental health is in the day to day of any person and the support of professionals is essential. "We all face stressful situations and letting the discomfort go can explode. You have to learn to manage it and having a person to help you process and express the emotions you feel should be something normal and accepted by society », she valued.