In Spain there are 8.5 million people in social exclusion, 14% more than in 2007 | Society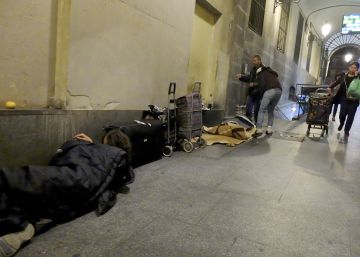 Poverty grows in Spain. The number of people in social exclusion has increased to 8.5 million in the national territory, 1.2 million more than in 2007. This is confirmed by the figures in the 2018 report, presented Thursday by Caritas. Natalia Peiro, general secretary of the ecclesial network, warns of the situation of vulnerability they are facing and has indicated that social exclusion "has become entrenched in the social structure of our country." Despite the latest data Foessa Report, published in June by the entity, which concluded an improvement in the levels of social integration, Peiro insists that "they have not occurred with the appropriate intensity to substantially improve their living conditions." In addition, 1.8 million people (3.8% of the population) live off the extreme of the most severe exclusion.
"These families live in pure and hard survival as a daily objective," Peiro said. "They have broken their ties with the rest of society because they feel they are not taken into account and face a social protection system that is not oriented or designed to accompany them."
On the razor's edge
In the presentation, the emphasis was also placed on "insecure society", and it was said that almost 6 million people "move on the razor's edge." From Caritas point out two elements that cause this insecurity: precarious and insufficient employment and the tension to access and maintain a home.
That is why the reception and accompaniment of these people at risk has accounted for 23% of the total resources of the network. Of the 353 million euros invested by Caritas last year to accompany and help more than 2.7 million people, 73.1% were contributed by private donors. Of the public resources they manage (95 million euros), 53.2 come from the regional administrations and 7.8 million from the central administration.
In addition, Peiro added, the political instability in which the country is plunged – which will return to the polls in a month– It also affects them. "They force us to repeat and repeat the dialogue with the Administration for certain things. We have social policies, housing and volunteer networks … that stand until someone gives notice of continuity," he concludes.
Spanish mothers are the most vulnerable
Neither foreigners nor irregular. The face of inequality is that of a Spanish woman and with dependent children. Around 60% of the people who requested help at the Caritas centers in 2018 were women, of which 55% are Spanish and, moreover, have been participating in the entity's assistance plans for more than four years. "We have to deny the stereotype lately so repeated that foreign people collect resources from Caritas and other social entities. Our own intervention data confirm that the majority of people accompanied by Caritas are Spanish or EU (60%)" Peiro added.
. (tagsToTranslate) Spain (t) have (t) 8 (t) 5 million (t) person (t) exclusion (t) social (t) 14% (t) 2007 (t) 1 (t) 8 million (t ) to suffer (t) situation (t) poverty (t) extreme (t) extreme (t) caritas



Source link