"In society we all wear uniforms" | Babelia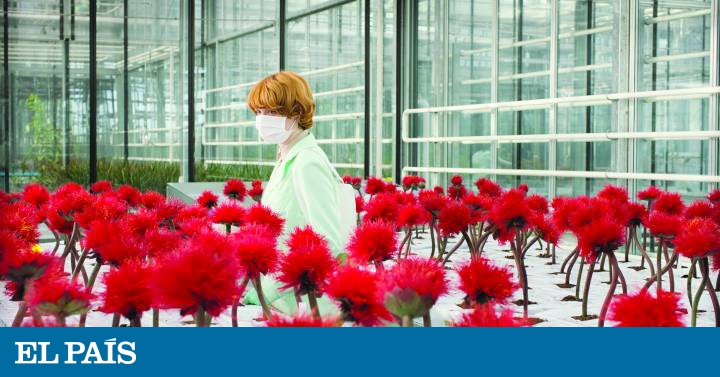 Time changes everything, including how to interpret a movie. When it was released at the last Cannes Film Festival, from which she left with an award for best actress, Little joe It was understood as a covert tirade against the dogma of compulsory happiness, a Lacanian parable about mother-to-child love, or a warning about the dangers of wanting to control nature. The readings were multiple, as are its subtexts, but all referred to an allegory more or less inscribed in science fiction. Reviewing in the current cataclysm this botanical horror story, starring a synthetic plant created from a mutant virus with pathogenic effects on the human organism – except if everything is the result of a collective hallucination -, gives the film an unsuspected realism . Not only because their interpreters wear masks and wash their hands thoroughly, but also because they describe a world dominated by a feeling as unpleasant as uncertainty.
"As soon as a crisis comes, conspiracy theories emerge and it becomes unclear what is true and what is not. It is a feeling that is at the center of my film. I describe a situation for which scientists have no answer, "replies Jessica Hausner (Vienna, 1972). The Austrian director is the subject of a retrospective at the D'A Film Festival, Barcelona's signature film competition which this year is celebrated in digital version through Filmin, where it will start next Thursday. The platform will also debut in Spain Little joe, which will be available for two days from May 3.
Since his debut with Lovely Rita (2000), a portrait of a parricidal adolescent who emerged late in Dogma 95 (and who has aged quite poorly, like almost everything her unwanted children did), Hausner's career has drawn a rising line in substance and vigor narrative. But also fluctuating, unable to stick to a single record or obey the rules of a single genre, unlike most European directors of his heartbroken fifth (Yorgos Lanthimos, Ruben Östlund, Joachim Trier). This explains why he has signed projects as diverse as a thriller lynchian like hotel (2004), a French-made drama about miracles like Lourdes (2009) or a biography sui generis de Kleist, supporter of liberation by suicide (party!), as Amour fou (2014). "I don't think about the genre to which each movie belongs, nor about the time it takes. I don't believe in movies that aspire to portray a certain time or place. It is more honest to say that each film represents its own reality. So in all my projects there is always something that screams: this is false! "Explains the director, daughter of the painter Rudolf Hausner and script by Michael Haneke on Funny games, although he refuses to put himself in a queue of misanthropic and Austro-Hungarian predecessors in which Thomas Bernhard or Elfriede Jelinek could appear. "I'm not a fan of them. I always felt closer to Buñuel or Tati, "she says. Its absolute reference is Maya Deren, avant-garde filmmaker in 1940s New York: in Little joe he borrows the music from his composer (and husband), the Japanese Teiji Ito, whose drums taiko they manage to instill instant terror.
"I'm interested in what fear does to people. I go to the mall with sweat caused by fear and yelling at my son not to touch anything, like an actress in a B series"
Hausner's unblemished cinema may seem like the work of an icy mind. "I don't think my movies are cold. On the contrary, they are guided by the desire and the emotional impulse to transmit a thought ", Hausner dismisses, without completely clearing the doubt. The director looks at the social norm under a microscope and describes characters who obey what is expected of them, until something forces them to review their certainties. "That is the theme that obsesses me: how each human being tries to fulfill his role within society. So my characters usually wear uniforms. In society we all wear uniforms, we all have a role to adapt to. What can an individual become when he is forced to adapt to that role? It is no coincidence that all its protagonists are women: the margin to invent themselves is even narrower.
During confinement, his life has not changed much. He keeps going to the office of the production company he founded in his early twenties, where he works on his next project, Club zero, another twisted fable about a nutrition teacher and her students, inspired by Hamelin's futist. "What interests me most about what we are experiencing is what fear does to people. The most interesting aspect is the virtuality of the disease and the development of a fear that is very abstract. I do not know anyone who is sick, which does not mean that he goes to the mall with sweats caused by fear and screaming at my son not to touch anything, like an actress in a series B movie. The other day, that boy asked him if what we are experiencing is "as bad as the Second World War". "I replied that, in comparison, this is nothing. After all, we only have to wear masks ", ditch Hausner.
Little joe. Jessica Hausner. Available in Filmin from May 3. The retrospective organized by the D'A Film Festival, which takes place from April 30 to May 10, can be seen on the same platform.