In search of the lost numbers of Marcel Proust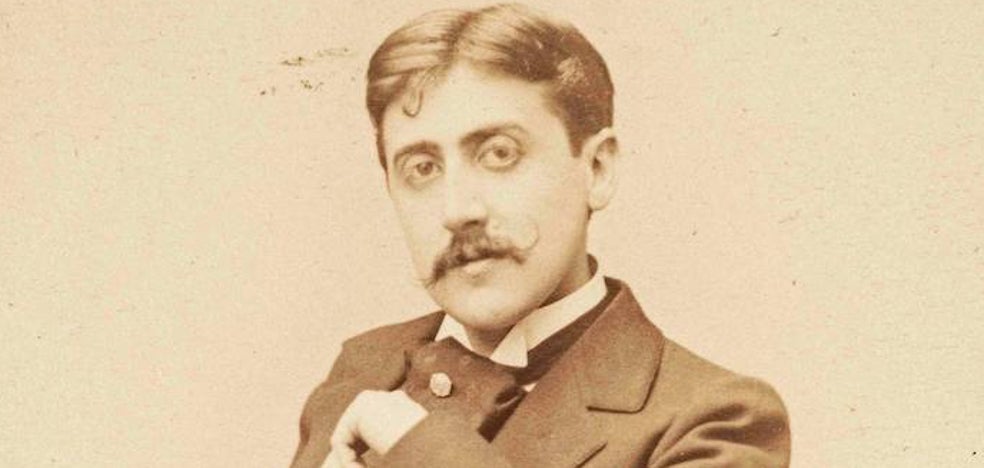 'The proustographer' recreates the life and work of the writer in infographics, from his drugs to his vital and literary hobbies / Up to 2,500 characters parade through the 2,399 pages of his novel cycle, which adds up to 1.2 million words
As brilliant as he was maniacal, Marcel Proust wrote thousands of pages in a soundproof room. In addition to gossip of great literary height, his work contains an ocean of numbers and data with which Nicolas Ragonneau and Nicolas Beoajuan played to illuminate a book as entertaining as it is amazing: 'The proustographer' (Alianza Editorial). It is an infographic delirium in search of the lost numbers of Proust and his literary and personal hobbies. Anyone who approaches him will know what drugs he used, how many letters he wrote, what is the most used verb tense in the 2,399 pages of 'In Search of Lost Time', how many characters he created or what he treasured in his meager library.
You will find that the longest sentence the cupcake genie ever wrote contains no less than 931 words. The shortest, one: Ah! That with 1.2 million words and 2,500 characters, horses appear in his writings on 25 occasions, which makes the horse the most Proustian animal, ahead of the butterfly, the dog and the cow. That he spent 6,000 francs on drugs in 1919 alone, that he challenged himself in a duel once in his life or that he never took the subway. He will know what her favorite restaurants were in Paris, the variations of his bank accounts or how many times he includes the word 'duchess'.
It would seem that it is useless knowledge, but its knowledge will admire as much as it will entertain its readers, through a hundred careful infographics that trace in figures, graphs and signs a revealing profile of the brilliant novelist who has sold almost seven million copies of his great fictional cycle.
The authors have elaborated their meticulous work from all the available data on the life and work of the torrential Proust. They thus certify that the pages of 'In Search of Lost Time' include 99,106 commas, the punctuation mark most used by Proust. He was much more moderate with the point, which he used 'only' 38,961 times.
The third most common punctuation mark in the seven volumes of his great novel is the script, which he uses 5,091 times. The most common verb tense, which represents 28% of the total, would be equivalent to the Spanish imperfect past tense. Something logical in Proustian writing, which unfolds in a diffuse and static place of the past. The future tense, the least used verb tense in his novel, occupies only 1%.
An infographic of the book that explains the tenmep of lectia aloud. /

alliance

Proust had a curious technique for correcting texts: he added strips of paper pasted vertically and horizontally that unfolded in a large column. He used them to enrich and retouch his originals. The longest manuscript made by Proust measured one meter and sixty centimeters, a large 'paperolle' (as the technique is called), which approached the height of the writer, who measured 1.68 meters. Aligned, all the words of 'In search of lost time' would add up to 10.3 kilometers.
A seasoned reader, an actor, will need 127 hours and 47 minutes to read aloud the fiction that for some time was one of the longest of its time. But he is far outclassed by Honorée de Balzac, whose entire series of 'The Human Comedy' would take the same reader 435 hours. To compare, the authors add that the reading of the 'Game of Thrones' series lasts 76 hours.
addictions

Proust medicated and drugged himself with 14 different substances. Asthma prevented him from leading a normal life since his adolescence and forced him to repeat a high school course, without the doctors being able to stop his attacks. He also suffered from insomnia, anxiety, stomach pains and intestinal disorders.
Graph about the drugs consumed by Proust. /

Publishing Alliance

To combat these conditions, he consumed sleeping pills based on opium and morphine. He also took Veronal, a drug that he abused until he forgot "everything" that he wrote in one of his volumes. He alternated it with Trional, Teotronal, Dial-Ciba and Didial. He wasn't averse to stimulants like adrenaline, caffeine, or evatmine.
It occupied six flats in Paris, in the 8th and 16th arrondissement. He wore five types of mustache, from his puberty until his death, including those called walrus or Charlot. Unrepentant graphomaniac, it is estimated that he wrote more than 100,000 letters, of which we know 30,000.
'Madame' and 'Monsieur' top the list of most used nouns, followed far behind by 'femme' (woman) and 'chose' (thing). Racine is the author most cited by Proust, but his library was modest and he could not be called a bibliophile. It was as if he carried it in his head, furnished with a prodigious memory that allowed him long passages of tragedies and poems.