In Nesiry he redeems himself and knocks the Levant down on the horn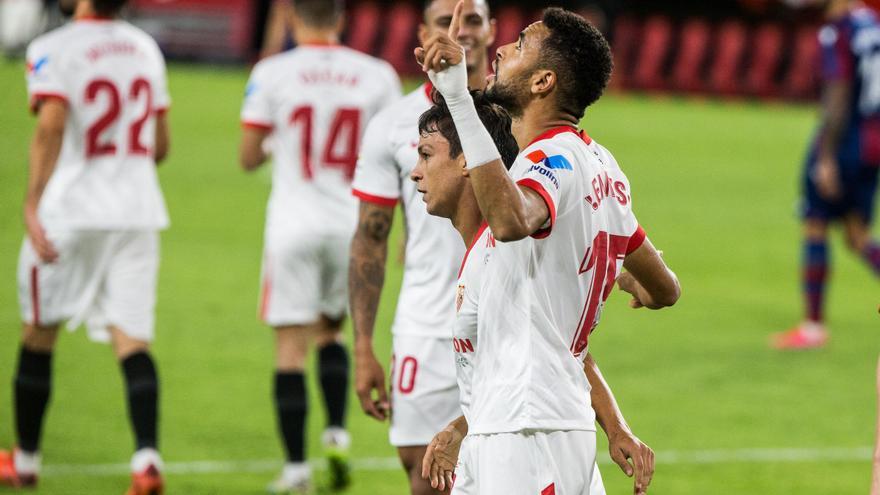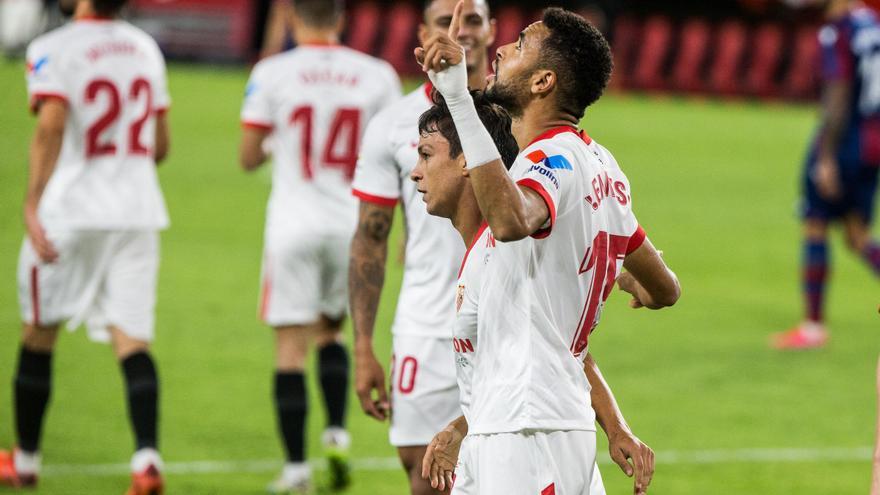 He Seville won 1-0 to an orderly and serious I raised with a goal in minute 92 of the Moroccan Youssef En-Nesyri, who, after leaving the bench, redeemed himself from his lack of aim in the final of the Super Cup European lost to Bayern Munich and in Cádiz to give a valuable victory to his team.
To the Levante, what could score in two actions of José Luis Morales near half-time, the game was gone on the last play, which started, once again, from the boots of the incombustible Jesús Navas so that En-Nesyri headed for goal, after a very competitive game and in which the granotas were emptied to withstand the local push, but in the end they did not see their enormous work rewarded.
In the premiere this season of Ramón Sánchez-Pizjuán, 74 days after the last game in Nervión (1-0 at Valencia July 19), two teams played at a good moment and with a victory each in their saddlebags: Sevilla last Sunday in Cádiz in their league debut and Levante in Pamplona, ​​both 1-3.
With changes on both sides, six in the Sevilla players -with the Moroccan Munir and the Dutch Luuk de Jong up-, and four in the granotas, especially in defense with the entry of Óscar Duarte and the full-backs Son and Toño, the duel started with great intensity, with high pressure from both teams and greater local dominance.
He Julen Lopetegui's team came out with great force and he was able to go ahead at 4 minutes, but the powerful shot of the Argentine Lucas Ocampos went out just after the goal Aitor brushed it, in what was an example of the lack of effectiveness of the Andalusians.
Escudero also tried, in a center that De Jong did not reach after 17 minutes, and later Munir and Ivan Rakitic with long shots, but Levante, serious and solid in containment, held up well the local push and, in addition, he did not renounce to disturb in attack.
The Valencians did not give up on the pressure and were about to take advantage of the opponent's mistakes, especially shortly before the break through José Luis Morales in a shot from the front that went slightly off track, as well as in a header in a foul .
In the resumption, Sevilla turned in search of the goal against a very organized, solid and supportive Levante, but not very incisive upstairs, where Morales was little helped, although he made things very difficult for a Seville team with little clarity in attack.
This made their attacks predictable and that Levante, with their enormous work on defense, contained their offenses, as in two warnings from Ocampos and Munir, who saw a goal disallowed in the 67th minute, after the review by the VAR and by the referee on the screen at the foot of the field, for a previous foul by Koundé against De Frutos.
With the carousel of changes, Lopetegui looked for more ideas in attack to overcome the Levantine defensive network, while Paco López reinforced the rear with Portillo and refreshed his team.
Little visible in attack, the Granota team continued to defend very well until, in the 92nd minute, the umpteenth center of Navas went headlong into En-Nesyri to leave the three points in Nervión.
Data sheet:
1 – Seville: Bond; Jesús Navas, Koundé, Diego Carlos, Escudero; Jordán (Franco Vázquez, m.86), Fernando, Rakitic (Suso, m.60); Ocampos (Óscar Rodríguez, m.86), De Jong (En-Nesyri, m.70), Munir (Óliver Torres, m.70).
0 – Raise: Aitor; They are (Miramon, m.91), Vezo, Óscar Duarte, Toño; Campaña, Radoja (Malsa, m.62), Vukcevic, Bardhi (De Frutos, m.62); Melero (Postigo, m.76), Morales (Roger, m.76).
Goal: 1-0, M.92: En-Nesyri.
Referee: Xavier Estrada Fernández (Catalan Committee). He sent off local coach Julen Lopetegui for a double yellow, who saw them in the 69th and 90th minutes for protesting. In addition, Sevilla admonished Jesús Navas (m.51), Ocampos (m.78), Koundé (m.82), Fernando (m.83) and Diego Carlos (m.90), and on the visiting side Vezo (m.38), his coach Paco López (m.68) and Son (m.76).
Incidents: Match of the fourth day of The league Santander, played behind closed doors at the Ramón Sánchez-Pizjuán. In the run-up to an emotional minute of silence in memory of José Antonio Reyes, Sevilla international who died on June 1, 2019 in a traffic accident. Lawn in good condition.