Immigrants demand to speed up their procedures to leave the islands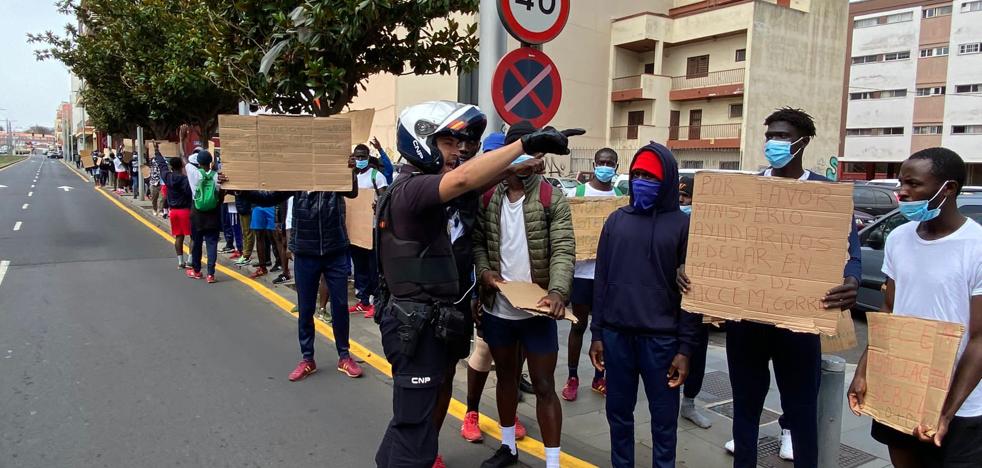 About forty people have taken to the streets in La Laguna charging against Accem and the Ministry
Around forty people from the center of Las Raíces, in the lagoon municipality of Tenerife, have taken to the streets to protest again due to the uncertainty of their administrative situation.
Armed with banners, they have charged, on the one hand, against the entity that manages the camp (Accem) calling them "corrupt" for keeping them held for up to three months. On the other, against the Ministry of the Interior itself, considering that it blocks the procedures and prevents them from continuing their migration project.
It is not the first time that these demonstrations have taken place by the users of the center. Two hunger strikes, a "camp" in front of the doors, complaints about some internal deficiencies and other protests with banners have been happening in the last year and a half.
Although the former responded to the saturation of the islands and the blockades at the airports in the framework of the health emergency, the latter have a context that is far from that. The gear of referrals to the peninsula is more agile and the number of immigrants in the centers now does not reach half of its total capacity, according to figures from the Government delegation.
However, there is still a feeling of frustration among those who are waiting to resolve their procedures and, often, they extend the wait for a few months.