Imanol Uribe: «Committed cinema has less and less space»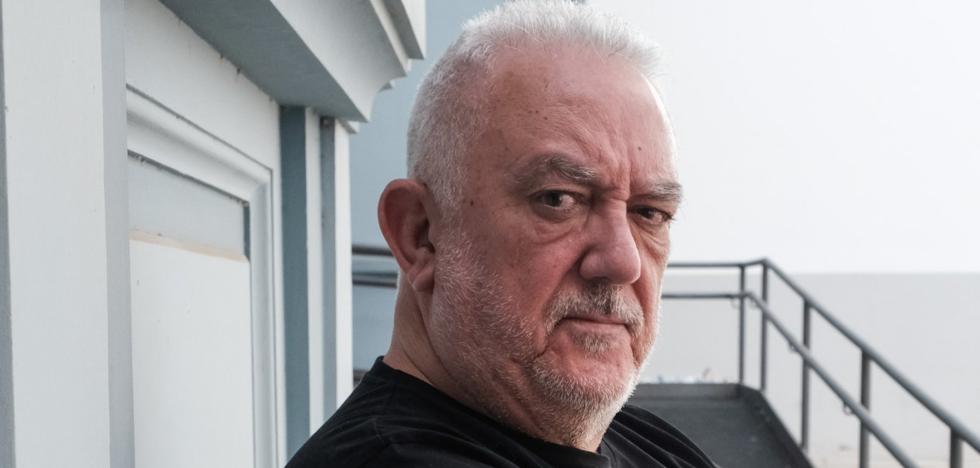 The Spanish director, who has 'They arrived at night' on the billboard, will participate this Saturday in the Conference on the cinematographic profession
He premiered his first feature film in 1979 and a few weeks ago the last one,
'They arrived at night'. It has some of the most awarded in the history of the Goya, as happened with
'Numbered days' or 'The stunned king'. His experience and his creative talent behind the camera are two of the aspects that Imanol Uribe (San Salvador, 1950) will show
This Saturday, starting at 4:00 p.m.within the second installment of the Conference on the cinematographic profession, which within the framework of the 21st international festival of the capital of Gran Canaria, will take place in the
Miller building.
Since its inception, after graduating in the last class of the
Official Film SchoolImanol Uribe has opted for a cinema clinging to reality and with a clear social and political commitment.
«Committed cinema has less and less space. It is becoming more and more difficult to mount productions like this. The televisions are the ones that decide what cinema is made and how. It is necessary to break a spear in favor of Spanish Television, even if it seems incredible. Although he has little money, his support is essential for Spanish cinema.
The antenna rights allow to make a certain independent cinema that does not depend on the great executives of a platform, "he acknowledges by phone.
Imanol Uribe is aware that a platform like Netflix will hardly bet on producing or exhibiting proposals like his. «I make medium productions, with absolute freedom as happens with my Canarian friend
Andres Santana», acknowledges about his fruitful collaboration with the producer from Gran Canaria. «Andrés and I make the type of film we want with a
absolute freedom, without any kind of interference. This is only allowed these days by the great filmmakers, who can be counted on the fingers of one hand », he points out.
For more than a year, Imanol Uribe and Andrés Santana have been working together to create a new feature film, inspired by a true story that happened in Lanzarote and that they plan to shoot on the island itself. «
It is a difficult project to raise. But Andrés should not be minimized. She gets it all. Sooner or later, that movie will be made. Among his virtues is that of being very constant and that if something gets between his eyebrows, he takes it forward », he comments without going into details about the project.
This Saturday at the Miller Building, Imanol Uribe will be together with the filmmakers
Daniel Sanchez Arevalo and Daniel Monzon. The meeting will be moderated by El Gran Wyoming. «I think it will be very attractive, because we are different generations who will speak. There will be different shades. I was recently in a talk with students from a film school and they told me to bet on a theme. I opted for the job of director, because among many other things, it is a job », he underlines.
Who has behind him 15 shorter feature films as a director and some television work is clear that two things have radically changed the panorama of film productions. «I have lived a transition forced by the passage of time.
I think the main change has been in the language. When I was in the Official Film School, we were obsessed with the language of classic American cinema from the 30s and 40s. Now, everything has completely changed », he admits.
He highlights another turning point that he considers decisive in the evolution of the seventh art. The
goodbye to celluloid in favor of digital. "It was a qualitative leap. I participated in an act together with Carlos Suárez, who is a wonderful director of photography. He defended the value of celluloid while I chose to defend digital. From the point of view of film photography, I understand that for purists, celluloid is the essence. But for me, the change was for the better.
From the director's point of view, digital allows us not to have to wait a day or two for what you had shot to be revealed in the laboratories. When I left the Film School, I remember working as an editing assistant on a film by Eloy de la Iglesia. At the time, editing a movie and changing your mind with the editing was like moving an armored division. Now, the mount can be changed quickly. And when I shoot, I see the finished film on the fly. I see the plan as it will be seen on the day of the premiere. Before, you were forced to take many shots due to insecurity. Now it is no longer necessary. Of course, the danger is that given the possibility of having unlimited time to shoot, because it does not imply higher costs in material,
excesses are committed", recognize.
Movie theaters provide a plus of "intimacy and concentration"

For Imanol Uribe, watching a movie in a movie theater is an unbeatable experience. «The exhibition has changed radically. We are in another stage and movies are mainly consumed on the computer, on the television at home, on a 'tablet' or on the mobile. In my time that was a heresy, but you have to accept it. I still like the movie theater, there you have a plus of intimacy and worship of what you are seeing, as well as concentration. You'll never get it out of there," says the filmmaker.
Uribe clarifies that when he starts working on a project, his goal is to have it screened in a movie theater and shot according to the narrative and visual principles that he considers pertinent to it.
A few weeks ago 'They arrived at night' was released, where it tells the story of Lucía, the only living witness to the massacre of Jesuits in El Salvador, in 1989. «The film has a lot to do with my story. I was born in El Salvador, studied at the Jesuits and knew Ellacuría. I was a bit predestined to shoot it », she laughs about this film starring Juana Acosta.
"For the type of film that it is, it is doing well in theaters. It is intermediate. Neither the thing is to shoot rockets or to cut your veins, "confesses with a laugh who defends the importance of this story in these times of so much false news. «I think it was important to tell the story of Lucía, because she was fighting for the truth, she knows what she has seen and she risks her life in every way. To such an extent that she has not been able to return to El Salvador », she recalls.