Images of an exile | Babelia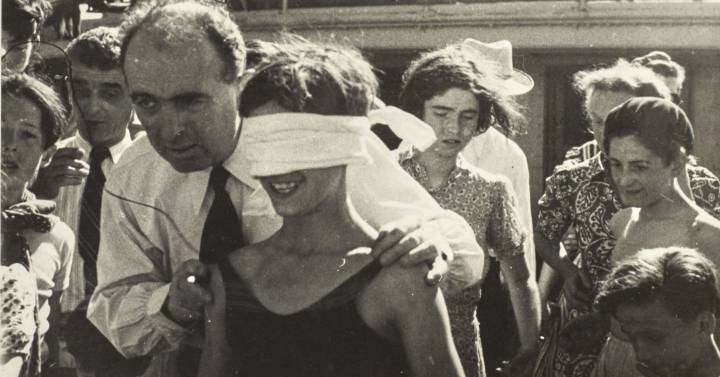 March 24, 1941 the freighter Capitaine Paul Lemerle departing from the port of Marseille towards Fort de France, Martinique. It carried about three hundred refugees. Many of them were Jews, others persecuted politicians, including some Spanish refugees. All fled from fascism. They would have to face the hostilities of the Vichy government, as well as a series of impediments with which they were received in the American countries where they planned to settle. The memories and works of some of them will feed an antifascist artistic and intellectual movement that resonates in time today.
Among the artists and intellectuals were the ideologist of surrealism, Andre Bretonand his wife, the painter Jacqueline Lamba; the philosopher and anthropologist Claude Lévi-Strauss; the Cuban painter Wilfredo Lam and his wife, Helena Holzer; the revolutionary writer Victor Serge; the writer and journalist of German Jewish origin Alfred Kantorowicz, and the German Jewish writer Anne Seghers. Also the filmmaker and screenwriter Rémy Assayas, known as Jacques Rémy, and the German photographer Germaine Krull. During the twenty-seven days of the crossing, the artist documented life aboard the ship. An exhibition and a book gather these images for the first time under the title Germaine Krull & Jacques Rémy, A Voyage, Marseille -Rio 1941. The show is part of the festival program The Arles Encounters, which celebrates its fifty edition.
The photographs were found in Rémy's country house. "Germaine Krull (1897-1985) was a familiar figure to me," says film director and critic Olivier Assayas, son of Rémy. "I met her as a teenager, she was very close to my parents. At that time, in the seventies, his work had fallen into oblivion and he had no idea that it had been one of the great modernist photographers. " The publication of Metal in 1928, one of the first photography books conceived as an artistic object in itself, and its participation in the exhibition Film und Photo, A year later, they placed her as one of the most prominent women in interwar photography. "Germaine, you and I are the greatest photographers of our time, me in the old way and you in the modern way," said Man Ray. However, despite this early recognition, apart from an exhibition organized by the Cinématèque Française, in Paris, and another one that took place at the Musée Réattu de Arlés, in 1988, would not be until 2001 when justice was done to his work with the celebration of a large retrospective at the Pompidou center in Paris. It was then that Assayas found a series of photographs between his father's archives. "At first I could not value the material in my hands. It was hard for me to differentiate what material belonged to Krull. They were over a hundred photographs, and little by little I saw that there was a narrative, I didn't know what ship they had made in. There were also images of indigenous tribes that didn't fit very well in the story, as well as the Cayenne prison, where I knew my father had been to me. "
Assayas remembered some details of a boat trip that his father had told him. In him he had met the photographer. It was through Sad tropics, the memories of Lévi-Strauss, when he could begin to know some details of the trip: "I began to understand the day of boarding, when through the fences of embedded guards and with openwork machine guns, which framed the pier and cut any contact of the passengers with relatives and friends who had come to fire them, abbreviating goodbyes with shoves and insults; it was truly a lonely adventure, or rather, a game of galleys, "wrote the philosopher. As he found more data from that episode of his father's life, his curiosity increased.
After several years of research, Assayas had an encounter with the writer Adrien Bosc, who was immersed in the writing of Capitaine (Stock, 2018), a fiction novel that tells the passage giving voice to the different passengers – and that would finally include an account of that meeting. Hence the idea of ​​this exhibition and the book, where Krull's graphic material is accompanied by texts – some unpublished – both by the photographer and Rémy, as well as by documents of the time. Assayas maintains the hypothesis that his father and Germaine Krull had conceived a joint editorial project aimed at recounting their journey.
From a young age the photographer maintained a strong commitment to political causes. At eighteen she was expelled from Munich, where she studied photography. In 1921, during a visit to Russia she was arrested accused of being an enemy of Leninism, and subjected to a false execution. That would leave a deep mark on his life. "A bitter enemy of Nazism, it was another one of those poor souls fighting to survive. He had to leave Paris, "says Assayas. "At that time I was separated from the filmmaker Joris Evens, with whom I had married in 1927. Evens had emigrated to the United States and upon arrival had declared himself single. North America was thus discarded as a destination for the photographer, since in her passport she appeared as Evens' wife, and her arrival would mean the deportation of her husband. "
The crossing was hard. "There were only four cabins, occupied by the officers and by Levi- Strauss, who had already made use of the same line for another of their trips," says Assayas. "Food was scarce and bad. In the toilets endless queues formed. Day by day dirt accumulated. The ship was sailing for the simple reason that the Vichy government wanted to keep active a connection with the colony and avoid the occupation of the island by the United States. For many of the refugees, sailing with a Vichy flag was a guarantee that the ship was not going to be attacked by the Germans. "
Once the ship arrived at the port in Martinique, considered deserters by the Vichy regime, the passengers were held in a camp inside the Lazaret leprosarium. There they would stay more than a month. From there, Krull and Rémy managed to reach the northeastern coast of South America and reach Cayenne in French Guiana, moving to Saint-Laurent du Maroni, where they documented the lives of the convicts. Their roads would separate in Rio de Janeiro, after passing through Belém, Recife, Pernambuco and Bahia. The photographer would be installed in Rio. Rémy continued his trip to Buenos Aires. They would not meet again until after the war.
That retention period in Martinique would be fruitful for some of the passengers. Victor Serge would establish contact with Lévi-Strauss. Breton, who was allowed to stay in Fort de France, would discover the poet Aimé Césaire through the publication Tropic. The poet would also serve as a guide for the Cuban Wilfredo Lam, who would discover in the wild and exuberant beauty of the island a new way to face his painting.
"Krull's photography represents the link between the Russian and German avant-garde and photojournalism in Paris," says Assayas. "In her beginnings she was a pure visual artist and little by little she became more interested in showing reality. Reinvented along with Eli lotar Photojournalism in France, and it was extremely influential. The most interesting thing about this series is that it has a very specific nature. It is not an artistic photography, nor can it be considered photojournalism. He is documenting his own experience without an aesthetic intention, nor thinking about what an editor would like. It is, in a way, inventing a neorealist photograph. " He lived a year in Rio de Janeiro. From there he continued to Brazzaviile, in the French Congo where he joined free France. "Then he practically abandoned photojournalism. He would be interested in Asian philosophy and Buddhism. She owned a hotel in Bangkok, calledThe Oriental. This will be his last serious photographic work, "says Assayas.
Germaine Krull & Jacques Rémy, A Voyage, Marseille -Rio 1941. Cloister Saint-Trophime, Arles. France. Until September 22.
. (tagsToTranslate) images (t) exile (t) exhibition (t) gather (t) photograph (t) take (t) germaine krull (t) capitaine paul lemerle (t) match (t) intellectual (t) artist (t) ) flight (t) fascism



Source link