Ilenia Suárez and Jonathan Vega are crowned in Arucas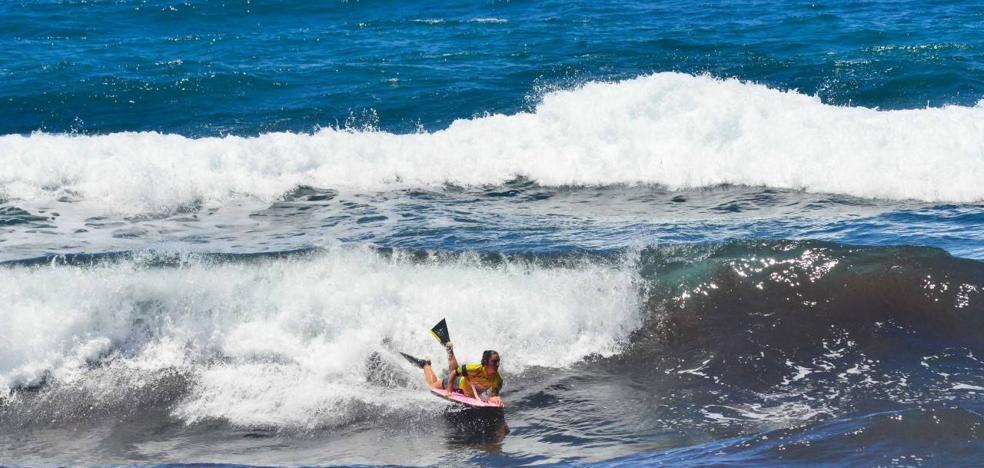 bodyboard
They win in their categories at the Arucas Oleaje Bodyboard Contest 2022
The finals of the nine categories disputed this Saturday during the
Arucas Oleaje Bodyboard Contest 2022 They started strong early in the morning, but the women's final was the most anticipated, in which the rider from Gran Canaria, Ilenia Suárez, faced Alexandra Rinder, from Tenerife, two-time world champion in bodyboarding.
Both competitors have been exchanging the first position throughout the final, although the rider of the Oleaje Surfing Club, organizer of the competition, achieved since she went out on the water the best score in the women's category with a combination of reverse spins and rollers (qualified with 7 points out of 10). Nevertheless,
It was not until the last wave that the Moyense athlete managed to beat Rinder by a few tenths. "I am very excited, since it is my second championship this year and the second won, as well as succeeding on the beach where I have always been training since I started", declared the winner of the women's Open category.
For the current bodyboarding world champion, Alexandra Rinder, this championship has a long history, with more than 12 years competing on the beach of San Andrés, where the increase in Canarian riders in a traditionally minority sport stands out. However, the rider from Tenerife confessed that she has always had a hard time reading this wave "because it has a sandy bottom and it moves a lot." In her opinion, the conditions were quite difficult, so you have to have good technique.
Another of the outstanding riders of the competition has been Jonathan Vega, who was improving his performance in each heat and in each contested race., both in the Open and Master categories, in which he demonstrated his superiority, even obtaining an "excellent wave" in each class (waves rated between 8 and 10 points, maximum score). "He is a very complete competitor, both on the right and on the left, he also controls all kinds of waves," said Darío Rodríguez, judge of the Canarian Surfing Federation.
Vega, current champion of Spain in the Open modality, also highlighted that the level of the canaries is still very high, especially among the youngest. After the rider from Teldense, two other Gran Canarians occupied the podium positions: Samuel Brito and Carlos Suárez.
In the category of the most veterans it has also been quite a show, even for some judges being the class that "has given the most game", according to Lucas Turón, judge of Beaches of the organizing entity, surprising above all a backflip (backflip ) on the shore of Abián Perdomo, 3 times champion of Spain (Master). Even so, the Master class was undoubtedly led by Jonathan Vega, winner with 16.67 points, the sum of his two best waves, against Alberto San Román (9.34).