Iker Casillas stands up to a 'Socialité' team after being persecuted by his people: "I'm not a fool"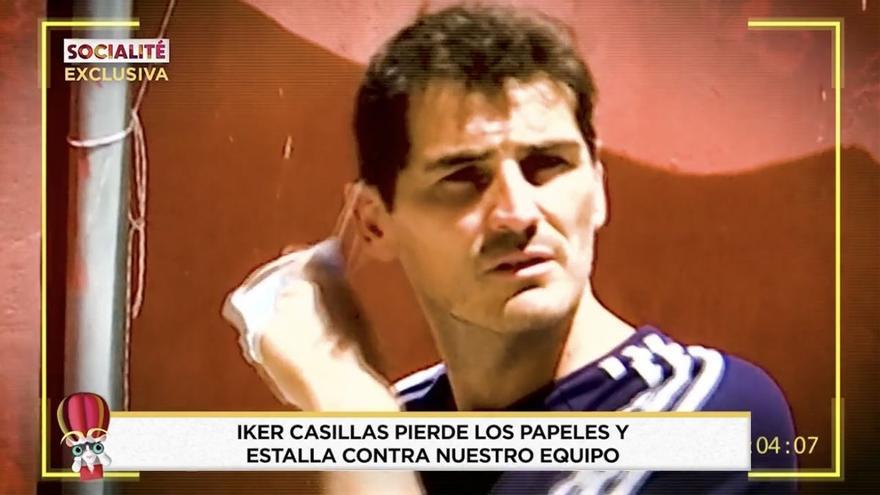 'Socialite' has lived a tense encounter with Iker Casillas. A team in the Telecinco format, which tried to chat with the goalkeeper in their town, ended face to face with him after trying to interview him and asking them to leave him alone.
In the images shown by the program, you can see how a reporter approaches the soccer player with a camera that focuses on the ground due to the presence of children to ask him several questions: "Are you asking me with the camera on?" he tells them when he realizes what happens.
The journalist raises several questions: "Do you plan to stay in town for a while?" The goalkeeper ends up getting impatient: "Why so many questions? I don't trust a hair." The reporter explains why they have approached him to interview him: "We are doing a report." However, Casillas warns that he does not want to be persecuted anymore: "If you ask me seven questions in a row, I get pretty pissed off. I'm not stupid. Don't ask so many questions in a row."
The show's team decides to walk away, but they keep filming it from a distance. When he realizes that they are still around him, he approaches them looking visibly angry: "Listen, are you kidding me? Everything you're recording touches me three balls," he says.
Iker charged against the cameraman: "How old are you?" When he replied that 30, he returned to the charge: "I forty, I get you a little." "I don't care if you are recording me. Leave me alone," he says.
The program presented by María Patiño showed more images of a new day in which the team once again approaches Sara Carbonero's ex-husband. This time they do not get any answer because he explains that he is hoarse. Finally, after not settling for leaving without statements, the Telecinco team insists until the neighbors scold them.