If you want to sell a flat better, put a fireplace | Economy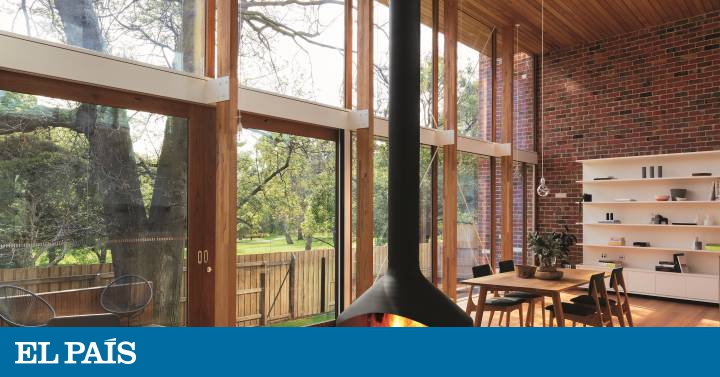 The taste for chimney It is fireproof. The hypnotic attraction of fire, flickering flames and the crackling of wood make these devices eternal fashions. They are inheritances of the past, but they have adapted with skill to the trends of the moment. So many devices they are nothing more than decorative elements and, even so, they have become one of the best commercial hooks. "They are highly valued by the buyer of luxury homes, especially in mountain chalets, so they represent an increase in the price for being an artistic and aesthetic added value that hardly reduces the useful surface of the property," Emmanuel considers Virgoulay, founding partner of Barnes Spain. They are also more than accustomed to selling homes with chimneys in the Gilmar agency: "It is an added value in any property that denotes quality and status. Aesthetically they transform a space," said María Padín, director of Constructive Solutions of the firm. It is difficult to calculate the impact on the price, but the truth is that "the chimney can be a plus and help to make a purchase decision in front of two houses with similar prices," said César Escobar, co-director of the Valuation Control Area of ​​Tinsa .
Whether hot or not, today they fulfill a decorative function in homes, hotels and restaurants. "It seeks to separate environments or simply enjoy a fire, whether real or not," says Pedro Torrecilla, head of Fireplaces Lumbre. You no longer have to have a large house. The floors, no matter the size, are their new allies.
In cities the demand for gas appliances, especially in the floors of well-off neighborhoods with an old wood burning fireplace. They are controlled by a remote control and the temperature is regulated and programmed. The flames arise from among the trunks or decorative ceramic stones and, best of all, they don't get dirty. "They take the square models, with openings and with wood effect that simulate the fire", points Torrecilla. "They have a power of between 6 and 7.3 kilowatts, enough to heat up to 50 square meters. Although they are up to 10 times more expensive than those of firewood and also the fuel is more expensive," they indicate in Habitissimo, portal of reforms, architecture and interior design Do not forget that, like any gas installation, it needs an outside smoke outlet, although it can be done through the facade. Their prices can range from 2,300 to 6,000 euros, according to the avant-garde of design, size and power.
But if the housing allows it, nobody resists firewood, especially in single-family homes. The latest fashion is three-sided designs. "50% of those installed in Spain are in Mediterranean climate areas, where 15% of the homes do not have any heating system", they have in Habitissimo. The advantages are obvious: wood is renewable and cheap. "They are chosen, apart from the fire show, because of their calorific value," they say in Leroy Merlin. The expense is about 56 euros per month to heat a home. The disadvantages are also obvious: it is necessary to have a covered smoke outlet and a shot of at least 250 or 300 mm in diameter, in addition to storing firewood and cleaning ashes. The disbursement ranges from 1,500 to 4,000 euros.
In Leroy Merlin remember that from 2022 all the apwood fires must comply with European Ecodesign regulations. "This means savings of up to 40% on firewood, ash reduction by another 40% and almost zero emissions."
One of the firms that has contributed most to making chimneys, both wood and gas, almost museum pieces has been the French Focus, with more than 50 years of history. The suspended metallic ones of the designer Dominique Imbert have become sculptural and handmade objects. This firm believes that although in Spain, by tradition and culture, there is a preference for firewood, gas will be the future. The best-selling model in its history, the Ergofocus, costs from 5,670 euros plus VAT.
Fire plugged in
More than for heating, the electric ones are used to decorate. And even so, their demand has skyrocketed. There are to fix on the wall as if it were a flat screen or to embed imitating the classic wood burning fireplace. They make a recreation of the fire quite real and there are even with the recorded sound of burning wood. "They are composed of a system of electrical resistances and a fan that distributes the heat. The flames we see are actually lights and, therefore, do not produce any residue," they describe in Habitissimo. However, they are not recommended as a single heating system, since they have between 1,000 and 2,000 watts of power, which means high electrical consumption, and do not generate residual heat like traditional ones.
Within this category there are models with water vapor – purely decorative, without heat power – and with LED lights, which changes its tone to simulate fire and that usually carry a heater, they comment in Lumbre Fireplaces. Their prices are around 1,000 euros, although there are very simple models from 150 euros.
For floors, large or small, what is working best are the bioethanol fireplaces because, in addition to decorating, they can be a support to the heating system of the house. They do not need installation, they can be hung on the wall or placed on a piece of furniture. A 1.5-liter capacity can hold the flames for about five hours and its price starts at 170 euros.
They are revolutionizing the market for some years. They are the chimneys of pellets, a cheaper fuel than gas and electricity. "In the last year the requests have grown by 42% compared to 2018," they point out in Habitissimo. The devices "can be channeled, which allows several rooms to be heated at the same time", have an impact on Leroy Merlin. It is necessary to exit smoke and space to store pellet bags.
(tagsToTranslate) want (t) sell (t) floor (t) put (t) fireplace (t) appliance (t) be (t) perfect (t) commercial hook (t) (t) give (t) heat ( t) have (t) convert (t) decorative piece (t) (t) decorative (t) fit (t) fit (t) house



Source link