"If we don't call you, your mother is fine"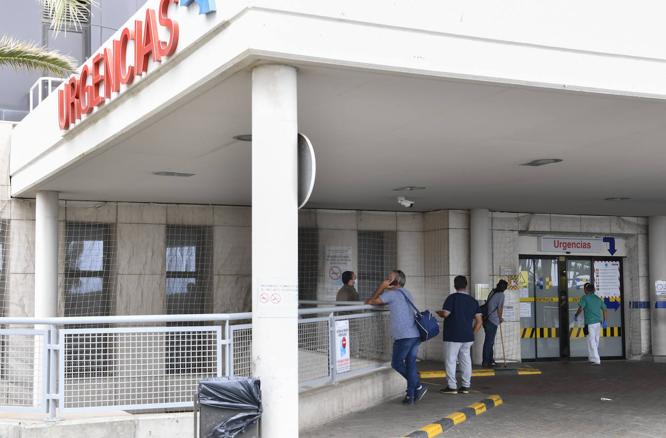 health
Relatives of patients admitted to the Insular Hospital Emergency Department complain about the lack of information and physical waiting space and the prohibition to visit them. The hospital points to security reasons due to the high number of admissions
The
bitterest face of the postcovid protocol still persists in the ER. It would have to be overcome, as it has been in the rest of the hospital areas, but in this delicate service it is still not possible.
whole families do
daily guard at the gates of these services, sitting on the floor, on the step of the sidewalk or leaning on the railing closest to the service, with the "hope" of receiving some information about the state of health of their loved one who,
many times, «it does not arrive or, in the worst case, it comes from a phone call that portends bad news," they say.
«
If we don't call you, your mother is fine." They told Mateo (fictitious name to safeguard anonymity) early last Thursday while managing his mother's admission to the Insular Hospital Emergency Department.
This strict control in the southern hospital area left Magda's son "disarmed and helpless", who was forced to wait "two days before the professionals saw fit and looked for a place" to call him and inform him of the medical part, he says. . Meanwhile, he only received a brief explanation that did not go beyond: »Okay, don't worry«, he confesses.
"On many occasions the information does not arrive, and in the worst case you receive a phone call that portends bad news"

"It is inhumane for us and for the sick", points out this young man who in five days has only seen his mother for 60 minutes and who yesterday was denied the visit again due to covid. "There are outbreaks and we must maximize patient safety," a nurse told Mateo verbatim. "We will have to wait for him to go up to the floor and I don't know when that will be because they told me that it is difficult to get a free bed," adds Mateo.
Waiting in the Emergency Room for a hospitalization place means that her mother waits in "a
stretcher in the service corridor", which worries the relatives even more." It hurts me to think that she is having a bad time or that she feels very alone, "confesses her son, who has no doubts about the professionalism of the health team but who is constantly assaulted by
pictures of the collapse assistance that usually suffers this service. "I'm terrified that something happens to her and no one is with her," he adds.
No permits for visits

The accompaniment is still not allowed, the visits -as long as the care conditions in the service allow them- are 30 minutes a day and the relatives have not recovered the waiting rooms, which remain
closed due to the pandemic of coronavirus, denounce those affected.
Management argues that this measure has been chosen because there is currently a
high number of admissions -the seventh wave of the covid pandemic is intensifying in the Canary Islands- within the aforementioned service. "For reasons of patient safety, visits are punctually interrupted," he says in response to this newspaper.
There are patients who need "company to make their day more pleasant" but, above all, who require help to "move, walk or eat". «
Many people are suffering. The one who speaks so emphatically is Marcela (also a fictitious name), who emphasizes that the first time her mother was admitted, the prohibition of visits was still in force.
Those admitted to the ER need "company to make the day more pleasant" but, above all, they require help to "move, walk or eat"

Two months he was on a stretcher in the corridors of the Emergency Room. «Fifteen days passed without us being able to see her and waiting for a call of a few minutes in which the information was very brief». «
It was a great disappointment to see her so deteriorated physically and emotionally» when they allowed her and her two sisters "to visit her, not to accompany her", remarks the affected woman, once she went up to the hospitalization floor.
"It is a without living." "There are a lot of people suffering."
«We should already be back with covid, have learned something and solved the issue of care and visits to patients», criticize Mateo and Marcela. "I understand that the situation requires certain measures, but who guarantees that workers outside of work comply with it? So why don't they let us in?
The next time Marcela's parent was admitted was at the end of last month. The situation did not improve much. Her mother suffers recurring income and misinformation and her refusal to be able to visit her was repeated.