"If we are at 100%, we must give 101%"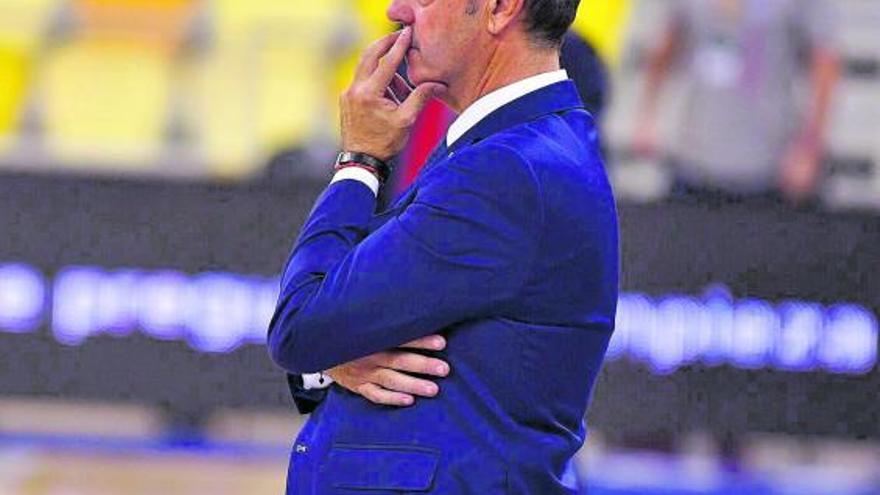 Good luck to the bull, Master. First, the Miuras. Porfi Fisac, like a brave bullfighter, asked in his appearance prior to today's derby against Iberostar Tenerife in La Laguna (8.15pm, #Vamos) that the press begin questioning him about his continuity at the helm of the Herbalife Gran Canaria bench. With bare chest, he received the questions at gayola door.
As is usual, the Segovian did not clear the ball: "It is clear that I am responsible for this bad start to the season. Therefore, I must assume it. I'm trying to get my ideas clear enough to see how we can win. I try to teach my players that there is only one way, 100% of what we have and a little more. This is not the time to cry or be sad. If decisions have to be made, the club has to make them, and the first head that has to roll is mine. The only thing that matters is that if we have 100%, we have to give 101% ".
"I am responsible for the bad start. If decisions have to be made, the club has to make them, and the first head that has to roll is mine "
"If he were able to make people understand that what we are doing is not worth it … It is not worth the coach with what the team is doing. What you are doing has you in last place. It is worth giving a little more. And it is the only thing I think ", he pointed out.
Porfi Fisac, in his speech, continued along the same lines: "I would also criticize the coach if he were out. Nobody has to defend me. I know what the professional world is like. That the players do not lose a gram in helping the coach. This is Gran Canaria and the coach doesn't matter. The Gran Canaria is not sold to anyone. It is normal that in this situation there may be movements on the bench or players. We all have to be prepared, it only matters above anyone that the club wins.
Porfi Fisac, who acknowledged that participation in two competitions is affecting them, was blunt in stating that Granca's game is very far from what he himself proclaimed upon his arrival in office. "Our basketball has to be different. This basketball is not giving us victories and I do not like it or anyone. Little by little we are managing to give it a little more sense and defensive sobriety. It is where we are trying to grab to get out of the position we are in. The pressure does not have to come from qualifying, but from the game we are playing. Is there anyone who is enjoying this game? I answer that: no. We have to play differently, we can and we must, "he analyzed.
"I would also criticize the coach if he was out. Nobody has to defend me. This is Gran Canaria and the coach does not matter "
In reference to Iberostar Tenerife, today's rival, the Segovian coach of Granca is clear: "It is the best team by disposition, game and characteristics." "They have planned things very well, their coach has had a good rhythm and rotation. This long rotation makes them always be in the game. Then he has key players who are the envy of young people, not just Huertas, who is the main, and Shermadini. They have people who mark the future in Tenerife and the Endesa League. Then there are people who progress every day, Fitipaldo, Salin or Doornekamp ", pointed out Fisac, who acknowledged that for the first time he is glad that a match has been postponed, this week's Eurocup due to the positives of Covid in Trento: "After a month with just two training sessions and 13 games, we have had three exclusive days to be better, without the burden of having to win or win."