«If the human factor does not exist in a film, we would be wasting time»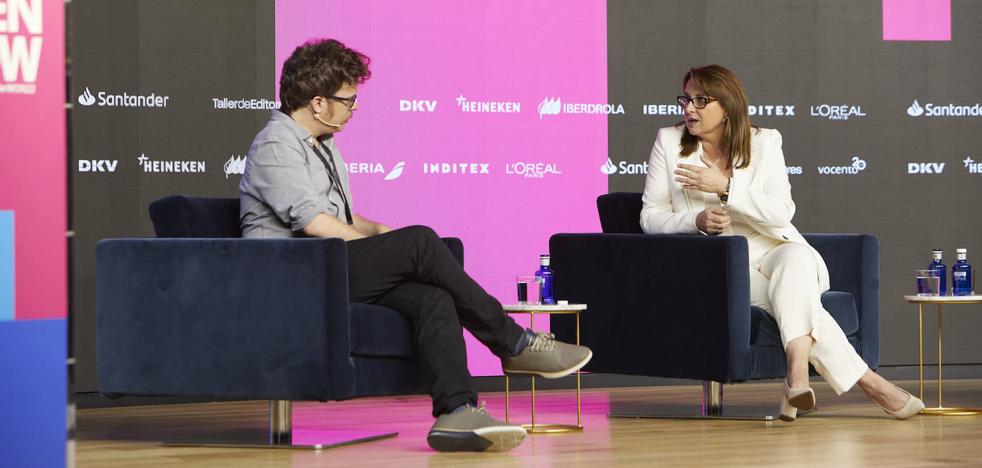 The President of Post-production, Visual Effects and Animation and executive producer at Marvel Studios, Victoria Alonso, spoke at Santander WomeNOW about the power of words in life to achieve a better society
"If the human factor doesn't exist in any movie, it's probably a waste of time." It is the late motiv with which the President of Postproduction, Visual Effects and Animation and executive producer at Marvel Studios, Victoria Alonso, works. In her opinion, making money from movies is important, but telling a story is even more important.
And it is that "that someone in the audience feels that what is happening is something so important that it prevents him from getting up", is the most important thing that exists for a filmmaker. Of course, always created without fear. And it is that the fear of not reaching the triumph that one wants limits one «and makes him not give the best of himself.
He began his professional career at the lowest levels of his profession, as a post-production assistant, which allowed him "to know what happens at each of the levels of production." All this with the premise that "success does not have any kind of formula". More when there are aspects that depend on oneself. And it is that for Alonso, «if one does not exercise the art of the word, he will never be able to start. Silence is poison and kills", which is why he has asked to claim what he wants since "silence has no place in anyone's life", more so considering that "the ability we have to be granted a status begins for us; he is not imposed in advance».
This has been confirmed by a girl from the military dictatorship of Argentina who, at the age of 15, wanted to leave the country, asked her mother to pay her for a plane ticket. But she had no money and she decided to design key chains to earn the 3,000 euros that she needed to buy the ticket. She sold them and got twice as much, something that surprised her mother. From the age of 15 to 19, the theater saved her life and it was in 2005, although she did not like superheroes, when she got a project for something that seemed to be promoting. It was about Iron Man, for which she only asked where it was recorded. "I didn't know what I was coming for, only that I had a job," she assured during her presentation.
But for one of the most influential people in Hollywood, another of his goals is to try to create art that reflects today's society, although he understands that there will be certain people for whom a certain way of thinking and feeling is not something they are used to. Let's see. This is how she has responded when asked about the criticism received by some superhero movies in which two male characters appear kissing, for example. And it is that Alonso has made a closed defense of the LGTBI collective, in which she has recalled that "straight couples create gay children" and that these people do not come out of a mountain. And she has sent a clear message to those who do not respect the current ways of loving: «That I love whoever I want has nothing to do with what you do».
But to achieve real equality, he sees the power of speech and discussion as fundamental. Thus, he believes that if you cannot have a moment of conversation "we will always have access to only 50% of the capacity of what humanity is." A society, in his opinion, that must persecute him even knowing the opposite points that are shared. He has exemplified it in his conversation with Pope Francis, where knowing that they started from opposite poles in terms of LGBT rights, they did coincide, he concluded, in wanting the world to be better from the point of view of loving each other« . For this reason, in his opinion, anyone who does not respect the LGBT community believes that »he is missing a good movie«.